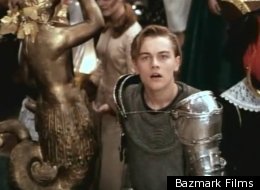 Around the Huffington Post offices, flags are at half-mast following the death of Cheetah, the most beloved chimp in all the world. (R.I.P. Cheetah.)
It got us thinking about mortality and movies. As in: what are some of the saddest onscreen deaths ever? We've learned some pretty valuable lessons -- for one, Leo dies way too often and kids' movies are sad. (And, yes: It's officially winter!)
Below, ten of our picks for the saddest. Watch, but make sure to have some Kleenex by your side.
WATCH:
Predictable? You bet! Heartbreaking? Oh-my-god-yes. "Titanic" takes the cake in terms of the super sad. It's something we're still getting over, which is a good thing, "Titanic 3D" sails again April 6.

Don't let the animals fool you, this movie that is not, not for the faint of heart. "The Lion King," which is based on Hamlet, is somehow one of the most devastating (and successful) children's films of all time.

Another Leo death scene that is, arguably, sadder than his departure in "Titanic." No easy feat. That Shakespeare has some future!

"The Land Before Time" kicks off our mommy death series. (A sentence I never thought I'd write.) Here the executive-produced by Steven Spielberg, George Lucas, Kathleen Kennedy, and Frank Marshall animated film taught children about the wonders of the world and the untapped depths of depression. Everybody wins!

Disney: causing permanent trauma for children since 1942.

If Emma (Debra Winger) saying goodbye to her two sons while on her deathbed doesn't make you weep buckets, there's a good chance you're actually already dead.

Like "Terms of Endearment," "Stepmom" deals with a dying mother (Susan Sarandon) saying goodbye to her son. "Just because you don't see something, doesn't mean it's not there," she tells her young boy, before explaining that she'll always live in his heart. No fooling: this is basically devastating.

"His name is Brian Piccolo, and he has the heart of a giant." The 1971 television movie "Brian's Song," is about the relationship that formed between Chicago Bears running back Gale Sayers (Billy Dee Williams) and Piccolo (James Caan), who died from testicular cancer at 26. If you're a guy reading this, you're probably already crying. Hit your knees before watching the clip above.

Apologies in advance for making you watch young Ricky Schroeder pleading with Champ (Jon Voight) through his tears to "wake up" and "not sleep now." Oh, god -- is it getting dusty in here? Sorry, folks. Click here to watch: http://www.youtube.com/watch?v=SU7NGJw0kR8&feature=related

Oh, sure Up is adorable except for the opening montage where Carl and Ellie find out they can't have children. No, you're crying behind those 3D glasses.