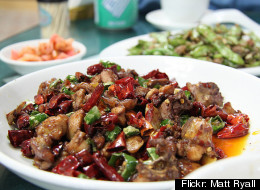 There are two kinds of spicy foods: the kind people eat for pleasure, because the heat makes the food taste good, and the kind that people can really only eat because they are a little bit masochistic. In the slideshow below, HuffPost Food has collected examples of extremely spicy food, from hamburgers to sushi, in which the restaurants all require a waiver before you can chow down. Why a waiver? Well the restaurant doesn't want to be held responsible for any health problems that may arise from eating these extremely hot creations (and, it makes some great publicity). But if you're one of the brave ones that think that potential digestive issues, massive sweating and general discomfort sounds fun, then be our guest. Just don't say the restaurant didn't warn you.
Check out some spicy foods that require a waiver below:
Tears of Joy Hot Sauce Shop in Austin, Texas sells Blair's 16 Million Reserve, a "chemical-grade capsaicin, a white crystal powder in a very small vial." In order to purchase this $300 product, one must have a 10-minute chat about the product, in addition to signing a waiver.

Flying Pie in Boise, Idaho is serious about its habanero pizza. The website is full of information about the pie, explaining that the pie is only available in August because that is when the habaneros from the Yucatan Peninsula in Southern Mexico are at their peak. These habaneros are way spicier than what you may find at the grocery store: Habanero Pizzas are too intense for most people who say they like spicy food. For the uninitiated, the huge dose of capsaicin (the spicy component of peppers) overwhelms the senses and confuses the digestive system. In order to parbake the pizza at home, customers must sign a waiver. See the waiver here [pdf].

East Coast Grill in Cambridge, Mass. boasts the "spiciest pasta plate in the world" -- the Pasta Plate from Hell. Only a few have eaten the whole bowl, which contains the extremely spicy Naga pepper. But don't expect to try this pasta just any time, it is a part of the "Hell Week" menu that occurred earlier in December. Photo: Flickr/chadmiller

If you're into very spicy chicken wings, joints around the country got your back. From New Jersey to Los Angeles, there are handfuls of different wing restaurants claiming super spicy wings. Ghost chiles? Check. Red Savina chiles? Check. If you're craving some heat, chicken wings may be the way to go. Once you sign away your soul, that is. Photo: Flickr/coolmikeol

Menu items of SolToro Tequila Grill in Mohegan Sun Casino in Connecticut "are marked with varying degrees of spice, culminating in 'steam-coming-out-of-your-ears.'" Customers must sign a waiver before going to town on this burrito, which contains poblanos, jalapenos, chipotles, serranos and habaneros.

Brick Lane Curry House in New York City offers a "Phaal Challenge" that is "more pain and sweat than flavor." Customers have to agree to a verbal waiver before chowing down on this curry that is 60 times as spicy as jalapenos and made from a blend of 10 different peppers. For the victorious, they get their name of the P(hall) of fame, and a free bottle of beer. Is it worth it? It depends on how much pain you want to feel -- one successful eater had a dull buzz reverberating in her ears. Photo: Flickr: joo0ey

Bushido in Charleston, Sc. wants you to take its Spicy Tuna Challenge...after you sign the waiver absolving the restaurant of any liabilities. The challenge consists of 10 sushi rolls -- each roll is hotter than the last. If you manage to eat all the rolls in one sitting, you get your picture on the Wall of Legends.

Pearl Cafe in Missouri has a range of different challenges -- the restaurant's Facebook page has photos of winners (and losers) of the Level 25, Level 50, Level 75 and Level 100 challenges. One the heat level hits 50, that's when the ghost peppers start. The spice level can be applied to a variety of dishes. See the waiver here. The photo above is at spice level 75. Photo: Flickr/stlbites

Chunky's Four Horseman burger can be eaten with gloves, to prevent spice burns. Containing jalapenos, serranos, ghost chilis and a habanero sauce, it's no wonder a waiver is required before eating.
Photo: Flickr/Matt Ryall