Woman Climbs Into Elephant Enclosure At Los Angeles Zoo (VIDEO)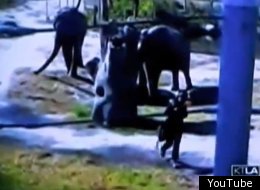 A mentally ill woman who police say had not taken her medication climbed into an elephant enclosure at the Los Angeles Zoo Tuesday and attempted to pet the animals while visitors looked on in horror, the Los Angeles Times reported.
The woman, who police have not yet identified, managed to climb over a number of ditches and fences in order to reach the elephants, part of the zoo's popular "Elephants of Asia" exhibit.
Terrified visitors and zoo staffers implored the woman to turn around. After about five minutes, she voluntarily climbed out of the enclosure the same way she entered.
Meanwhile, the incident was caught on tape by zoo visitor Branden Adam, who summed up the events for the Los Angeles Times:
She went in to kind of check the elephants out. She comes out and she says, 'I'm going to go pet the elephants now.' And she goes and she started touching the elephants and seeing what they were doing.
According to LA Weekly, the Los Angeles Zoo invested $42 million in the sanctuary which currently houses three elephants -- though apparently they didn't spend enough on security.
It's unclear how the woman entered the enclosure without getting caught, but the Los Angeles Zoo nevertheless maintains that its facilities are safe for animals and visitors.
"We feel our barriers are adequate," L.A. Zoo spokesman Jason Jacobs said, according to a KTLA News report. "This is the first incident of this sort that's happened since Elephants of Asia opened December 16, 2010."
Spanning six acres of land at the heart of the zoo, "Elephants of Asia" is the largest exhibit in the history of the zoo, which is visited by over 1 million people per year.