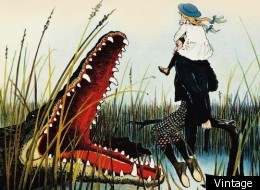 We admit, it's difficult to pick the best books of the year, particularly this year, during which it seems there were so many stellar books. However, do it we must. Our list was compiled by the three people on our Books team. Just so you know what we are looking for in a "best book," here's what each of us enjoys reading:
Andrew Losowsky, Books Editor: I like all books that reveal amazing, strange things about familiar places and familiar things about strange places (including my own head).
Zoë Triska, Associate Books Editor: I used to primarily stick to classic literature with a dash of non-fiction from time to time. I've expanded my horizon to contemporary fiction, but I'm just easing into it. I also enjoy YA novels ("Harry Potter" and "A Series of Unfortunate Events"). In addition to this, I love re-designed classics and pretty book design.
Madeleine Crum, Assistant Books Editor: According to Flavorpill, I'm totally twee. This isn't to say that I'm a fan of overly precious plots, but I tend to pick up small, unique stories with authentic characters rather than sprawling sagas. And beautiful language is, of course, key.
What was your favorite book this year? Let us know in the comments!
This was a very unusual book. Firstly, its subject: a renowned control freak, megalomaniac genius who changed the look and feel of modern computers. Secondly, the fact that such a figure not only commissioned such a high-brow biographer to tell his story, but also that he allowed said author a completely open brief to tell it how he saw it, which proved to not be very flattering. And thirdly, that the subject himself died shortly before the book went to press, thereby ensuring that the book became an eagerly awaited first, and perhaps definitive, draft of the history of Steve Jobs. It isn't a gripping read because of the writing style (which is fairly cold.) It's not gripping because of the facts within (which can become quite numbing in their attention to tiny details.) Others will tell Jobs's story with more lyricism and a greater sense of the man's impact. What makes it fascinating is Jobs himself, as seen through his own eyes and those of others. Jacobson was exhaustive in his interviews and fact checking; the result is a portrait of a troubled personality, a self-confessed asshole who was neither computer geek nor industrial designer, a man who knew what he wanted with enough clarity to bully and charm people into making his dreams real, even as he sometimes changed his mind with equal ferocity. It's a compelling read of a complex man who everyone admired, yet few, having read the book, would ever want to be.

Téa Obreht's debut novel has been little short of a publishing sensation - at 26, she's the youngest ever National Book Award nominee, and her book appeared on everyone's "Books of the Year" lists from The Economist to the Washington Post. And, now, ours. Deservedly so, for her tale, ostensibly set in present-day Bosnia, is both artful and engaging. It feels both timeless and timely, as all the best books are. It also feels at times like a well-crafted young adult novel - a description that is meant only as praise. I won't say any more, for this is the first pick for our new HuffPost Book Club. Why don't you join us in reading "The Tiger's Wife," starting January 3rd, and explore it for yourself?

When this arrived in the office, I couldn't stop showing it to people. It's the world's first iPad book in print! It makes me smile every time I show it, and I always make everyone follow the instructions before turning the page. It's simple, delightful and turns ideas of interactivity on their head in an elegant way. Kids love it - and adults love it more. Press there and enjoy.

Though Hunter S. Thompson at his finest was disturbingly entertaining, or should that be entertainingly disturbed, the romance that surrounded gonzo journalism often strayed into worship of its means and not the ends. For better or worse, long-form journalism has moved on since then, at first endangered, and then revitalized by the internet. Such companies as The Atavist and Byliner are giving the art form a new sense of purpose - however, print media hasn't given up yet, and this collection of GQ writer Jeremiah S Sullivan deserves to be read, enjoyed and indeed studied as the height of the modern art. He respects, indeed often honors, his subjects with deference, substituting honesty for ego, thoughtful research for empty-headed style. Not every piece in "Pulphead" is a classic, but at its best, Sullivan's writing stays with you and becomes a part of your thinking, long after you've forgotten how you got such ideas in the first place. "Pulphead" is an engaging compilation of a rare talent.

Tina Fey's memoir made me laugh so hard I cried (literally. During the chapter where she describes the mail she gets, I was sobbing with laugher).

Hale's debut novel recounts the tale of a chimp who achieves human cognizance and tells his life story. It is the most brilliant piece of contemporary fiction I have read thus far. Hale weaves a tale of murder, incest and bestiality, but manages to do so both beautifully and believably.

While Morgenstern has explicitly said this is NOT YA (Young Adult) (to me, in an interview), the story still has some of the same fantasy elements that so many YA stories do. The tale of two magicians who fall in love but are pitted against each other in a duel to the death took me just one weekend to read because I was so hooked.

I love the art in this book so much. I also love the idea of illustrating Craiglist ads. Craigslist in itself is so bizarre and fascinating because of the mystery and anonymity that comes with it. Blackall's imagined scenarios are sometimes beautiful, sometimes funny and sometimes very creepy.

This is a peculiar tale of girls, ghosts, theme parks and alligator wrestling. But at it's core it's also the story of a family struggling to stay afloat after the loss of one of its members. Karen Russell expertly elicits sighs, pity and laughs all on one page.

Short story collections are normally my books of choice, but I wasn't head-over-heels for any this year. I admire tightly packed wording a la Raymond Carver, and think that's difficult to find in novels. But Julian Barnes's Booker Prize winner creates palpable characters and a page-turning curiosity without bogging you down. Maybe that's because it's only 176 pages. But it probably has more to do with the ubiquity of the themes: Who hasn't marveled at the speed of time or wondered about childhood friends?

Set in a small southern town during the days leading up to Katrina, this book is Zora Neal Hurston meets Faulkner. Fourteen-year-old Esch's captivation with Greek mythology and tenacity in spite of a confusing pregnancy make her a memorable narrator.