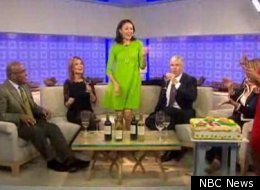 "Today" host Ann Curry has been making headlines for her bold style on NBC's morning show. On Thursday, Curry was the topic of a New York Times style section article that described her look on "Today" as youthful, and a departure from anchors past.
According to the Times, Curry's look changed some when she assumed her new roll next to Matt Lauer on "Today." Once an anchor who donned dark colors and suiting traditional of broadcasting women, Curry has since opted for bright colors, youthful dresses, and bold footwear.
Curry's fashion choices on "Today," has been the subject of articles in the past. She wore a "Gaga-esque" black dress in October, and made The Huffington Post's best dressed TV anchors list in September.
Curry, who replaced Meredith Viera in June, has been seen as a ratings success for the network. Curry joined "Today" in 1997 as newsreader, the position currently held by Natalie Morales.
View the slideshow below for more of Curry's "Today" looks:
CORRECTION: This post has been updated to reflect that Natalie Morales is the newsreader on "Today," not Savannah Guthrie.