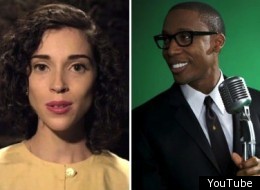 Despite what the radio might have you believe, Adele was not the only artist with a song out this year. As much as we've enjoyed hearing "Rolling in the Deep," "Countdown" and "Party Rock Anthem," played ad nauseum, 2011 was also a bang-up year for the unchosen ones -- the Adeles, Beyonces and LMFAOs of a parallel universe. So in the spirit of making a few new discoveries before the year ends, we've compiled 25 underplayed songs we've been overplaying -- a modest sampling from the year that you can dance to at your new year's eve party, and groan to the morning after.
Check out the songs with commentary one-by-one below, or spin the playlist in full below. As always, please share your favorite songs of the year in the comments.
21-year-old mystery kid Abel Tesfaye dropped a mixtape back in March that left the internet dumbfounded, introducing us to a new breed of indie/R&B croons that are best displayed on this Beach House-sampling track.

St. Vincent, aka Annie Clark, dropped her third album, Strange Mercy, in September. "Surgeon," the first single, takes lyrical inspiration from Marilyn Monroe's journal. Sonically, it floats along with a Disney-like veneer that Clark meticulously builds up and just as meticulously unravels.

German electro band had a number of fine tracks off their album this year, Monkeytown -- including a couple featuring Thom Yorke -- but there's nothing quite as well-rounded as "Berlin," a dance number you can sing along to.

This year's Mercury Prize winner wrote one of the -- if not the -- best albums of the year. The title track, "Let England Shake," sets this dark ode to her home country on its course with a loose sample of "Istanbul, Not Constantinople."

London's debut album, Timez Are Weird These Days, features this solid dance floor beat -- a flirtatious number for the one you've got your eye on.

South London producer hit all the right notes on "Wildfire," with an assist from another one of our favorite artists this year, Little Dragon, on vocals.

On R. Kelly's grand return post-throat surgery, he dismisses all the haters who said he'd never make it. We couldn't find a single hater out there, but we're glad Kells thinks they exist because it means now we have this song.

Common's new album, The Dreamer, The Believer came out this month, so "Celebrate" just might be an overplayed hit come the new year. But for now, it's in the perfect position -- a great year-end closer that hasn't been dulled by repeated plays.

Rome -- the spaghetti-western-esque album from Danger Mouse and Italian composer Daniele Luppi -- was a pleasant surprise in 2011. The confluence of film score instrumentals with pop vocals is at its most haunting when Jack White enters the picture on "Two Against One."

Lupe Fiasco dropped this track on Twitter without an album to anchor it. The politically-charged anthem samples "Nightcall" off the "Drive" soundtrack, adding vocals that make it even both more unsettling and catchier.

Raphael Saadiq is the quieter, cooler male counterpoint to Adele who we should all be listening to more. Exhibit A: This stylish track off 2011's Stone Rollin'.

Settle into the wide expanse Cass McCombs sets up on "County Line," why don't you? Simple, beautiful songs like this are few and far between.

The Roots undun tells the story of a black youth's life unraveling from his death to his beginnings, "Memento" style. "Make My" is a good entree to the album and standalone track, which Questlove describes as his young protagonist "in the throes of death."

"Art of Almost" is a ferocious, seven-minute beast of a song that ends with trashing guitar solo -- we love Wilco best when they get adventurous like this.

"Honey Bunny"'s saccharine pop is both upbeat and gloomy, a line the band toes well on their album, Father, Son, Holy Ghost.

"How Deep Is Your Love?" is a little more mainstream than The Rapture we're used to -- a departure we're completely behind for this infectious track.

Talk about infectious -- Major Lazer is setting themselves up to land on more Beyonce songs with this one.

tUnE-yArDs' unique stylings are not for everyone, but damn if the girl can't sing.

Deerhunter's Bradley Cox came out with a new album for his solo project this year, Parallax -- this delicate, melancholy track particularly stands out on an album full of strong songs.

Bjork's new album Biophilia has an accompanying iPad app for each song, taking us back to the days when you'd sit down and spend some time with an album. The tracks here are largely sparse, and gain more depth from the apps. "Mutual Core" stands apart as a track that doesn't gain much from the apps, but does gain a lot from its slow build (we can't resist a good slow build) -- tune in at the two-minute mark for the changeover.

Half of the Fiery Furnaces returned this year with a solo album called Last Summer. "My Mistakes" has everything we want out of a pop song -- a pleasant pace, simple melody and nostalgic lyrics. Check, check and check.

Odd Future's oddest bird, Tyler the Creator, may have won a Grammy this year, but we still consider him underground enough to include on this list. His lyrics are divisive, his beats infectious, and "Yonkers" is worth a listen so you can have an opinion on it, whether it's your bag or not. One note: This song is not for the easily offended, nor is it safe for those of you who are at work this week.

Technically, this song shouldn't qualify, as it's a cover of a year-old Arcade Fire track. But Mr. Little Jeans' (aka Monica Birkenes) transformation of "The Suburbs" is just the dream pop we'd been looking for all year.

We've waited seven years for Waits' growl to return, so without further adieu, here it is in all its glory on the titular track off his new album.

We end things with Bill Callahan's half-cynical, half-cheering "America!", a track that leaves you wondering where it stands. Is that an ironic exclamation point or an earnest one? You be the judge.


Spin the playlist in full:

The Weeknd, 'The Party And The After Party'
St. Vincent, 'Surgeon'
Modeselektor, 'Berlin'
PJ Harvey, 'Let England Shake'
Theophilus London, 'Love Is Real Ft. Holly Miranda'
SBTRKT, 'Wildfire'
R. Kelly, 'Shut Up'
Common, 'Celebrate'
Danger Mouse And Daniele Luppi, 'Two Against One,' ft. Jack White
Lupe Fiasco, 'American Terrorist III'
Raphael Saadiq, 'Good Man'
Cass McCombs, 'County Line'
The Roots Ft. Big KRIT, 'Make My'
Wilco, 'Art Of Almost'
Girls, 'Honey Bunny'
The Rapture, 'How Deep Is Your Love?'
Major Lazer, 'Original Don'
tUnE-yArDs, 'Bizness'
Atlas Sound, 'Angel Is Broken'
Bjork, 'Mutual Core'
Eleanor Friedberger, 'My Mistakes'
Tyler The Creator, 'Yonkers'
Mr. Little Jeans, 'The Suburbs' (Arcade Fire Cover)
Tom Waits, 'Bad As Me'
Bill Callahan, 'America!'