... if Republicans and Democrats keep failing to agree on this stuff for the next year and change, the result will be an extraordinary decrease in federal deficits — many multiples of what the Super Committee was tasked with finding.

We've been over this before, but the point is actually stronger now than it was earlier this year, because of the outcome of the debt limit fight. Between the looming expiration of the Bush tax cuts and other temporary tax provisions ($4.8 trillion), a large, scheduled drop in Medicare physician reimbursement rates ($300 billion), the soon-to-be triggered penalties for Super Committee failure ($1.2 trillion), and the resulting savings on servicing the national debt ($900 billion), deficits are set to drop by over $7 trillion automatically, unless Congress affirmatively stops it. That's on top of the $1 trillion-plus dollars Congress banked in the debt ceiling fight.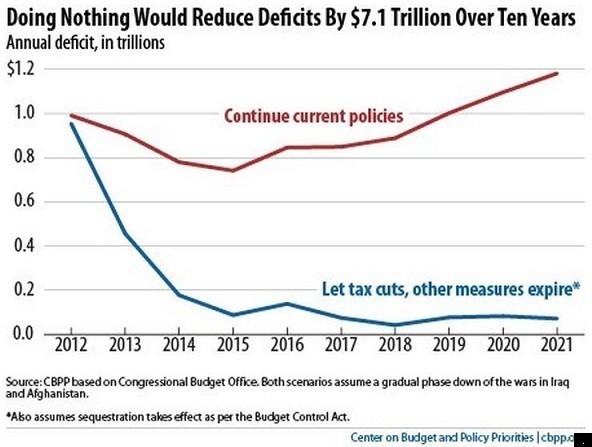 -

SUBSCRIBE AND FOLLOW
Get top stories and blog posts emailed to me each day. Newsletters may offer personalized content or advertisements.
Learn more