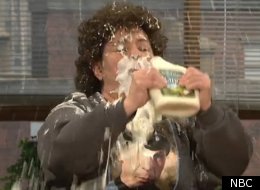 With 2011 spanning over seasons 36 and 37 of "Saturday Night Live," we had two seasons' worth of hilarity to sift through to pick our 11 favorite sketches of the year. And trust us, it wasn't easy.
Gone are the days when we'd take "'SNL' used to be funny" as a valid complaint. The casts of recent years have pulled the show up by its bootstraps, proving there's still a good reason it's the longest running sketch comedy show in history.
From former cast members Dana Carvey and Jimmy Fallon returning to host, to especially hilarious appearances by Melissa McCarthy, Ben Stiller and the funniest cast members, 2011 proved to be a great year for "SNL." Digital Shorts aside (sorry, Jack Sparrow) we narrowed our favorite sketches down to 11 and compiled them for you to watch below.
Make sure to vote for your favorites and tell us what sketches you think we left out in the comments below (we know you will, anyway).
For more on the best of 2011, visit AOL's Best of 2011.

Funniest 'SNL' Sketches Of 2011
When we heard that Jimmy Fallon would be returning to host "SNL," we knew some other old cast members would have to stop by. What we didn't expect was to see three generations of "Weekend Update" hosts reunited at the old desk. Yeah, it was awesome.

Unfortunately, Sarah Palin and Donald Trump's popularity has barely waned since Tina Fey and Darrell Hammond impersonated them on "SNL" years ago, but fortunately for comedy, we did get to see a reprisal of their spot-on spoofs this summer as the GOP presidential debates got started. Although both non-candidates have since dropped out of the race, we can't wait to see how else "SNL" might use Fey and Hammond as the 2012 election rages on.

It was hard to decide which part of Melissa McCarthy's hilarious 'SNL' episode was the best, but you just can't top the unexpected "explosion" in this "Taste Test" sketch -- an old favorite from her Groundlings days. We're pretty sure Hidden Valley Ranch has never seen a better endorsement.

Once again, former cast member Dana Carvey returning to host was a surefire indicator that we'd be seeing some reprisal sketches. But how excited were we when the cold opening started with the Aurora, IL public access logo? We almost hurled.

Kim Kardashian's 72-day marriage to Kris Humphries enraged America -- not because we actually care -- but because so many were duped into thinking she actually did. There were plenty of spoofs made thereafter, but this commercial parody for an E! special on the divorce takes the cake. Each member of the Kardashian clan is portrayed to perfection, with "It's Always Sunny"'s Charlie Day cameoing as the divorce attorney. It was exactly what America needed after such a ridiculous PR stunt.

Stefon, arguably our most favorite "SNL" character of recent years, met his match last October in Zoolander, Ben Stiller's iconic male model character from 2001. With the hilarious way they played off of each other, we wouldn't be surprised to see them hitting "New York's hottest clubs" together in the future.

If there was one universal truth in 2011, it was that Adele's "Someone Like You" is the saddest song ever, and "SNL" hit the nail on the head with this hilarious, all-cast sketch on its emotional effects. It really doesn't matter why you're sad, Adele is the song you need to hear.

Bill Hader nails all his impressions, sure. But he does James Carville better than James Carville!

As "Tebowmania" rages on, you just knew that "SNL" would parody Denver Broncos starting quarterback Tim Tebow sooner or later. And it happend just this month, when Tebow's favorite messiah visited him in the lockeroom in this unforgettable sketch.

Newcomer Vanessa Bayer's Miley Cyrus impression won our hearts, but it wasn't until we saw her come face to face with the real Miley Cyrus (albeit as Justin Bieber) that we realized just how good this bit really is. As the show has proven time and time again, when celebs meet their doppelgangers, it's "pretty cool."

Russell Brand poked plenty of fun at his mother country when he hosted "SNL" back in February, but the best in our opinion was this parody of British crime and gangster movies, "Don' You Go Rounin' Roun To Re Ro." Russell Brand in dreadlocks does not look as weird as you'd think!