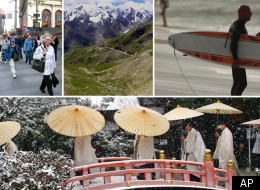 If you're a regular reader of HuffPost Food, you know that we're big fans of the Michelin Guide. Sure, it has its problems, but it at least does a pretty good job maintaining high standards at all its global branches. And its stars are refreshingly easy to understand. One means "very good cuisine in its category", two represents "excellent cuisine, worth a detour," and three stars are for restaurants with "exceptional cuisine, worth a special journey."
In past months, we brought you lists of the big cities and small towns with the most Michelin stars per capita. (Kyoto won the former, and ski town Courchevel, France won the latter.) But we also expressed our frustration with the limitations of the raw stars per capita figures. The lists were interesting, but ideally, we'd have liked to compare seven-million-person London directly with 15,000-person Monte Carlo. They're both self-evidently good towns for eating -- but which, really is better? Monte Carlo has far more stars per capita than London does, on account of its tiny population, but it was hard to believe that was the whole picture.
But in an amazing show of the devotion of our readers, we actually had a highly qualified person see our call for help. Yaman Cakiroglu, an Emory-trained business consultant from Turkey, wrote to us explaining a ranking algorithm he'd devised using rigorous statistical techniques. It wasn't originally designed for ranking cities by Michelin stars per capita, but once he explained the technique, we applied to the reams of data we'd assembled for the original lists.
It was fantastic, and did exactly what we'd hoped it would. It's a little bit complicated, but the basic idea is that the formula normalizes the data for population by raising each city's total Michelin stars to the power of 1.5 and dividing it by the square root of the city's population. (These data points were actually indexed first, but that's where it gets really messy.) That way, differences in restaurant cultures are exaggerated, while differences in population are minimized. Once we had the raw index data, we set our winner's value to 100, then pegged everything else down from there. That means that the "Star Index" listed under each caption is basically an artificial figure -- but the differences between them help give an idea of how to compare the cities' restaurant cultures.
This may sound a little fishy, we admit -- but the list, we think, speaks for itself. As far as we're concerned, this is the definitive list of the world's best cities for Michelin dining. Here it is:
San Sebastian is the culinary capital of the Basque Country, if not Spain. Its unique combination of haute cuisine (at three-starred temples like Martin Berasategui and Arzak) and homey tapas bars make it a must-visit for any true foodie. Population:186,122 Michelin Stars: 14 Star Index: 7.2 Pictured: Pigeon roasted on a spit from Martin Barasategui.

Some would argue that San Francisco's glory days are behind it -- that the city will never again reach the heights of influence it attained at the peak of California cuisine in the 70s. But the most recent Michelin guide pointed toward something of a Renaissance in the city's culinary climate, when two newish restaurants (Benu and Saison) were added to the ranks of two-starred restaurants. Population: 805,235 Michelin Stars: 23 Star Index: 7.3 Pictured: The interior at the two-starred Coi restaurant in San Francisco's North Beach neighborhood.

Lyon, in eastern France, was the capital of the nouvelle cuisine movement in the 1970s, and the training ground for countless acclaimed French chefs. But it also remains a culinary capital in its own right, with restaurants like three-starred Paul Bocuse attracting gastronauts from around the world. Population: 483,181 Michelin Stars: 20 Star Index: 7.7 Pictured: Legendary Lyonnais chef Paul Bocuse, posing in front of a street sign bearing his name.

Laguiole, a hamlet in the Southwest of France, is only city on this list with just one Michelin-starred restaurant in its borders... but the world-renowned Michel Bras isn't just any restaurant. Chefs from Dan Barber to Rene Redzepi have cited its hyper-local and -seasonal menu as an inspiration for their own work in bigger cities. Population: 1269 Michelin Stars: 3 Star Index: 8.7 Pictured: The famous Gargouillou dish at Michel Bras.

Baiersbronn would be just one of many small but prosperous towns in the middle of the Black Forest -- were it not for its highly acclaimed restaurants, two of which have three Michelin stars. Some call it "the haute cuisine capital of Germany." Population: 15,498 Michelin Stars: 7 Star Index: 8.9 Pictured: A luxurious dish at three-star restaurant Die Schwarzwaldstube, sometimes called the best restaurant in Germany.

Colin Farrell's Golden Globe-winning comedy In Bruges used the Belgian city's blandness as something of a punchline; it was seen as a dull, albeit pretty, background for an action-packed caper. But one area of the city that isn't boring is its food. The city's three-starred De Karmeliet has long been considered one of the best restaurants in the Low Countries. And a pair of high-profile upgrades in the 2012 Michelin Guide cemented the city's status as one of the best places to eat in Europe. Population: 116,741 Stars: 15 Star Index: 10.2 Pictured: The spare dining room at Hertog Jan, Bruges' newest three-star restaurant.

Money may not be able to buy you love or happiness. But Monaco, the world's richest country, just about proves that it can buy you good food. The tiny casino capital Monte Carlo counts Alain Ducasse's flagship Louis XV among its five Michelin-starred restaurants. Population: 15,200 Michelin Stars: 8 Star Index: 11.0 Pictured: Alain Ducasse tastes a sauce in the kitchen of his three-starred restaurant Louis XV.

So much for the bad culinary reputation of London. An international, sophisticated clientele and an unusual spate of talented chefs have made the city one of the dining capitals of the world. Population: 7,825,200 Michelin Stars: 65 Star Index: 11.2 Pictured: One-starred Chinese restaurant Yauatcha is a prime example of the internationalism that makes London's culinary scene so dynamic..

Alta Badia, a town in the South Tyrols, has a culinary impact far larger than its tiny population would suggest. Its three starred restaurants keep elite vacationers well-fed even after they ski down the black diamond trails that bring them to the Italian Alps. Population: 1340 Michelin Stars: 4 Star Index: 13.0 Pictured: A sign welcoming travelers to the beautiful Dolomites town of Alta Badia.

Well-heeled Germany and Danish tourists have been visiting Sylt, a narrow spit of sand in the North Sea, for generations. But the natural serenity of the beaches isn't the island's only draw. A full six restaurants on Sylt have Michelin stars, including three that have two stars. Population: 15,169 Michelin Stars: 9 Star Index: 13.1 Pictured: The exterior of the hotel-restaurant Fahrhaus, which holds two Michelin stars.

Hong Kong may have fallen behind Shanghai and Singapore in terms of the total containers passing through its fabled port in recent years -- but the city's residents can at least boast of having one of the most vibrant restaurant cultures in the world. It boasts an astonishing 75 Michelin stars, the sixth-most of any city and more than any city in Europe except for Paris. Population: 7,061,200 Michelin Stars: 75 Star Index: 16.1 Pictured: The towering Hong Kong skyline.

Well this settles it: despite claims to the contrary, there really isn't any measure by which Yountville is the most Michelin-starred city in the world. But that doesn't keep it from being impressive. The small Napa Valley village has an impressive four restaurants with Michelin stars -- one of which, the French Laundry, has been called the best restaurant in the United States. Population: 2933 Michelin Stars: 6 Star Index: 16.3 Pictured: The famous dish "Oysters and Pearls" at three-starred restaurant The French Laundry.

Bray is, in some ways, the Yountville of England -- a normal suburban town that just happens to have become a culinary capital. Where Yountville has Thomas Keller, Bray has Heston Blumenthal, one of the leading practitioners of modern gastronomy. So it's appropriate that the two have pretty much identical star rankings by this algorithm. Population: 4646 Michelin Stars: 7 Star Index: 16.3 Pictured: The quaint exterior of the Fat Duck, Heston Blumenthal's three-starred temple of Modernist cuisine.

New York didn't fare all that well in our first list of Michelin-starred cities -- even though it has a lot of Michelin-starred restaurants, its gigantic population kept it from standing out on a raw per capita basis. But this new algorithm shows just how exceptional the city is -- and 2012's two new three-starred restaurants certainly don't hurt. Population: 8,175,133 Michelin Stars: 85 Star Index: 16.4 Pictured: Three-star chef Daniel Boulud poses in the kitchen of his flagship restaurant Daniel, on the Upper East Side.

This is where things start to take off: the top six restaurants actually have much higher index readings that the other 14. Kobe, with a whopping 73 stars for a city the size of Philadelphia. Population: 1,533,852 Michelin Stars: 73 Star Index: 30.1 Pictured: The city of Kobe at night.

Paris: the city of lights, love and Michelin starred restaurants. It may no longer be the most starred city in the world, but it's pretty darn close. And the city's best restaurants aren't nearly as stuffy as they once were -- places like Le Chateaubriand and L'Astrance have managed to win major acclaim without frippery like Raynaud porcelain and $10,000 bouquets. Population: 2,193,031 Michelin Stars: 85 Star Index: 31.7 Pictured: The dining room at the three-starred restaurant in Le Bristol hotel.

If there's one Michelin star-related injustice we hope these lists will rectify, it's the anonymity of Courchevel, the highest ranking municipality in Europe. The small skiing village has more Michelin stars than Brooklyn -- with less than one-one-thousandth as many people. Courchevel's most storied eatery is the two-starred gastronomic restaurant in the Chabichou hotel, though offerings from famous chefs like Pierre Gagnaire are not to be missed. Population: 1,923 Michelin Stars: 9 Star Index: 36.9 Pictured: A balcony in the Chabichou hotel, home to one of Courchevel's three two-star restaurants.

Like San Sebastian, Osaka is a city as well known for its inexpensive food as for its haute cuisine. But it's the latter that's been attracting the notice of the Red Guide in recent years. No city gained as many stars as Osaka between 2011 and 2012. Still, as far as culinary acclaim goes, it really can't compete with the titans in the top two slots on this list. Population: 2,668,113 Michelin Stars: 95 Star Index: 56.2 Pictured: A dish at two-starred French restaurant Accueillir in Osaka.

We've already gone over the reasons for Kyoto's Michelin supremacy -- its ultra-high-end kaiseki restaurants propelled the city to a resounding victory in our first ranking of the world's best restaurant cities. And it does well again here, with a score of 94.5/100, far higher than almost any other city. Kyoto is only bested by one city. A big hint: its name is an anagram of "Kyoto." Population: 1,465,917 Michelin Stars: 136 Star Index: 94.5 Pictured: A dining room at the three-starred Kitcho Arashiyama Honten.

Revenge is sweet. Tokyo's gigantic population (it's the biggest city in the world) kept it off our first list of the most Michelin-bedecked cities in the world. But our new algorithm elevates the capital of Japan to its rightful place as the world's capital of haute gastronomy. The city has an absolutely astonishing 331 Michelin stars, spread out among 247 restaurants. That means that if you were a billionaire or an unscrupulous food blogger, you could visit a new Michelin starred restaurant every single night for eight months and still have some left over for the ninth. A lot of those restaurants, admittedly, are very good sushi bars -- but there are also three-starred restaurants dedicated to things like traditional French food and even tempura. What a city! What a world! Population: 13,010,279 Michelin Stars: 331 Star Index: 100 Pictured: A dish of sashimi at Koju restaurant, which has held three stars in every Michelin Red Guide for Tokyo.