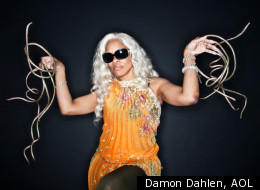 What sets humans apart from other species?
Could it be our never-ending quest to test our own limits -- to constantly redefine what it means to be the best?
You only need to look at Guinness World Records to see how far humans will go to be outstanding, whether it's the tallest, shortest, fattest or oldest human being.
This year had its share of new weird record holders, including Rolf Bucholz, the world's most pierced man, who sports more than 453 punctures in his body -- 25 in his eyebrows, eight in his nose, and 278 in his genital area.
In another expression of human excellence, Laksana and Ekachai Tinarat earned the record for world's longest continuous kiss, after lip locking for 46 hours and 24 minutes in honor of Valentine's Day.
All records are special in their own way, especially to the folks who own them. But even Craig Glenday, editor of "Guinness World Records," admits to having some favorites this past year, such as Aevin Dugas, who set a record for world's largest afro by growing a 'fro that measures 7.3 inches high, 7.7 inches wide and 4 feet, 4 inches in circumference.
"Hers is a new category, but proves there's still plenty of new records to be found out there," Glenday told HuffPost Weird News. "I would, in the same breath, mention Chanel Tapper for her longest tongue."
For the record -- literally -- the tongue he refers to is a whopping 3.8 inches long.
PHOTOS: 2011's Greatest Guinness Records (Story Continues Below)
The Top 11 Weirdest World Records Set In 2011
Competitor Laksana Tinarat, left, kisses her husband, Ekachai, during a World's Longest Continuous Kiss competition in Pattaya, southeastern Thailand, on Feb. 13. The event was held in an attempt to break the Guinness world record and to celebrate Valentine's Day.

Fizz Girl, a Munchkin Cat from San Diego, Calif., has grabbed the record title for "Shortest Living Cat." Measuring in at just 6 inches tall from floor to shoulder, Fizz Girl weighs 4 pounds, 2.3 ounces. Munchkin cats are a special breed that have small legs caused by a naturally occurring genetic mutation.

Sarwan Singh of Canada holds the record for longest beard: 7 feet, 9 inches.

Besse Cooper, recognized as the world's oldest person, turned 115 on Aug. 26, 2011. Cooper, pictured in her room in a nursing home on Feb. 1, 2011 in Monroe, Ga., was born in 1896.

Pauline Potter, a 47-year-old, 643-pound Californian, has earned a spot in the 2012 record book as the World's Heaviest Woman. She weighs 643 pounds.

The world's most pierced man, Rolf Buchholz, of Dortmund, Germany, has 453 studs and rings all over his body, including 94 piercings in and around his lips, 25 in his eyebrows, eight in his nose and 278 in his genital area.

Aevin Dugas of New Orleans, La., is the proud owner of a record-breaking afro. It has a circumference of 4 feet, 4 inches. She trims her afro two or three times a year, and uses up to five conditioners at once when she washes it.

Chanel Tapper has a tongue that measures a whopping 3.8 inches, from tip to top lip. However, British citizen Stephen Taylor's lengthy licker stretches 3.86 inches.

Bridgette Jordan, 22, is not only the current "World's Shortest Woman," but she shares the title of "World's Shortest Siblings" with her 20-year-old brother, Brad. Bridgette stands 27 inches and Brad stands 38 inches high.

Supatra Sasuphan, an 11-year-old from Bangkok, Thailand, has been named "Hairiest Girl in the World" by Guinness World Records. "Nat," as she prefers to be known, was born with Ambras syndrome, one of the world's rarest genetic diseases, which causes excessive hair growth on the face and all over the body.

Chris "The Dutchess" Walton has entered the "Guinness World Records" book with record-setting fingernails at 19 feet, 9 inches long.
Some weird world records happen by birth, such as Bridgette and Brad Jordan, born the world's shortest brother and sister, but the strangest world record set in 2011 was one of design: Chris "The Dutchess" Walton entered the "Guinness World Records" book with record-setting fingernails at 19 feet, 9 inches long.
It took her 18 years to nail the record, but not without sacrifice.
"Everything else I can do myself -- driving, shopping, cleaning the house ... although when I vacuum, the cord gets tangled in my fingers," she told HuffPost Weird News earlier this year.
However, the hard work of waiting for the nail record to be filed with Guinness authorities was worth it -- and Glenday is glad she did.
"Walton is a new record holder in a classic category and, according to most of my interviews," he said, "this is everyone's favorite category."