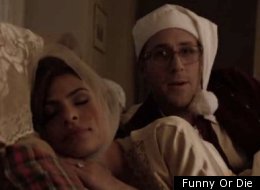 Mark your comedy calendars: 2011 may be the last year that there's a difference between "TV sketches" and "Internet sketches."
More and more, the line is blurred between comedy videos broadcast through traditional media and comedy that's exclusively distributed online. When shows like "Late Night with Jimmy Fallon" considers viral potential in their sketches, and websites like Funny Or Die produce their content similarly to a traditional sketch comedy program, it's inevitable that we'll see even more crossing over in the near future.
But the nice part for the audience is that the platform-crossing makes the comedy funnier. Here are HuffPost Comedy's favorite Internet sketches from 2011 from some of our favorite outlets, like Funny Or Die and Onion News Network. Vote for your favorites of these, and tell us your own favorites in the comments!
Best Internet Videos of 2011
The award-winning series Drunk History is back, this time for a reading of "Twas the Night Before Christmas" starring Ryan Gosling, Eve Mendes and Jim Carrey.

Bad Lip Reading, wherein celebrities' dialogue is overdubbed with nonsense that perfectly syncs to their lips, may have been the most consistently gasping-for-air funny web series of the year. Here's the Herman Cain one, but we highly recommend you check out the others.

In this Funny Or Die sketch, Katherine Heigl explains why she's an advocate for neutering animals -- and it's not for the reasons you may expect.

"SNL" writer Christine Nangle plays "Delores Santangeli, Surrogate Mother For Hire" in "I Wanna Have Your Baby," produced by Lorne Michaels' Broadway Video.

"SNL" writer Mike O'Brien forces celebrities in the closet with him for this bizarre chat show. Its best episode involves a hot and heavy seduction of (or by?) actress Patricia Clarkson.

Taking cues from self-serious musical biopics, "Gritty Justin Bieber Trailer" from UCB Comedy tells the story of how one boy became more than just a Canadian.

We wouldn't mind four years of Michele Bachmann in the White House if it means we get to see Erin Gibson and Bryan Gibson's impressions of the Bachmanns regularly. (Okay, maybe we still would mind.)

Although nearly every sketch on news parody web series-turned-IFC show "Onion News Network" is excellent, this segment, where a relationship expert gives tips on getting a guy's attention while he's inside you, really nails it.

UCB Comedy put out this sketch showing how folder empresario Lisa Frank proved to the world once and for all that "monkeys DO wear top hats!"

Jenny Slate and Dean Fleischer-Camp's stop motion short from 2010 was so popular, they got a book deal for "Marcel the Shell." Thankfully, they released another episode of the adorable one-eyed shell this year to go along with the book's release.

CollegeHumor parodies commercials for the iPhone 4S's personal assistant Siri by turning Siri into a couple's mutual friend who wants to stay out of an argument.