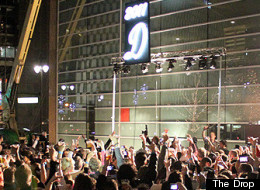 Ball drop, schmall drop. This Detroit event will turn New York City's New Year's on its head, with the drop of a large, red "D" at midnight planned for this Saturday at Campus Martius.
The Drop, now in its second year, will turn the Compuware Atrium and Hard Rock Cafe into a destination for revelers on New Year's Eve, with food, drink, music, dancing and psychic readings, in addition to dropping the D. The midnight DJ set from Paradime of Kid Rock's Twisted Brown Trucker Band is expected to be a highlight.
While The Drop is a ticketed event, all are welcome to gather in Campus Martius to see the D descend. Tony Piraino, cofounder of the event, said that he hopes it will bring more people downtown -- from the surrounding areas, as well as from outside Michigan -- to see what the city is about.
"We're embarking on a new tradition for Detroit," Piraino said.
Planners of The Drop say they chose City Council President Charles Pugh as an emcee because of his strong leadership in the community.
This year's D takes it up a notch from last year with a seven-foot-tall D made by Dan Newman, owner of Rochester's AV7 Productions. The D weighs about 90 pounds and is made of aluminum and plexiglass. It uses the same font as radio station 106.7 "The D." It's lit by LED lights, which, according to Newman, will "go crazy" with colors when it starts to descend. Total drop: 100 feet -- more than the NYC ball's 70-foot drop (not that we're counting).
Newman also constructed a rigging system, carriage and towers. Expect a wild ride: "It's a lot like a roller coaster," Newman said.
While the D drop is pretty unique, other cities across the country have much more outlandish items falling from the sky this New Year's, from a giant Hershey's kiss to a live possum.
At least The Drop chose to represent Detroit with an iconic D -- a slightly sleeker version than the Old English letter adorning Tigers hats -- rather than, say, a giant tire.
For ball drops across Michigan (including one eco-friendly orb), see the Free Press.
But if you're staying in Detroit for New Year's, check out our slideshow of events. Who says you have to pick just one?
New Years Eve Detroit 2011
The Drop 9 p.m., Hard Rock Cafe / Compuware Atrium, 45 Monroe St., Detroit, $95, 21+ The Drop is toting itself as a new Detroit tradition. We can't speak to that, but they're hitting the right notes: Council President Charles Pugh will be the event's emcee, a seven-foot (Michigan-made, duh) LED "D" will drop from the sky at midnight and some proceeds will go to the Heat and Warmth Fund to keep Detroiters warm in the winter. Not impressed? How about private cabanas, psychic readings, free coney dogs and a member of Kid Rock's band DJing? And while your ticket guarantees you the ability to move freely from inside to outdoors, you don't have to pay anything to stand on the other side of a gate to watch the ball, we mean D, drop.

Funk Night with Will Sessions and Nick Speed Orchestra 9 p.m., Saint Andrews Hall, 431 East Congress Street, Detroit, $5-$10, 18+ You can't ever go wrong with Funk Night.

Detroit Cobras with K.I.D.S., Amy Gore and Her Valentines and Sisters of Your Sunshine Vapor 8 p.m., Magic Stick, 4120 Woodward Avenue, Majestic Theater, Detroit, $15, all ages There's no way you'll have midnight blues if you go to the Detroit Cobras show on New Year's Eve. You can also get a ticket that includes the Majestic Cafe's fancy dinner, but we're willing to bet that most of the Cobras fans won't be ponying up for the grilled lobster tail and will be sticking to a more appropriate dinner before checking out these legendary Detroit garage rockers.

Champagne Explosion 9 p.m., Hyatt Regency, 600 Town Center Dr, Dearborn, $119 CHAMPAGNE EXPLOSION is possibly the best name for a party ever. What the website loses in bad design and EXCESSIVE CAPITALIZATION, it makes up for with tantalizing description. Expect comedy, karaoke, confetti cannons, an indoor pool and ... cryogenics?? Our top pick if you want a NYE party that will help you travel to the future through the SCIENCE OF FREEZING.

New Edition in concert 9 p.m., Fox Theater, 2211 Woodward Avenue, Detroit, $49-$150, all ages This is the New Year's Eve party of your preteen fantasies -- finally, here's your chance to see the six original members perform "Candy Girl."

Detroit Pistons vs. Indiana Pacers 6 p.m., Palace of Auburn Hills, 6 Championship Drive, Auburn Hills, $10-$80, all ages There's still time to check out another party after the game ends. Let's just hope that you'll feel like celebrating rather than drowning your sorrows.

Detroit Red Wings vs. St. Louis Blues 7 p.m., Joe Louis Arena, 600 Civic Center Drive, Detroit, $54-$343 Or if you're feeling more optimistic about the Wings, they're playing as well.

Y2K12 with Invincible, Tunde Olaniran, Mother Cyborg, DJ Mike Medow and DJ Disapproval 10 p.m., Trumbullplex, 4210 Trumbull, Detroit, $6-$10, all ages Killer DJs helping you survive the new year.

Melvin Davis & United Sound, Pat Lewis, Ryan Dillaha and Detroit Second Line Brass Band 7 p.m., PJ's Lager House, 1254 Michigan Avenue, Detroit, $10 If you haven't heard Detroit's Soul Ambassador croon live, what are you waiting for?

Easy Action and Blockhead 10 p.m., Cass Cafe, 4620 Cass Ave., Detroit, free Blockhead is Detroit's DEVO tribute band. You shouldn't have any further questions.

New Years Eve Bash with Superlast, Crashing Cairo and The Dregs. With champagne and PBR toast. 8 p.m., Small's Bar, 10339 Conant, Hamtramck, $10, all ages

Resolution Ball 8 p.m., The Fillmore, 2115 Woodward Avenue, Detroit, $30-$125, 21+ High wire aerialists, acrobats, illusionists and fire performers from Detroit Flyhouse will perform. And, naturally, there will be a confetti storm. As a warning, if you are looking for a classic Detroit NYE, this might not be the place for you. They are promising a "NYC~Chicago~Vegas Style Event" -- whatever that means.

Precious Little Diamonds NYE w/ Haute to Death & Macho City 10 p.m., The Park Bar, 2040 Park Ave, Detroit, $45 "Detroit's most glamorous and hedonistic dance party."

Rock The Boat Motown Party 8 p.m., Detroit Princess Riverboat, 201 Civic Center Drive, Detroit, $64.50, 21+ Motown music on a boat, with entertainment from the Prolifics and dinner.

Scrumthousand '12 9 p.m., The Paper House, 1314 Broadway St., Detroit, $5, 18+ Performance art, smoke machines, a rumored bear and 20 of the best and weirdest Detroit bands around.

Black Bra Party 9 p.m., Beautiful Machine, 1431 Times Square, Detroit, $15-$20, 18+ With an address like that, they have to host a pretty good (and NSFW) New Years Eve party, right?

NYE Ball with Charlie Wilson 9 p.m., Detroit Marriott at the Renaissance Center, 400 Renaissance Drive, Detroit, $125 Have an intimate evening with a soul singer from the Gap Band.

A Jazzy Christmas 7:30 or 10 p.m., Virgil H. Carr Cultural Arts Center, 311 East Grand River Avenue, Detroit, $75

Flywheel performs Detroit Pub Greektown, 1326 Brush St, Detroit, Free

Hollywood in the City V Nightclub, MGM Grand, 1777 Third street, Detroit, $50, 21+ Does this mean there will be movie stars? Or just a red carpet?

WDET New Year's Eve Party with Travis Wright 101.9, your radio in your home, free, all ages If the idea of a confetti cannon fills you with dread, and you'd prefer not to get champagne on your clothes while masses of people bump into you, you're in luck. WDET's Travis Wright will help you ring in the new year at home, so you can wake up on Jan. 1 feeling refreshed and actually ready to start working on those resolutions.