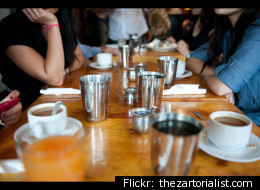 The morning of Jan. 1 represents your first steps into the new year--so don't spend it nursing a hangover in sweatpants. Whether its borne from your desire to kick off 2012 with good food and close friends, or a necessity for some hair of the dog in order to stay seated upright. Whatever style you seek to ease into 2012, here are our top picks for how and where to do it.
Eat and Play: Pinstripes
Pinstripes' two locations are offering a brunch buffet complete with mimosas and a create-your-own Bloody Mary bar. Are tipsy sports your forte? Play a post-pancake round of bocce or bowling.
Where: Pinstripes, 100 W. Higgins Rd., South Barrington and 1150 Willow Rd., Northbrook
When: 10 a.m. - 2 p.m. Sunday, Jan. 1
Cruelty-Free: Blind Faith Cafe
New Year's Day Brunch
Does your New Year's resolution involve veganism? How about low-guilt pastries? Either way, you're sure to get off to the right start with Sunday brunch at Blind Faith Cafe, for globally-inspired vegetarian cuisine.
Where: Blind Faith Cafe, 525 Dempster St., Evanston
When: 9 a.m. - 3 p.m. Sunday, Jan. 1
Foodie Binge: The Publican
Just because brunch has its staples doesn't mean the classics couldn't stand some tinkering. Check out The Publican's re-imagined breakfast dishes, like red wine poached eggs with duck confit hash. Maple-glazed pork shoulder is a fitting sausage upgrade, no?
Where: The Publican, 845 W. Fulton Market, Chicago
When: 10 a.m. - 4 p.m. Sunday, Jan. 1
Almost-In-Bed: Cafe Ba Ba Reeba
Looking for all the comforts of breakfast in bed, without the inevitable kitchen mess that follows waffles, eggs benedict and a platter of brunch tapas? Let Cafe Ba Ba Reeba do all the work, and show up in your pajamas for a gift card equal to the price of your meal.
Where: Cafe Ba Ba Reeba, 2024 S. Halsted St., Chicago
When: 10 a.m. - 3 p.m. Sunday, Jan. 1
Keep the Party Going: Frasca Pizzeria & Wine Bar
Stalling a hangover? Kick-starting the journey to another one? Frasca's bottomless mimosa brunch offers breakfast and lunch standbys, along with their full wine, beer and cocktail list to wash it down. The brunch menu will be served for five hours--no word on whether they'll let you stay for all of it.
Where: Frasca Pizzeria & Wine Bar, 3358 N. Paulina St.
When: 10 am. - 3 p.m.
South-of-the-Border Brunch: Cantina Laredo
Let Chicago's snow-free landscape be the backdrop for your daydreams about living in a warmer climate. Cantina Laredo can help; they're serving Mexican breakfast favorites Sunday, including huevos rancheros, migas con huevos and steak and eggs with chimichurri. Entrees come with a mimosa or Bloody Maria. (It's like they read your mind.)
Where: Cantina Laredo, 508 N. State St., Chicago
When: 11:30 a.m. - 3 p.m. Sunday, Jan. 1