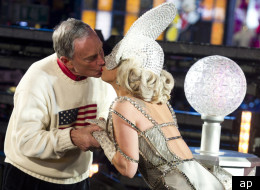 With apologies to the famous Victory over Japan Day sailor and his lady nurse friend, this was truly the Times Square kiss seen around the world.
In a true New York City pairing, Lady Gaga and Mayor Michael Bloomberg shared a smooch in front of billions as they brought the New Year's ball down to start 2012. It was a delightful peck that provided the highlight of what was a bizarre sight, with the pop star in her sequined mask and the mayor in a sweater embroidered with the American flag.
It's important to note that the two weren't just randomly thrown together, either; Bloomberg chose Gaga as his ball drop partner a few days earlier, meaning that he must have had some sort of previous friendship. Which, of course, got us wondering: what exactly were they saying to each other up there? Gaga won't tell us; she tweeted, "I cant even quite describe what tonight felt like. Sort of poetic madness. A dream come true. Moments recalling a leather taking the subway."
Well then. Since we'll never know, we decided to come up with some likely conversation ourselves.
Lady Gaga, Mayor Bloomberg Kiss On New Year's Eve In Times Square
Bloomberg: "Nice to meet you! You know, Gaga, some people look a lot different on TV than in person, but your face is exactly the same."

Bloomberg: "You have no idea how cool my daughter thinks I am right now." Gaga: "I couldn't even imagine."

Bloomberg: "I kind of like the way we look standing side by side. Any interest in a deputy mayor slot next election?" Gaga: "I ate four snails before coming on stage."

Gaga: "Stand to the side, Mr. Mayor. I need a glamour shot, I feel like I haven't been photographed enough of late."

Gaga: "I'm guessing this is the most suggestive thing I can do on this stage? Quick, can I get some blood?"

Bloomberg: "So, gay marriage, pretty cool, right?" Gaga: "I'll give you credit for pushing that one. Terrific work. This may be a stretch, but I'm still waiting for it to be legal to ingest whole cats in public places. Anything you can do?"

Gaga: "So if we just stopped pushing this, would that freeze time?"

Gaga: "Okay, camera on me as the ball drops."

Gaga: "What dances can you do?" Bloomberg: "One time, at a Bar Mitzvah, I got lifted in a chair."

Gaga: "You've got moves, Mr. Mayor." Bloomberg: "Cathy Black taught me these. At least she was good for something."

Bloomberg: "I'm going to poll this moment in New Hampshire next week. I think there's still time. Eat your heart out, Ron Paul."