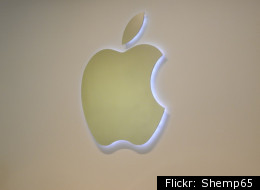 What, oh what, is the ever mysterious Apple planning for the end of this month?
Kara Swisher of All Things Digital broke the news that Apple is reportedly planning an event for January. It's not what you're thinking: Swisher emphasized that the event would not feature the unveiling of the iPad 3, the next-gen tablet that has long been rumored for a release some time between February and April 2012. Also off the table is any kind of announcement surrounding Apple's television, the much-hyped product, teased by Steve Jobs' biographer Walter Isaacson in several interviews, that will supposedly revolutionize TVs with its reported radical new interface and potential integration with voice assistant Siri.
No, neither the so-called "iTV" nor the iPad 3 are the subject of January's event, per Swisher. Instead, according to TechCrunch's Alexia Tsotsis, the stars of the event at month's end will be iBooks and book publishing.
From Tsotsis' post, on our Aol sister site TechCrunch:
According to the source the event will not involve any hardware at all and instead will focus on publishing and eBooks (sold through Apple's iBooks platform) rather than iAds. Attendance will also be more publishing industry-oriented than consumer-focused.
Past that, details remain scant, but several ideas that have been floated in the blogosphere.
Apple blog TUAW is hoping that iBooks will become available to read on Mac laptops and desktops; Mac Rumors wonders whether Apple might begin selling textbooks, as Jobs told his biographer Isaacson he hoped to revolutionize the textbook industry; and another Apple site, TiPb, is wishing for a better selection of iBooks, one that could compete with Amazon's selection for the Kindle (per the two companies, Amazon has over a million titles, while Apple has over 700,000). A partnership with Barnes & Noble, a once-rumored acquisition target for Apple, could help with the latter; however, given B&N's own hardware (including the recently released NOOK Tablet), this seems unlikely.
Apple, as is its wont, is staying quiet, and has not responded to a request for comment nor confirmed that it is holding any kind of event in New York City this January. We'll keep you updated as details emerge.
What do you think Apple is planning for this mysterious event? Do you think there will be one at all? Let us know in the comments.
Check out the slideshow (below) for a look at the worst Apple rumors from 2011.
This Year In Apple Rumors: The Worst of 2011(CLONED)
Much of the rampant speculation began in February, when widely-read Apple writer John Gruber speculated -- and we're talking SPECULATED, based on no inside information whatsoever, a fact he admitted outright in the column -- that his gut was saying that the iPad 2 would be released in Spring 2011, followed by the iPad 3 in Fall 2011, perhaps in September. Despite what should have been everyone's better judgment, news outlets went bananas on this column (One headline: "Gruber Confirms iPad 3 In Blog Rant?") until March, when the iPad 2 was released and Apple, in an announcement accompanied by a sad trombone, dubbed 2011 "The Year of the iPad 2." This seemed to rule out that a second iPad would follow later that year; Apple bloggers everywhere shed a single tear for a device there was never any evidence existed. The trail of the single tear was still moist in May when everyone forgot that Apple had said 2011 was The Year of the iPad 2 and went bananas again. A May report from T3.com put the iPad 3 on track for a September release; a concurrent rumor claimed the iPad 3 would be a glasses-free 3D device, which I suppose could still be true (I'm dubious of Apple promoting one of its products with such a stupid gimmick, but I've been wrong before). The 2011 iPad 3 rumors mounted and mounted: A May article from Reuters put the iPad 3 on track for Q4 2011 release, and then Asia weighed in with reports from the supply chain: An analyst working in Hong Kong said that a 4G iPad 3 would arrive just in time for Christmas; Taiwanese trade publication DigiTimes reported in July that Apple would start production on the iPad 3 in September and would make it available in October; Japanese Apple site Macotakara independently confirmed that DigiTimes was correct. And that's not all: Also in July, non-Asian tech siteThe Verge nee This Is My Next reported that the iPad HD would be released in Fall 2011, as did FBR Capital Markets analyst Craig Berger.Isn't it comforting to know that in this day and age of multinational aggression, distrust and strife that we, as a planet, can sometimes come together and all be wrong about the iPad 3's release date as one? It was at this point, in August, that The Wall Street Journal weighed in with a report that, due to problems with the display screen on the supply chain, the iPad 3 was being pushed back to 2012. Analysts agreed, with most predicting that the iPad 3 would be released in early 2012 a.k.a. exactly one year after the iPad 2 was released a.k.a exactly the way that Apple ALWAYS released iterative updates to its devices. 2011 really was the year of the iPad 2. Boo hoo.

The tech site Boy Genius Report had a tip from an "unproven source" that Apple was in talks to buy the bookseller (and, now, competitor in the tablet space) Barnes & Noble. That unproven source didn't really prove him- or herself with this one: We haven't heard anything since.

Maybe a bit of wishful thinking here, as Dutch blog AppleSpot erroneously reported an iPod Touch with a slot for a SIM card would land in September. Apple blog AppleNApps also heard that an iPod Touch with 3G would be unveiled in September. It wasn't.

This rumor got started by Japanese Apple site Macotakara (translated from the Japanese by Google Translate): Apple seems to be preparing project to release new Mac line-up which is absolutely different from current products until end of this year. Though this source does not told in detail, this new Mac line seems to be clearly different products from current ones, so new product name could be given. New product name was never given, as new product never materialized. Thanks for playing.

"A contact within T-Mobile who claims to have been briefed on the matter" informed Apple blog MacTrast in late August that the next iPhone would be available on T-Mobile's 3G network. Sorry, T-Mobile customers -- iPhone on T-Mo was a T-No (#huffpostheadlines). Said T-Mobile CMO and Executive Vice President Cole Brodman in September: "We'd love to have the iPhone whenever Apple makes that available... We are waiting for that phone call." RELATED: Maybe MacTrast should stop taking phone calls from their contact in T-Mobile who claims to have been briefed on matters.

Someone told Boy Genius Report, on the eve of the Apple event at which the iPhone 4S was announced, that Sprint had paid $20 billion for exclusive access to the iPhone 5. Here's BGR: I have been told that Sprint will be getting the iPhone 5 -- yes the real iPhone 5, not the iPhone 4S -- as an exclusive. And it will be a 4G WiMAX device. AT&T and Verizon would launch the iPhone 4S and get the iPhone 5 some time in the first quarter of next year as an LTE device. Globally, the iPhone 5 might be available as a 4G HSPA+ device. Swing and a miss. Speaking of getting things totally, laughably wrong about the iPhone 5: There were a lot of losers, duds, un-retracted mistakes and bogus "exclusives" in the lead-up to Apple's non-release of its totally redesigned iPhone. Get out your popcorn as we look back...

Ah, the iPhone 5. Has there ever been any device that inspired more mindless speculation, horribly wrong predictions, incorrect info from (still) Anonymous Sources, or pointless, testosterone-inflamed, engine-revving writing and idealized graphics design for a product that never came to be? Even Apple Corporate noticed, as its CFO blamed Internet rumors for weak sales of the iPhone 4 in the months leading up to the iPhone 4S. Indeed, the Apple rumor machine was constantly churning, running its wheels, bellowing about the iPhone 5, at such a volume and speed and with such consistency that we cannot even sum up nine months of incorrect iPhone 5 rumors in one slide (incredible, I know!). We've split it up by month; keep in mind when you are reading through these that the iPhone 4S, and only the iPhone 4S, was announced on October 4 and later released on October 14: JANUARY - APRIL Let's start weird, with a February rumor from Apple.Pro that the iPhone 5 could have a physical keyboard. In the realm of all things possible, this never should have been one of them, but the appetite for iPhone 5 rumors was such that even nonsense like a slide-out keyboard -- a slide-out keyboard, for God's sake! -- gained enough traction that nearly every major tech publication in America covered it, with varying degrees of skepticism. If an anonymous source had told us that the word "gullible" would be written across the display screen of the iPhone 5, we would have believed him. The iPhone 5 with a slide-out keyboard rumor would be a harbinger of our collective credulousness and voracity for iPhone rumors, no matter how ridiculous, unlikely, or flat-out stupid (a slide-out keyboard!!!). Anyway: That one never came to be, nor did a torrent of other supposed details about the iPhone 5, from release date (All Things Digital: Apple could announce the iPhone at its music conference in early September) to design change (BGR EXCLUSIVE: The next iPhone won't have a physical home button) to wholesale redesign ( This Is My Next/The Verge: The iPhone 5 will have a teardrop shape, total redesign). Wrote The Verge at the time: Why abandon the iPhone 4 design so quickly though? We've heard that the device is out of favor at the highest levels of the company, and folks are ready to move on to an entirely new product. As was the world, at this point! As was the world! DigiTimes had reported in February that the screen on the iPhone 5 would be 4-inches, up from 3.7-inches, as did the China Times. This was "corroborated" by supposed leaked internals out of China showing a much larger display case. (Here, let us take a side path: It was around this time thatCult Of Mac had an exclusive report that a cheaper, physically smaller iPhone called the iPhone Nano would be released alongside the iPhone 5. This cheaper iPhone would have no storage whatsoever, as all of your content would exist in the cloud. The author of the article over at Cult of Mac gushed over the news, claiming that this new, cloud-based iPhone would "blow your mind." It blew something, all right, but certainly not our minds.) Back to the main narrative: In April, The Verge published a photo of what the iPhone 5 might look like, a rendering based on all of the supply chain rumors above. The mock-up showed a beautiful, tapered tear-drop design (above), similar to the form factor of the MacBook Air. It was an exciting new look and a huge change from the boxy, suddenly vanilla iPhone 4 body; the iPhone 5 redesign rumor race had officially begun.

The summer came, as did more wildly off-the-mark predictions. In May, DigiTimes predicted that the phone to be released in 2011 would be the iPhone 4S, not the iPhone 5 (good work!); later in May (THAT SAME MONTH!), DigiTimes contradicted itself and said that the iPhone 5 would featured curved glass and a larger display. Way to hedge, DigiTimes! In June, Boy Genius Report wrote that the iPhone 5 would be a major update with a radical new case design and would be available in August. Psych! That was wrong. Bloomberg also published something that month which claimed that the next iPhone would be out in September. It wasn't. The dueling iPhone rumors (iPhone 4S and iPhone 5, at the same time, you guys) also started in June. Deutsche Bank analyst Chris Whitmore predicted that Apple would offer two new iPhones in September, and in July, 9to5Mac had a report that two separate iPhones would be released in September, a redesigned iPhone 5 and a cheaper iPhone 4S for emerging markets (Corrections department: Not two iPhones, not in September). From 9to5Mac: The "big" news is that Apple will be selling two totally distinct iPhones in September. One will be a low-end variety that will address the cheap Android market, according to the source. The other will be a high-end device and will be an all new design. There will be no mistaking these two devices, they will be immediately discernible. The iPod touch, like it always has, will get updated in September as well. None of this was true. Gizmodo jumped on board the September release date train with a report that AT&T retail employees had vacations blacked out for the last two weeks of September (and thus that the iPhone 5 was probably coming out in the last two weeks of September). That same month, the usually reliable and well-sourced (in matters Apple) Wall Street Journal published an article claiming that the thinner, lighter iPhone would be coming out next; in fact, there was no change in width from the iPhone 4 to the 4S, and the iPhone 4S is actually 3 grams heavier than the iPhone 4. As an adjective, "august" is synonymous with respected and impressive; as a month, August was the probably the pinnacle of overheated, overeager, inaccurate (un-respectable, unimpressive) Apple rumor reports. John Paczkowski of All Things Digital was largely alone in his rectitude when he reported that the new iPhone would be out in October; of course, this contradicted his report from April that the new iPhone would be out in September, but better late than never. Paczkowski was a lone, quiet voice of sanity in a month largely dominated by provocateurs and breathless rumormongers. Read on to see where so many went so, so wrong...

And away we go, into the most tumultuous months of inaccurate Apple rumors. Let's start in Japan, where Apple site Kodawarisan claimed that Apple would release the iPhone 5 on September 7 (only off by a month and a week!). At about the same time, Apple analyst Brian White of Ticonderaga Securities claimed that the iPhone 5 and iPhone 4S would be coming to China in early October; in fact, China is still awaiting its iPhone 4S (singular). Having no luck in Asia, let's head back to America, 9to5Mac claimed that the iPhone 5 would be available for pre-order on September 30 and available in stores on October 7, while their competitors over at MacRumors created another breathtaking mock-up of what they believed the iPhone 5 would look like (see above), based on purported Chinese iPhone 5 cases. Lookin' good, non-existent unicorn iPhone 5! Lookin' good! Boy Genius Report continued its one-website assault on fact-based reporting, with two articles in August that turned out to be wrong: First, the claim that AT&T was prepping for a mid-September launch of the iPhone 5, and second, that the iPhone 5 would launch October 1st in Canada. BGR also claimed that carriers were testing out 4G LTE iPhones, which could technically still be true. BGR: Sure, we have a pretty good idea of what it will look like [Editor's note: NOPE], though one technology we've repeatedly seen requested is LTE support for 4G networks across the globe. While we can't confirm that the upcoming fifth-generation iPhone will be able to support 4G LTE, we can now exclusively confirm that Apple's carrier partners are testing iPhone models with LTE capability. Reuters added its wisdom in late August, with an EXCLUSIVE report out of Taipei and Hong Kong that Apple would release two iPhones in September, the iPhone 4S and the iPhone 5. I'd question the use of "exclusive" here, as missing both the number of iPhones that would be released and the month they would be released certainly wasn't unique to Reuters alone; I suppose Reuters just had a know-nothing source exclusive to them.

Time was that every blogger, writer and "journalist" was certain that the new iPhone would arrive in September 2011; that month came and went without a release, and with nary a retraction or correction by the primary sources of those rumors, either. September may have disappointed on the actually-releasing-a-physical-iPhone front, but it did not disappoint on delivering blowhard Apple rumors, with several outlets ramping up speculation of what features and specifications the new iPhone 5 would carry. J.P. Morgan analyst Mark Moskowitz kicked things off in September with a note to investors that two new iPhones coming out in October -- the low-cost iPhone 4S and the totally redesigned iPhone 5 with lighter, thinner form factor. Let's hope his clients didn't make too many investments based on this knowledge. Many sites used reported cases to make the argument that the iPhone 5 would go through a redesign. Case-Mate "accidentally" leaked its iPhone 5 cases in mid-September; Apple blog Edible Apple was thinking that the home button would be redesigned into an oval, rather than a circle. Tech site M.I.C. Gadget, meanwhile, claimed to have seen thinner, taller, skinner iPhone 5 cases all over China and posted a photo gallery. Here's M.I.C. Gadget, reaching a conclusion as popular as it was wrong: In addition to being wider and longer, the cases show the mute switch being moved to the opposite side of the device, and the form factor being tapered into a slight "teardrop" design with rounded edges. So, what will the iPhone 5 look like? Here's our guess: As thin as the iPod touch. An aluminum back like the iPad 2. A bigger screen. On the release date beat, tech site The Verge received a tip from a Best Buy employee that something big was being planned for October 21. While this may have been a fixture in honor of the day after my birthday, it most certainly wasn't for the launch of the iPhone 5, which would occur a week earlier. Boy Genius Report missed it in the other direction, with a tip from a (presumably different) Best Buy employee that the iPhone 5 would be available at the big box store in the first week of October. Moral of the story: If you're a tech writer, don't publish tips sent in by Best Buy employees. Back to that redesign: CNET France had an exclusive report that the iPhone 5 would have a 4.3-inch display (how do you say "oops" in French?). In what may have been the most spectacularly strange Apple rumor of the season, The Next Web reported on a statement by former Vice President and Apple board member Al Gore talking about next month's new iPhones. Speaking at the Discovery Invest Leadership Summit in South Africa, Gore said that "the new iPhones would be out next month," which was interpreted, with the confidence of a first-year undergraduate English major just beginning to learn the art of "close reading," to mean that there would be multiple iPhones released in October, since Gore said "new iPhones" (plural) and not "new iPhone" (singular). Keep it in the lockbox next time, guys. In another spectacular bit of over-examination, 9to5Mac found a thumbnail icon in a bit of code in Apple's PhotoStream that seemed to show a redesigned iPhone 5 -- naturally, they took this icon, no bigger than the size of a thimble, and did some renderings outward, discovering that -- and this is serious -- if the dimensions in the thumbnail icon were correct ("We count 4 pixels by 2 pixels"), the iPhone 5 could only look much different than its predecessor the iPhone 4. Turned out that extrapolating outward from a teensy icon in a bit of Apple software wasn't so accurate. That took us into October, with Boy Genius Report's Sprint exclusive story, and Gizmodo's tongue-in-cheek iPhone 5 review the day before the announcement: This is the first review of the iPhone 5. Sure, it's a little, uhm, hacked-together, but I'll bet you it's not going to differ significantly from the officially sanctioned reviews that come out next week. Funny, I missed this part in most of the officially sanctioned reviews that followed: It's nice to see that Apple evolved the form of its flagship device. The iPhone 5 isn't much of a departure from the 4, but it's just skinnier enough to make a fat difference. Not skinny for its own sake, like some 3G Megan Fox--it's hand friendlier. With its slimmed form and tapered back, the iPhone 5 just fits better. It feels better on your palm, against your face, and in your pocket than its predecessor. Its subtle curved edges evoke a warmer feel than its predecessor. And that about does it for the iPhone 5, and all of the ways that we tech writers misled you, faultily jacked up your excitement and irresponsibly fueled your enthusiasm for a non-existent, never-announced, ultimately lifeless and nil-value gadget in 2011. Sorry about that, everyone! Our bad! Let us never discuss our failures ever again or examine the ways in which we could improve.