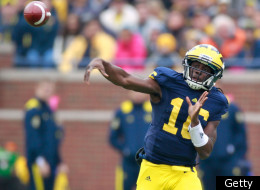 Even if Michigan State fans believe that the BCS tapped the wrong team from The Great Lake State, the Michigan Wolverines are back in a front-line bowl game after six, long seasons of discontent in Ann Arbor. Led by dynamic quarterback Denard Robinson, Michigan will square off against a team that's become a fixture of BCS bowls, the Virginia Tech Hokies, yet another program that the Sugar Bowl took some heat for selecting.
But don't hassle fans of either of these clubs are any of the players strapping on a helmet tonight with any lingering angst over the BCS selection process. These teams are locked, loaded and have the athletes to deliver an entertaining affair. Virginia Tech's special weapon, running back David Wilson, was named ACC Player of the Year. The junior is ranked sixth in the nation with 125.15 yards per game while also recording 1,627 rushing yards and nine touchdowns.
But all eyes will most likely be on Robinson and how he fares against a VT team that ranks 13th in the country in total defense and eighth in scoring defense (giving up 17.23 points per game). The Hokies defenders have a tough task ahead of them however, considering that the speedy Michigan playmaker is 13th on the NCAA's career rushing list for quarterbacks.
Will the Wolverines win their first BCS bowl game since the 2000 Orange Bowl? Or will the Virginia Tech defense stop Robinson en route to a Sugar Bowl win?
Click HERE to predict which team's going to win the Sugar Bowl.
Stay tuned here for live updates throughout the game and tweet to @HuffPostSports to join in the conversation.