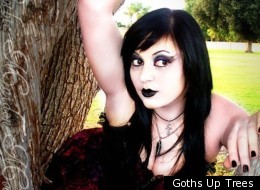 We know how rough coming back from a relaxing holiday break can be. It was mere days ago that you were lounging on your couch, sweatpants on, without a care in the world -- and now you'd like to recreate that feeling. Or at least get as close an approximation as possible.
So forget about the home video director's commentary and the vending machine videos, we've brought in the big guns.
As always, be sure to vote for your favorites and let us know if you come across any awesome new time-wasters that you think we should feature.
7 Sites You Should Be Wasting Time On Right Now (PICTURES)
YouTube Slam pits popular videos against each other based on category and lets you vote for your favorites. They've game-ified watching viral video! We recommend the Cute Slam as a good place to start.

This single-topic blog makes the stunning observation that, geez, there are a lot of photos of Goths sitting in trees out there on the web. Each photo gets some funny commentary and a rating on a scale of one to five.

This game asks you to get every letter off of the board except for the yellow ones that spell out "alone." It's a little tricky, but it's addictive once you figure it out.

You might be familiar with @Horse_eBooks, the Twitter spambot who tweets random phrases from books about horses that got popular for no apparent reason in 2011. Well now there's a site that takes those cryptic tweets and turns them into comics: Horse eComics. The Internet is a magical place.

Have a Tumblr? Curious to know what your most liked posts were in the past year? The Best of Tumblr tool goes through your blog and gives you your most popular photo posts by month.

A blog solely dedicated to editing Whoopi Goldberg's face into places it doesn't belong.

Tired of people clamoring around the Internet trying to figure out if Jay-Z and Beyonce have welcomed their new baby yet? Send them here. They'll get the message.