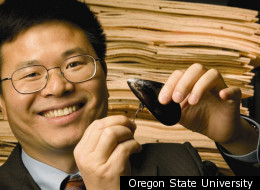 Kaichang Li was wading in the surf off the Oregon Coast when he spotted the future of superglue. Beneath the surface, a group of blue mussels anchored themselves to slippery, uneven rocks -- holding strong despite a turbulent tide.
"My friend and I were looking for crab, but didn't get any," recalls Li, a professor of wood science and engineering at Oregon State University.
Desperate not to leave empty-handed, they had moved on to harvesting mussels.
With the help of a large piece of driftwood, they pried the shellfish free. Li's friend took some home to eat; Li, eager to understand how the creatures achieved their remarkable grip, carried his share back to his lab.
The recipe he would later glean from hundreds of translucent tethers produced by the shellfish is now leading to the development of powerful soy-based waterproof adhesives -- a welcome replacement for the formaldehyde-infused versions traditionally used in cabinets and other furniture.
The innovative glue is just one example of how the burgeoning field of biomimicry is benefitting the health of humans and the planet. By looking at nature, researchers are discovering how to create color without chemical-based dyes, deter pests without pesticides and make products that can be absorbed back into nature rather than spending hundreds of years in a landfill or a plastic garbage patch in the Pacific.
STORY CONTINUES BELOW SLIDESHOW
SLIDESHOW: 15 Lessons From Nature On How To Live Healthier, Happier And More Sustainably
One early autumn day, David Oakey and his design team at the carpet manufacturer InterfaceFLOR strolled through a deciduous forest with Dr. Dayna Baumeister, co-founder of Biomimcry 3.8. The walkers noticed repeating patterns on the forest floor. Up close, they saw shapes, leaves and reflections. When they stepped back, the random landscape turned into a sort of uniform chaos. By replicating nature's randomness, the carpet manufacturer reduced its waste and its toxic legacy. Matching the color of a standard carpet is difficult, as each dye lot can vary noticeably. This can mean tossing out replacement runs or producing material that is never needed. But now, instead of uniform carpets identical in every square foot, InterfaceFLOR is making tile with a slightly different pattern and color, so that the whole blends into an intentionally variable pattern. Any tile spilled upon or damaged could be easily replaced, with old tiles recycled into the production of other tiles. "Nature makes only what she wants, where she wants and when she wants. No waste on the cutting-room floor," writes Janine Benyus in her book, "Biomimicry: Innovation Inspired By Nature."

The growing knowledge of how a morpho butterfly or peacock displays vivid colors offers alternatives to chemical dyes and pigments, which often contain toxic heavy metals. The surface of the creatures' delicate wings or feather fibers plays with the wavelengths of incoming light, similar to how light goes through prism.

Recent research has demonstrated that a spider can spin its silk with one-thousandth the energy that it takes to produce the typical synthetic fiber. One of its secrets: the ability to produce silk at ambient temperatures. At the same time, arachnid's product is stronger and tougher than its synthetic counterparts. The findings, according to Fritz Vollrath, a zoologist at The University of Oxford, point to the potential for energy savings. Vollrath, co-author of a paper describing the finding in the January issue of Advanced Materials, adds that the only solvent needed in the spider's processing is water -- none of the "nasty to very-nasty chemicals" that traditionally infiltrate fiber manufacturing.

The epidemic erosion of America's topsoil may not be immediately obvious: increasing application of agricultural fertilizers and pesticides offsets the immediate consequences of long-term tilling, lack of diversity in plants and the prior use of fertilizers and pesticides, says Wes Jackson, president of The Land Institute, a Kansas-based sustainable agriculture research group. He calls the reliance on these fossil fuel-derived products a "kind of chemotherapy for an essentially cancerous condition of the landscape." Over the last 10,000 years, civilizations were built on topsoil, he explains. But when that soil eroded, so did the civilization. A natural prairie, on the other hand, simply runs on sunlight. Instead of fertilizers, the land uses biological nitrogen fixation. A strong root system protects it from floods and droughts. And with greater diversity of plants, a prairie showcases greater chemical diversity and fewer pests. Insects that target a specific plant will waste energy buzzing around to find it, explains Jackson, leaving less energy available to produce sperm or eggs. Further, prairies and the rest of natures' land-based ecosystems feature perennials that don't need to be replaced every year. But today's grains are all annuals, thanks in part to humans' manipulative hand. Jackson's idea: "Why not develop perennial grains and then put them in mixtures that would mimic the structure of prairies?"

The scaly surface of shark skin is naturally antimicrobial -- easily sloughing off barnacles or bacteria. Sharklet Technologies is now mimicking this microscopic pattern to create products that could be easily cleaned. The concept may prove particularly useful for hospitals, minimizing the need for harsh cleaners or antimicrobial agents that can lead to antibiotic resistance.

The grooves of the Thorny Devil effortlessly collect water from rain, dew, even soil moisture -- against gravity. Capillaries carry the water from the desert lizard's skin to its mouth. A similar strategy may provide more clean water to the 1 billion people estimated to lack the vital resource.

Builders might want to take a few lessons from the Macrotermitine termite. The inside of the insect's mound manages to stay a constant 87 degrees Fahrenheit, even with outside temperatures fluctuating from the 30s to 100s. (This is the ideal temperature for the fungi that termites cultivate.) Modeling buildings after the same design -- which relies heavily on tunnels, chimneys and the use of wind to create pressure fields -- saves energy, as evidenced by the Eastgate Center in Zimbabwe.

With inspiration from cold-loving creatures such as the Antarctic ice fish and Upis beetle, researchers are coming up with potent antifreezes that are less likely to pollute waterways. The beetle, a native of Alaska, can survive at temperatures as low as -70 degrees Fahrenheit, notes John Duman, a biology professor at the University of Notre Dame. Applications for the insect antifreeze could range from the cryopreservation of cells and tissues, to the protection of pipes and agricultural crops. "If you could get something like antifreeze on the wings of an airplane, you could keep ice from forming," adds Duman.

The leaves of the lotus (or water lily) are covered with tiny bumps that naturally deflect dirt and water. This remarkable ability to stay clean and dry has long made the leaf a symbol of purity in many religious circles. Now, industry is mimicking the plant's structure to help produce water-repellent and self-cleaning surfaces, from clothing to cars.

The 40,000 muscle bundles inside an elephant's trunk have inspired a robotic arm capable of smooth, tightly controlled and wide-ranging movement. It's incredibly strong too, despite being built with simple components and neither steel nor iron. In addition to aiding people who are handicapped, the bionic arm could be used for applications in medicine and agriculture.

While a dog may frequently be responsible for dirtying clothes, man's best friend is also inspiring better washing machines and dryers. Rapid shaking quickly dries wet fur -- and appears to be more effective than the standard spin cycle.

Researchers at Oregon State University have been studying the movements of a variety of animals -- from humans to birds to our four-legged friends. And they're finding some consistent principles across all legged locomotion, according to Jonathan Hurst, a robotics expert at the university. Those principles could be used in building prosthetic limbs that work better with the biomechanics of the human body. The U.S. military's Defense Advanced Research Projects Agency (DARPA) has also funded Hurst's team to build an human-scale two-legged robot that can run and walk. Within the next 10 years, the technology could be helping soldiers carry more equipment over longer distances.

The body of the woodpecker takes a pounding. Thankfully, evolution has built the bird so that it can take it: the curved body shape and tail act as a bracing spring, while an oversized and fully-supported beak protects the brain. These insights may lead to shock-absorbing helmets, buildings designed to withstand earthquakes and jackhammers that cause less impact on construction workers.

The streamlined shape of the kingfisher's beak allows it to glide gracefully into water without any splash. And now, evolution's handiwork is providing a useful model for more fuel-efficient vehicles and planes. It's also speeding up trains. In Japan, the kingfisher-inspired Shinkansen Train travels at a 200-mile-per-hour clip with minimal noise.

By observing the behavior of chimpanzees, scientists are gaining insights into potential new drugs. Our human cousins, it turns out, have an uncanny ability to self-medicate -- picking and consuming natural antibiotics, painkillers and contraceptives. Chimps have even been caught rolling bad-tasting Aspilia leaves in their mouth before swallowing, much like a human pill.
Nature's genius has always been on display, but it has taken a "perfect storm" of public health crises, environmental losses and scientific gains for humans to pay attention with an eye towards self-improvement, says Janine Benyus, co-founder of Biomimicry 3.8, a combined non-profit institute and for-profit consulting group.
"What's happening now is peak everything: oil, fresh water, minerals, rare earth, topsoil," she tells The Huffington Post. "We're beginning to run into limits. We're also beginning to run into some of the toxic consequences."
The "ingenious" synthetic chemistry industry registers about one new chemical a day for potential commercial use, notes Dr. Philip Landrigan, chairman of the department of preventative medicine at the Mount Sinai School of Medicine in New York City. "Almost all are petrochemical-based," he says. "And almost none are tested for toxicity."
Meanwhile, nature has been evolving "a very high tech enterprise" over the last 3.8 billion years, says Benyus. "Now that we're getting a really good look at that, we're beginning to become a little more humble about our own technology -- and the fact that we could use some help."
Blue mussels are among a growing roster of creatures, from spiders to sharks, offering guidance to the U.S. military as well as private companies that include Columbia Forest Products Inc. Using Li's adhesive in its PureBond plywood, the manufacturer has reduced its dependence on petrochemicals as well as its production of toxic chemicals -- without additional costs to the consumer.
"For years, the industry has used glue that leaches formaldehyde into the environment long after the wood is made," says Joanna Beckman, a spokeswoman for Columbia Forest Products. The old glue, which does a good job of waterproofing, has been implicated in everything from sick building syndrome to cancer.
Nature often knows better, according to Benyus and other experts. They want to see manufacturing follow nature's lead: assembling at normal temperatures, without chemical treatments and using less energy and fewer, more locally abundant materials.
"There are a set of common principles that life adheres to; it has no choice," says Mark Dorfman, a green chemistry naturalist at Biomimicry 3.8. "To survive, it can't poison its immediate environment. If it raises young, it can't deplete its resources."
These are the very problems that concern environmental and public health scientists. However, Dorfman suggests that both the problem and the solution may rest heavily on one of nature's favorite building blocks: carbon. The ability to mimic photosynthesis is the "holy grail" of biomimicry, he says, whether that's tapping sunlight's energy or using carbon from CO2 to produce the complex carbon-based compounds used throughout industrial society.
"That's so enormous," Dorfman says. "Right now, both of those are based on the extraction of fossil fuels -- coal, oil or natural gas."
In nature, organisms obtain carbon by breaking down CO2 with help from an enzyme called rubisco. By mimicking the enzyme, Novomer Inc., a sustainable chemistry company, is learning how it can use CO2 as a starting material for plastics that include types used for water bottles and CD cases. Not only could the resulting products sequester carbon, but they also may reduce the need to extract fossil fuels -- both helping to slow climate change. The consumer also wins by avoiding exposure to air pollution and toxic chemicals that can leach from standard plastics.
To date, Novomer has developed a resin used in electronics. Next up: a BPA-free liner for cans.
Of course, replacing a toxic compound with a new natural one isn't always the answer, says Dr. Ted Schettler of the Science and Environmental Health Network. "There are plenty of poisonous plants out there, and marine organisms that create toxins that make people sick," he tells HuffPost.
The "likelihood of toxicity is lower" if it's nature-made, says Dr. Landrigan. But he, too, points out exceptions such as arsenic and lead. Both experts agree, rigorous testing is needed for both synthetic and natural chemicals.
Geoffrey Coates, co-founder of Novomer, also notes that any new green technology needs to be economically viable. "Very few people will pay more for something just because it's green or environmentally-friendly," he says.
Half the weight of Novomer's plastics comes from carbon dioxide, which is essentially free.
"Economically," says Coates, "these polymers can be quite a bit cheaper than their petroleum-only based counterparts."
"Nature is very economical," says Javier Gomez Fernandez, a research fellow at Wyss Institute for Biologically Inspired Engineering at Harvard University. He is currently working with colleagues to develop another plastic alternative, this one inspired by a shrimp's shell and silk, and described in December in the journal Advanced Materials. The product is aptly named Shrilk.
Shrilk, like Novomer's plastic, is biodegradable. Packaging doesn't need to be around for 1,000 years, when we only use them for a few minutes, Fernandez says.
"When we look at what is truly sustainable, the only real model that has worked over long periods of time is the natural world," says Benyus. The ultimate goal of biomimicry, she says: "How do we fit in over the long haul?"