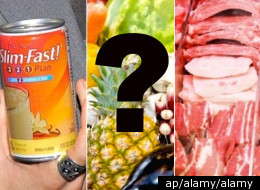 The easier a diet is to follow, the better the odds of sticking to it. So user-friendliness was one of the factors experts considered in U.S. News' latest ranking of 25 popular diets. Is a diet filling and tasty? Does it impose stringent requirements such as eating a certain number of times per day? Are unique foods required? The experts put Weight Watchers at the top, viewing it as flexible, tasty, and allowing plenty of eating throughout the day.
More from U.S. News:
Easiest to Follow Diets: in Pictures
Best Diets Overall
Stick-to-Your-Diet Tricks You've Never Heard of for 2012
Check out the findings from U.S. News below:
Dieters can eat whatever they want as long as they don't exceed their allotted daily points. No foods are forbidden, occasional treats are encouraged, and the plan emphasizes all-you-can-eat fresh fruits and veggies. Experts liked the optional weekly meetings, since support is crucial to compliance. They also applauded Weight Watchers for being realistic, flexible, and filling. It scored more than a full star above the average in this category and was crowned the easiest diet to follow.

Built around prepackaged, home-delivered meals, Jenny Craig takes the guesswork out of dieting. That makes it very easy to follow for those needing portion control and discipline, one expert noted. Meals include favorites like apple cinnamon waffles, lasagna, fish and chips, and cookies, and a Consumer Reports taste-testing panel found them good overall. Like Weight Watchers, Jenny also got praise from the U.S. News experts for structured support, via counselors who work one-on-one with dieters.

Experts commended the emphasis on diverse foods and flavors. Dieters can tailor the menu to their tastes and preferences, and are even encouraged to have a glass or two a day of red wine. Since there's no hard and fast calorie range, going hungry isn't a concern, which helps make the Mediterranean diet moderately easy to follow. [Flickr/Wikimedia] photo by missmoniquita.

Grab a couple of meal replacements and you're good to go. The diet's convenience factor places it among the easier programs to follow, experts said. Slim-Fast products come in many flavors, from chocolate cookie dough to French vanilla, and dieters need only worry about preparing one home-cooked meal per day.

The diet's score of just above 3 stars, out of a possible 5, was well above average. No foods are banned and filling choices like fruits, veggies, and soup are emphasized. Nor does it call for drastic changes--the focus is on making smart, maintainable tweaks. One expert praised Volumetrics for being "straightforward"; another called it "family-friendly and sustainable."

Sticking to the Dietary Approaches to Stop Hypertension (DASH) plan is moderately easy. While it's less structured than some commercial diet programs, the experts liked that it doesn't restrict entire food groups; dieters focus on balanced meals and snacks like chicken salad, whole-wheat rolls, and almonds. Experts also appreciated that DASH doesn't require tedious prep or unconventional ingredients. An ample supply of online recipes and guides are available to help dieters along. [Flickr/Wikimedia] photo by Magic Madzik.

This diet is also moderately easy to follow. Its eating pyramid promotes foods with low energy density, meaning dieters can eat more while taking in fewer calories. Restaurant meals are allowed, and there are lots of resources (including tips and recipes) that help dieters stick to the plan.

Another moderately easy program, thanks to heat-and-eat, home-delivered meals. The downside: Dieters must cut back on dining out, and adjust to eating different meals than the rest of the family. Still, Nutrisystem's simplicity makes it a "good way to get started" on a diet, said one expert.

Developed by the National Institutes of Health, the Therapeutic Lifestyle Changes (TLC) diet is moderately easy to follow. There are lots of online resources, including meal plans and recipes, but dieters must decode nutrition labels on their own. The experts appreciated the emphasis on fiber-packed fruits and veggies, which help keep hunger at bay.

This diet is a relatively good choice as a moderately easy plan. No food group is off limits, and recipes, convenience foods, and online resources abound. "This is a pretty common sense approach," said one expert. "It's not overly restrictive, making it easier for one to stick with long term."

Nearly 3 stars put this diet about in the middle of the pack as another moderately easy-to-follow plan. Snacks and dessert are allowed, and there's no calorie-counting -- both factors that boost compliance. On the other hand, substantial prep and cooking time are required, and U.S. News-consulted experts found the program rather restrictive, especially at first, when fruit, starches, and alcohol are off-limits.

This diet, too, is moderately easy to follow. While menus are tasty and ample guides are available, the strict eating schedule -- a meal or snack every four hours -- may be a turnoff for busy dieters. And a specified amount of monounsaturated fatty acids is required at every meal, making the plan "unnecessarily complicated," as one expert noted.

On the easy-to-follow scale, this diet joins the moderately-easy cluster. It's not the most challenging approach -- nor the easiest. Giving it just under 3 stars on average, experts recognized that building a healthy vegetarian diet takes planning, and going meat-free can be tough for some. But dieters are free to choose what they can't live without, like having some turkey on Thanksgiving, which helps ease the transition. [Flickr/Wikimedia] photo little blue hen.

Toward the lower end of the moderately easy range. Lots of prep work is required, and each meal must include at least two of 12 Abs Diet Powerfoods. That could challenge busy dieters, one expert said. On the upside, one "cheat day" is allowed per week and dieters get frequent meals and snacks.

A limited menu and small portions make this diet somewhat difficult to follow, according to experts. Its powdered, just-add-water food also will likely grow old fast. But dieters get to eat frequently and aren't required to track anything -- there's no counting of carbs, points, or calories -- all compliance-boosters.

Atkins was rated somewhat difficult to follow. It's very restrictive -- goodbye to sweets and bread, for example -- and dieters must diligently count carbs. Plans that sharply limit entire food groups for long periods, as Atkins does with carbs, tend to succeed less often than more flexible diets do, according to experts. Eating out is a chore, and alcohol is discouraged. All of the above explain why Atkins scored just a bit below average and wound up in the lower middle of the pack.

Each meal must contain the precise percentage of carbs, protein, and healthy fat. There's a strict eating schedule, too: breakfast within an hour of waking up; snacks and meals every five hours. That inflexibility makes Zone somewhat difficult to follow. [Flickr/Wikimedia] photo by Neeta Lind.

Experts had enough reservations to send Eco-Atkins to the bottom third of the easy-to-follow list. While it's less restrictive than traditional Atkins, most followers eliminate all animal products, making compliance somewhat difficult. And few books, online tips, or other resources are available to guide dieters.

The regimen lacks the structure provided by some commercial plans, making it somewhat difficult to follow. Dieters must figure out what, how much, and when to eat on their own. Plus, a GI ranking, which distinguishes good carbs from bad, isn't available for every food.

Research suggests most people have trouble sticking to restrictive diets, and the diet's limit on fat to 10 percent of daily calories compared with the government's recommended 20 to 35 percent is certainly restrictive. Those who can't do without fatty foods like animal products may not be able to stay the course. Experts gave Ornish just under 2 stars, deeming it somewhat difficult to follow.

Look elsewhere if you want simple, the experts agreed. No dairy, eggs, poultry, or red meat allowed -- or anything artificial, processed, or with chemical additives. One expert called it a "drastic diet change" and expressed doubt that most Americans could comply.

The premise -- that if cavemen didn't eat it, you shouldn't, either -- means cutting out refined sugar, dairy, legumes, and grains, while subsisting on meat, fish, poultry, fruits, and veggies. Such restrictions make the diet among the more challenging to follow on our list.

With a score nearly a star below average, veganism qualifies as somewhat difficult to follow. It's very restrictive, and shaping a healthful (and tasty) plan takes work and creativity. Restaurant meals are doable, but options may be limited. And only certain types of alcohol are vegan-friendly. [Flickr/Wikimedia] photo by norwichnuts.

Rules-driven and extremely restrictive, this diet was second worst, scoring a full star below the average for all diets. The early phases focus only on high-protein choices like veal and pork, and alcohol is banned entirely until later stages. (Other food groups eventually are added back in.) "A diet that is not flexible and limits macronutrients would be difficult to integrate into daily dietary habits," said one expert.

Dehydrated bananas and buckwheat sunflower seed pizza crust? About 75 to 80 percent of what raw foodists eat are plant-based foods never heated above 115 degrees. The approach is extremely prohibitive and unusual, and some meals are based on plants that must be germinated from seeds, harvested, and dehydrated. Of all 25 diets evaluated, experts deemed it the most difficult to follow and gave it close to the lowest score possible in this category. [Flickr/Wikimedia] photo by timparkinson.
For more on diet and nutrition, click here.