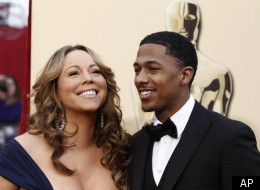 In what she's calling a reversal of roles since she was hospitalized for her now epic pregnancy with "Dem Babies" last year, Mariah Carey tweeted the news that her husband Nick Cannon is suffering from "mild kidney failure," asking for prayers as he recovers in an Aspen, Colorado hospital.
@MariahCarey

Mariah Carey
In a message on her official website, the singer wrote:
This is us in the hospital - role reversal; Last year it was me attached to the machines (after having dembabies) and Nick was there with me through it, and now here we are.

We're trying to be as festive as possible under the circumstances but please keep Nick in your thoughts because this is very painful. They tried to kick me out of the hospital but here I am pon de bed with Mr. C.

We're doing OK but we're "straaaaaanded in Aspen". #DramaticDivaPlace (I know, we could be in a lot worse places) but the truth is as long as we're together, we're OK. I'm not trying to make light out of the situation because it's a serious moment that's very tough on all of us so please keep us and our family in your prayers. LYM.
The couple was recently spotted celebrating the holidays in Aspen, wearing matching outfits and toting their twins Monroe and Moroccan.
PHOTOS:
Along with her well wishes, Mariah tweeted this photo of a bedridden Nick.

Actor/DJ Nick Cannon performs at KIIS FM's Jingle Ball at L.A. Live's Nokia Theatre on December 3, 2011 in Los Angeles, California.

In this image released by ABC, correspondent Barbara Walter, left, poses with singer Mariah Carey and her husband Nick Cannon as they hold their six-month-old twins, Moroccan and Monroe during an interview that aired on the news magazine "20/20 on Friday, Oct. 21, 2011.

Singer Mariah Carey and her husband, actor Nick Cannon attend the Floyd Mayweather Jr. and Shane Mosley welterweight fight at the MGM Grand Garden Arena on May 1, 2010 in Las Vegas, Nevada.

Singer Mariah Carey is joined on stage by her husband Nick Canon and the Reverend Al Sharpton as she receives the James Brown Cultural Excellence Award during the 12th annual Keepers Of The Dream Awards at the Sheraton New York Hotel & Towers on April 15, 2010 in New York City.

Singer/actress Mariah Carey and husband Nick Cannon arrives at the 82nd Annual Academy Awards held at Kodak Theatre on March 7, 2010 in Hollywood, California.

Singer/actress Mariah Carey and singer Nick Cannon arrive at the 16th Annual Screen Actors Guild Awards held at the Shrine Auditorium on January 23, 2010 in Los Angeles, California.

Mariah Carey and Nick Cannon arrive at the 67th Annual Golden Globe Awards on Saturday, Jan. 17, 2010 in Beverly Hills, California.

Singer and actress Mariah Carey and husband Nick Cannon attend a New York Film Festival screening of 'Precious' at Alice Tully Hall on Saturday, Oct. 3, 2009 in New York.

Mariah Carey kisses husband Nick Cannon after she performed on the NBC "Today" television program in New York Friday, Oct. 2, 2009.

TV personality Nick Cannon kisses his wife Mariah Carey in front of Oprah Winfrey in Central Park for a taping of "Oprah", in New York, on Friday, Sept. 18, 2009.