Three Kings' Day Celebrated Around The Country, From El Barrio To Disneyland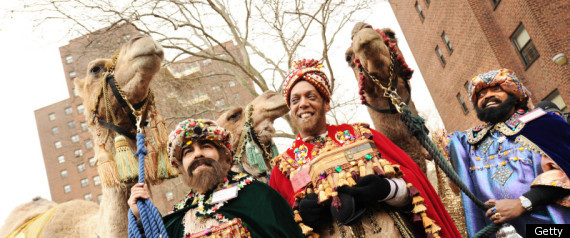 ¡Felíz Día de Reyes!
Christmas is over, bank accounts are in recovery, New Year's resolutions were made and probably already forgotten. While for most people, the start of a new year is a time to contemplate the year ahead or to shake off the holiday blues, for most Hispanics it's still part of the Christmas holiday festivities, as on January 6th, Latinos celebrate Día de Reyes, or Three Kings' Day.
The colorful and lively celebration is also known as Epiphany and marks the end of the 12 days of Christmas. Epiphany "is a Christian celebration of the revelation of the birth of Jesus Christ to the world. This is embodied most in the story of three wise men visiting a newborn Jesus with gifts." The festivities commemorate the visit of The Three Kings, or The Three Wise Men -- Melchior, Caspar and Balthazar -- who are said to have arrived with gifts of gold, frankincense, and myrrh for the newborn child.
Over two thousand years later, from New York to Chicago to Southern California, the widely popular tradition is celebrated in cities and communities across the U.S.
This year, even Disneyland is getting into the act, with a weekend-long celebration. The park's official blog states that "Mickey Mouse and Minnie Mouse will appear in their Fiesta costumes and other characters will join them, including the Three Caballeros: Donald Duck, Jose Carioca and Panchito!" Special food carts will also appear in Disney's Zocalo Park. On the menu? Sweet corn tamales, strawberry filled churros and the traditional Rosca de Reyes, or kings' pastry, a crown-shaped cake usually decorated with fruits like dried figs or even orange peels along its crust.
In Chicago, dozens of Latino employees work day and night in a local bakery to prepare Rosca de Reyes, Mexican style.
"We don't use big machines. We do everything by hand and without the help of machines," said Jesús Salagado, supervisor of the bakery 'Happy Cake La Baguette de Chicago' in an interview with Spanish news agency EFE.
When the owner of the bakery, Gilberto Chavarría, came to the U.S. from Mexico 23 years ago, "he baked a good number of roscas and then gave them away to Mexicans in the area," said Rafael de la Vega, another supervisor at the bakery. This year, they will bake and distribute around 6,000 of the special pastries.
Mexicans do love their roscas.
This past Wednesday in Mexico City, thousands gathered to enjoy a gigantic one of over 740 meters in length and over 10 tons in weight. Two thousand bakers participated in preparing this tasty treat, using 2,323 pounds of fruit, over 5,720 pounds of sugar and 1,320 pounds of marmalade, reported NTD Television.
According to custom, a small figure of baby Jesus is baked into each rosca, to represent the fact that he had to be hidden and protected at birth.
When the time comes to cut the rosca, tradition dictates that whoever finds the baby Jesus figurine must provide food and drinks for the celebration of Candelaria, or Candelmas, which marks the end of the holiday season on February 2nd.
The festivities also include something for the kids. Much like on Christmas Day, children receive three presents, one from each of the wise men, in remembrance of the gifts they brought baby Jesus. And again, similar to how kids leave milk and cookies for Santa Claus, Latino kids will leave green grass for the kings' camels.
In New York, the celebrations are heard across the city, particularly around the annual Three Kings' Day Parade in East Harlem. The procession, hosted by El Museo Del Barrio, lures in thousands of people each year.
"It's something that every New Yorker -- every Latino New Yorker, and a lot of New Yorkers in general -- wait to see, because it's so colorful and brings a little bit of joy to the dark and cold days of January," said Gonzalo Casals, director of education and public programs at El Museo del Barrio in an interview with WNYC.
"For us, the holidays haven't finished yet," Casals said , "The big celebration for Latinos is Three Kings' Day."
SEE HOW THREE KINGS' DAY IS CELEBRATED AROUND THE WORLD:

Loading Slideshow
The Three Kings

The Three Kings Day (D&iacutea De Los Reyes Magos) celebrates the Nativity story of the Three Kings, also referred to as The Three Wise Men --Melchior, Caspar and Balthazar -- who brought gifts to baby Jesus in Bethlehem. Sometimes it is referred to as the 12th Day of Christmas and in many Hispanic households it's given the same importance as December 25th.

Children Celebrating

Like Christmas, Three Kings Day is a celebration that appeals to kids. The processions, costumes and gift-giving nature of the holiday makes it a favorite among young ones.

But It's Not Only About The Kids

Although the celebration of <a href="http://latino.foxnews.com/latino/lifestyle/2011/01/06/bothers-kings-day/" target="_hplink">Three Kings' Day is usually all about the kids</a>, you'll often see adults taking part and dressing up as the Three Wise Men.

Colorful Festivity

The Three Kings Day celebration is often loud and colorful. Street processions are common on January 6th. This picture of tall Three Kings puppets was taken at the annual parade in East Harlem, New York City.

There's Camels

The Nativity story tells that the Three Wise Men arrived to Bethlehem on camels. These camels were part of the East Harlem Three King's Day parade.

And Sheep Too

This picture was also taken at the annual Three Kings' Day Parade in East Harlem, New York City. Sheep, which are also usually part of the nativity story, were part of the procession.

Rosca de Reyes

<em>Rosca de Reyes</em> is a traditional pastry which usually has fruits like dried figs or even orange peels on its crust. According to custom, a small figure of baby Jesus is baked into the bread. <a href="http://www.flickr.com/photos/donaji/5329384926/" target="_hplink">Flickr Photo by Martha Donaji </a>

In Lithuania

As an important part of Christianity, Three King's Day -- or Epiphany -- is celebrated around the world. Here, people dressed up as shepherds, livestock and the three wise men for a procession in Vilnius, Lithuania.

Devotion in El Salvador

A man dressed as one of the Three Wise Men is seen during Epiphany celebrations in a church in San Salvador.

Celebration in Warsaw

A volunteer dressed as Melchior, one of the Three Kings, attends the Epiphany parade in Warsaw, Poland on January 6, 2011.

Three Kings At The Vatican

Youths dressed as the Three Wise Men greet Pope Benedict XVI as he celebrates the Solemnity of Mary the Mother of God Mass and the 45th World Day of Peace on January 1, 2012, at the Vatican basilica.

Lights

Fireworks in Spain on the eve of the Three Kings Day celebration.
WATCH RELATED: