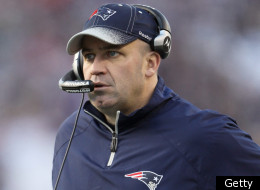 Penn State has found a new head football coach. According to Chris Mortensen of ESPN, New England Patriots offensive coordinator Bill O'Brien has agreed to become Joe Paterno's successor in Happy Valley.
The Boston Herald reports that O'Brien has been informing people around the NFL that he has agreed to become the next coach of the Nittany Lions.
Penn State football reporter Ben Jones Tweeted that two players he has talked to haven't heard anything official and the university hasn't commented either.
Per ESPN, Penn State will make the announcement on Saturday.
O'Brien interviewed for the job earlier on Thursday.
Adam Schefter tweeted Thursday night that O'Brien will remain Patriots offensive coordinator for the rest of the season.
Joe Paterno, the legendary coach who spent 46 seasons at Penn State, was fired in November after a horrifying child sexual abuse scandal was revealed following the arrest of former assistant coach Jerry Sandusky on molestation charges.

UPDATE: USA Today also confirmed the hiring, citing a person with knowledge of the coaching search who requested anonymity because the schoool has not made an announcement.