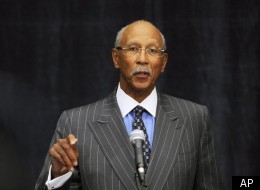 Detroit Mayor Dave Bing gave an updated restructuring plan and discussed the city's finances with City Council Thursday afternoon. He announced 1,000 layoff notices have already gone out to city workers and the DDOT bus system has been moved under a new management company, among other immediate efforts to save the city money.
The meeting came after the mayor and council had worked through their holiday break to figure out the city's short-term cash flow problem and ward off a possible state takeover.
Bing announced in November that Detroit was facing a $45 million deficit and would run out of cash by April. Michigan Gov. Rick Snyder soon moved for a preliminary review of the city's finances, the first step toward appointing an emergency manager who would have special powers to break contracts and sell public utilities in the name of making the city solvent.
After the preliminary review found "probable financial stress" a 10-member formal review team is set to begin a deeper probe into Detroit's finances next week.
Bing and City Council have said they oppose a state takeover and have been working to come up with their own plans to prove the possibility of financial stability for Detroit.
Bing, flanked by members of his executive team, Kurt Lewis and Chris Brown, laid out various revenue raising measures, as well as specifics of the city's debt obligations.
Brown explained how Detroit managed to owe $13.2 billion dollars -- or $18,500 per resident -- through a combination of debt and pension and healthcare obligations for city employees and retirees. He also showed how accounting tricks could revise the city's actual third-party debt down to $1.8 billion.
"It's not debt, it's a longterm liability," he said, adding the city should subtract its post-employment costs (healthcare and pension obligations), water and sewer debt, unlimited tax general obligation and non-general fund pensions from that number.
According to his calculations, the city ends up with $1.8 billion dollars of true third-party debt, which it pays $145 million per year to service.
Bing emphasized the city's need to focus on short-term revenue generating solutions rather than tackle the longterm, structural financial problems immediately.
"Legacy problems have been with us for 30 years and suddenly everyone's coming out of the woodwork telling us what we should do," he said. "I'm not ready to answer that just yet. I'm looking at next 18 months to get us some headroom on a cash-flow standpoint that then will allow us to go back and look at structural things."
Bing named a handful of actual revenue-raising measures, including a 1 percent increase in the corporate business tax, bringing it up to 2 percent, beginning Feb. 1.
The city also has already recouped $10 million in past due bills owed by Detroit Public Schools and expects to receive $5 million more before the end of this month.
And Bing's plan factors in $10 million in savings from restructuring DDOT.
But the majority of his cost-saving measures are still contingent on winning deep concessions from the city's unions. Bing and his aides were not willing to speak very openly about negotiations, since both parties are still at the table.
The city has already sent out pink slips to 1,000 workers, effective in February. Bing said the layoffs would mean $14 million in savings for the city.
But City Council President Charles Pugh and Member Ken Cockrel expressed skepticism that 1,000 layoffs would be sufficient. They pressed Bing on his plan's dependence on winning concessions from city unions on healthcare and wages.
Bing admitted that if he could not get the concessions he's seeking, more layoffs would be necessary.
Bing's full plan is available on line here.
For a full recap of the meeting, see our liveblog below.
Council Member Brenda Jones pressed Bing on whether the state would begin collecting income tax on behalf of the city. Bing previously requested tax collection assistance from the state.
He said the city would continue talking with the state, "but I think they're waiting until we give them a plan before they will commit anything."
Jones also asked if Bing had considered reverting to the city's old resident income tax of 3 percent. The city agreed to lower the rate to 2.5 percent in exchange for revenue sharing from the state, with the state has since failed to provide.
Bing agreed that the state hat reneged on the deal but said, "One of the things we're not prepared to do right now is increase taxes."