Deadly Mushroom Meal: New Year's Eve Meal Kills 2 At Chinese Bistro In Australia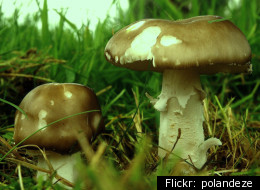 A New Year's meal in Canberra, Australia turned deadly for two people on New Year's Eve after they ingested death cap mushrooms. Chef Liu Jun, 38, of the Harmonie German Club prepared the meal and died from liver failure as a result of the poisonous mushrooms. A Chinese woman, Tsou Hsiang, 52, also died.
It is thought that Liu picked the mushrooms on his way home from work, having mistaken them for edible straw mushrooms. When eaten, death cap mushrooms can attack enzymes that are involved in producing DNA; they can also cause liver failure. The fatality rate for people that consume death cap mushrooms is between 25 and 50 percent.
The meal served was a private one; it was not part of a public menu.
Until his death, Liu sent a check to his wife and family, who live in China's Hunan province, every week. The Australian reports that he was often found chatting with his family on Skype and a staff member called him "one of the nicest blokes you'll ever meet."
Below, other poisonous mushrooms:
This mushroom, which is poisonous but rarely fatally so, was responsible for 22.4 percent of all mushroom poisonings in 2009, according to the North American Mycological Association. Chlorophyllum molybdites are pretty mushrooms that grow in "fairy rings" after a rain. Photo by Amanita77, used under a Creative Commons license.

Omphalotus olearius is also known as the jack o'lantern mushroom, for obvious reasons. Jack o'lantern mushrooms, which are poisonous but generally won't kill a person, are bioluminescent -- the gills glow in the dark due to luciferase enzymes. Photo by Jason Hollinger/Flickr, used under a Creative Commons license

Do not eat the deadly poisonous Amanita phalloides, otherwise known as the death cap, whose scientific name means "phallus-shaped." Death caps are responsible for the most number of mushroom-related human deaths. Baby death caps are egg-shaped, and covered in a veil; the mushroom can smell sweet, like honey. They reportedly even taste good. Pope Clement VII -- the pope who refused to annul Henry VIII's marriage to Catherine of Aragon, leading to the Protestant Reformation -- quite possibly died from eating these mushrooms. Photo by Getty Images.

Suillus granulatus is brown and sticky (when wet). It's edible, though sometimes causes upset stomachs, and likes to live symbiotically with pines. It can be pickled. Photo by Frank Gardiner aka Zonda Grattus, used under a Creative Commons license.

Amanita rubescens is rosy-colored when cut or bruised. This mushroom is edible (when cooked) -- but it looks like some species of mushrooms that are not edible, so, as always when eating foraged mushrooms, be careful. Photo by OliBac/Flickr, used under a Creative Commons license.