Rick Santorum-Linked Universal Health Services Facility: Fraud, Assault And Alleged 'Exorcism'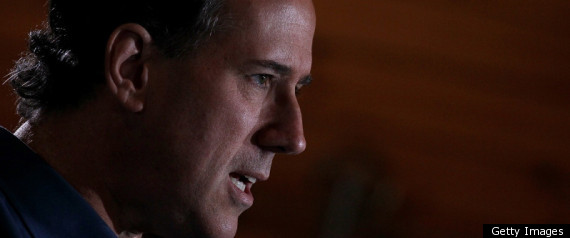 WASHINGTON -- Former Sen. Rick Santorum (R-Pa.) has become a top-tier candidate for the Republican presidential nomination in recent weeks by appealing to evangelical voters as a man steeped in family values and his Christian faith. From 2007 to 2011, however, Santorum served on the board of directors of Universal Health Services Inc., a large hospital chain which racked up dozens of allegations of abuse during that time -- including everything from rape to suicide attempts allowed by neglect to murder.
Over the years, states have barred children from attending UHS facilities over safety concerns and the feds have put UHS on their radar. Department of Justice lawyers have filed two lawsuits accusing the chain of fraudulent activities. One lawsuit settled for $27.5 million. Another suit still pending in federal court in Virginia centers on a facility called Keystone Marion Youth Center.
The facility, located in Marion, Va., is a residential treatment center for troubled boys with mental-health issues. The majority of patients come from states' child-welfare and juvenile-justice systems. The center promises stability, schooling, and clinically-approved therapies. It was also approved to accept Medicaid patients.
It did not have approval to perform an "exorcism."
But that is what appeared to be happening in an empty room at Marion in May 2007, according to a facility teacher who passed by the room, which was occupied by at least one nurse, a supervisor, a janitor and a boy with autism. Several in the room appeared to be hovering over the boy and praying, according to the teacher, who recounted the incident shortly after to Barbara Jones, the center's director of education at the time.
The severity of the boy's autism left him hardly able to speak and unable to walk on his own, Jones says.
"'They were trying to exorcise him. That's why he had the autism, he had a demon in him,'" Jones recounted what the teacher told her to The Huffington Post. "The cleaning lady was trying to cast out the demons."
The Marion Center repeatedly fell into trouble with authorities before and during the time Santorum served on the board. He resigned this past June to focus on his campaign. UHS facilities across the country -- from the former senator's home state of Pennsylvania to Illinois to Tennessee to Texas and Kansas -- have come under fire as well. Authorities have thrown around words like "systemic failure" to describe the UHS treatment centers and have sued them for millions in court settlements.
Santorum served on the UHS board's compensation committee and the nominating/corporate governance committee, which appear to play no direct role in overseeing hospital operations. But the board -- like any corporate board -- is responsible for maintaining oversight and making sure facilities are safe and do not violate the law. Bloomberg has reported that Santorum has made close to $400,000 off his relationship with UHS.
Santorum's campaign declined to comment, referring inquiries to UHS. But in an interview with Yahoo News this week, Santorum said that as a member of the board, he cooperated with the DOJ's Medicaid fraud investigation.
"Any investigation, you obviously engage and fully cooperate with it, and that's what we did. You try to get to the bottom of it. There's always accusations that take place and that's part of the responsibility of directors to make sure that we investigate that and get to the bottom of it," Santorum said. "I don't have any stock options. I did, but I exercised them and they're gone."
UHS issued a statement to The Huffington Post concerning the Marion Youth Center.
"There are hundreds of adolescents who have received high quality, successful care and treatment at Marion Youth Center," the company wrote in an email, "and have had their lives dramatically improved as a result of the efforts of the dedicated individuals that work at Marion."
The hospital chain responded directly to the exorcism charge, calling the allegations "absolutely false, libelous and knowingly untruthful."
A state report counters this claim and appears to back up Jones' recollections of the incident as relayed to her at the time, and its subsequent fallout. According to the report, state investigators noted that the Marion Youth Center initiated an internal investigation into the matter as well. An administrator with the facility reported to state investigators that staff had been caught "praying over" a boy. "Provider determined the youth did not give consent for the event to occur," the state investigation found. "One regulation violation was determined."
The most shocking thing about the incident, however, was that it didn't shock. As Jones says, "It didn't surprise me."
* * * * *
Jones, 44, began working at the Marion Youth Center in July 2006 to take over the treatment center's school. The center was small, holding only 48 beds, and it only took boys between the ages of 11 and 17 and sometimes older. She was in charge of setting the curriculum, supervising seven teachers and implementing a behavior modification program. "It was appealing to me to run a school," Jones says.
But when she arrived, Jones says there was no school to run. She found teachers would convert a group room into a makeshift classroom. There were no chairs. There were no books. She found boys either playing video games or sleeping on the floor.
"There was a couple broken down chairs," Jones remembers. "The walls were dirty. The floor was dirty. It was chaos. That was the best word. The teachers obviously didn't like it but that's what they were told to do."
Jones says she had to beg the center's management to make classrooms. She insisted that children were not meeting the contracted education requirements known as Individualized Education Programs. "They were saying they didn't have enough staff to be in the classroom," Jones explains. "It was about money and coverage. I had to pull out their educational plans ... to pull out the child's IEP -- a legal document."
The boys of Marion didn't just miss out on school. They were missing basics like proper clothing, Jones found. Many kids didn't have socks or shoes. A 17-year-old kid sent from West Virginia walked around in shower slippers and pants an inch or two too short.
"He didn't remember anyone buying him clothes," Jones says. "He hadn't been out of the building for a year."
The kids, she said, only had thin blankets on their beds. The facility had them sell Christmas cards to raise money for new blankets. "The kids designed them, and then I went out and sold them," Jones says.
As for treatment, the head psychiatrist rarely made appearances. Therapy was sometimes conducted in hallways. "It was called 'drive-by therapy,'" Jones says. "They would walk with the kid to the cafeteria and the kid would get their food. It would be written up that [the] therapist had seen the kid."
If a boy mouthed off or provided the slightest provocation, Jones says, sometimes the staff response was "brutal force." Virginia records obtained through a public records request show the state investigated assaults, AWOL's and inappropriate encounters between staff and patients at Marion during the time Santorum served on the UHS board, from 2007 to 2011.
In January 2009, Leslie Anderson, the then-director of Virginia's Office of Licensing for Department of Mental Health, Mental Retardation, and Substance Abuse Services, emailed her superiors a scathing review of Marion.
"They just got cited for systemic abuse for letting several youth beat and pick on one resident repeatedly and not intervening," Anderson wrote. "They do not have a clinical director and their psychiatrists are very part time. They are barely functioning as a [residential treatment center]."
Incident investigation records bear out Anderson's assessment:
*On August 1, 2007, Virginia records show, "a youth alleged to a staff person that another staff 'slammed' his face onto the floor when restraining him" in late July. The Department of Social Services determined the staffer had been abusive.
*In March 2008, a staffer held down a resident while another kicked the resident in the knee. Records show one employee resigned the day of the assault. When interviewed, the staffer that held the boy explained: "I didn't realize that he kicked him that hard."
*In August 2008, a staff member admitted being the getaway driver for two boys who had gone AWOL. "One resident was transported to his home," the state investigation noted in a report written a month later. "Where the other resident was transported is not yet known." The report went on to state that the staffer had been cited for boundary issues with the patients. Two weeks before the escape, one of the boys said he had a "love letter" from the staffer.
*In May 2009, a mother reported that while her son was home for a few days during the previous month, he had numerous phone calls with a center therapist. During one call, records show, which was on speaker phone, she alleged that she heard the therapist promise her son a blow job if he didn't run away. During the conversation, the therapist suggested that she had already performed oral sex on the boy. The boy refused to cooperate with investigators.
*In August 2009, a nurse was found to have sexually abused a boy on two occasions. A staff member reported witnessing one incident. Another staffer reported that the nurse had explained that she had to take the boy's blood pressure. They were left alone for one hour. After that incident, the boy asked an employee "if he smelled like a girl."
Other incidents, Virginia records show, included a part-time staffer "diverting" ADHD meds, and criminal background checks not conducted for new employees.
Investigators also found that therapy goals were vague to the point of meaninglessness. Plans for patient care were not reviewed, and medications were managed without being documented. In one 2010 incident, a program director threatened jail if boys didn't "straighten up.'"
Jones alleges that managers only cared about keeping those beds filled. In July 2010, she filed a federal civil suit against UHS over the goings on at Marion, saying she was forced out for raising the Medicaid fraud issue with management.
During meetings, managers repeatedly emphasized slowing down the process for a soon-to-be exiting child. There were kids that could have gone home but didn't. "The kids that were warded to the state, those were easy prey for them," Jones says. State social workers were overworked and never seemed to make the trip out to the center. The kids were simply out of sight, out of mind.
"I used to call them 'The Lost Boys' because no one was really advocating for them," Jones explains. When staff couldn't justify keeping them, the boy would suddenly have an outburst over the weekend. It would be characterized as "anxiety about being released." The boy would earn an extended stay.
Jones's allegations echo those in the DOJ's 2007 lawsuit against the Marion Center. The charges in that case include drive-by therapy sessions in the center's hallway, doctoring records, billing for undocumented services, billing for 50-minute group therapy sessions that lasted half that time, and provoking residents into outbursts to justify a delay in their release.
In the 2010 amended complaint, DOJ lawyers argue that the center "was operated as a juvenile detention facility, not as a residential treatment facility, in violation of state and federal law."
The three plaintiffs in the DOJ complaint all worked as therapists employed by the Marion Center. All three raised the issue of the Medicaid fraud. All were fired in 2006. But both the DOJ's case and Jones' lawsuit contend that a pattern of fraud and whistleblower retaliation extended beyond that time, into the period when Santorum served on the UHS board.
In the statement sent to HuffPost in July, UHS initially denied the allegations brought by Jones and the DOJ. "We are defending these cases vigorously to demonstrate that Marion Youth Center did not engage in any fraudulent practices as alleged," the statement reads. The cases are ongoing, however, and the company declined to comment further.
But court records show that the company is close to finalizing a settlement with the government.
The Marion Center is closing. Its lease has run out and could not be renewed, UHS told HuffPost in an email. The last day for employees is Friday, UHS said. But hundreds of other UHS facilities remain open.
"For too many years, UHS has been given a free pass," says Susan Lawrence, a parent and advocate in Virginia whose adopted child had resided in a UHS facility. "And they're not being held accountable by the government agencies."
Lawrence is especially angry with board members like Santorum. "I'm also tired of board members pleading ignorance and getting a free pass when their corporations break laws," she says. "The board should have known. It was their responsibility to know."
"If Santorum cannot be responsible for knowledgeable leadership of a corporation as a board member," she says, "he could never lead the greatest country in the world."
CORRECTION: An earlier version of this story indicated that were problems with a UHS facility in Kansas. The facility is located in Missouri.
This is the third in a series of stories on UHS facilities during Santorum's tenure on the hospital chain's board. The other stories can be found here and here.
Below, Rick Santorum on sex issues:
Loading Slideshow
On Contraception

"It's not okay. It's a license to do things in a sexual realm that is counter to how things are supposed to be." <a href="http://thinkprogress.org/health/2011/10/19/348007/rick-santorum-pledges-to-defund-contraception-its-not-okay-its-a-license-to-do-things/" target="_hplink">Think Progress, 2011</a>

On The Definition Of Marriage

"Marriage is what marriage is. Marriage was around before government said what it was. It's like going out and saying, 'That tree is a car.' Well, the tree's not a car. A tree's a tree. Marriage is marriage." "It's like handing up this and saying this glass of water is a glass of beer. Well you can call it a glass of beer, it's not a glass of beer, it's a glass of water. And water is what water is. Marriage is what marriage is." "I can call this napkin a paper towel, but it is a napkin. Why? Because it is, what it is." <a href="http://iowaindependent.com/60602/santorum-qa-marriage-for-gays-threatens-religious-freedom" target="_hplink">Iowa Independant, 2011</a> <a href="http://www.youtube.com/watch?feature=player_embedded&v=fLbAFNbVSEE http://thinkprogress.org/lgbt/2011/08/09/292121/santorum-marriage-is-like-water-not-beer/" target="_hplink">Think Progress, 2011</a> <a href="http://www.youtube.com/watch?v=U394HKpak1s" target="_hplink">MSNBC, 2011</a>

On Sex In The Military

"I -- I would say, any type of sexual activity has absolutely no place in the military. And the fact that they're making a point to include it as a provision within the military that we are going to recognize a group of people and give them a special privilege to -- to -- and removing 'don't ask, don't tell' I think tries to inject social policy into the military. And the military's job is to do one thing, and that is to defend our country." <a href="http://www.foxnews.com/politics/2011/09/22/fox-news-google-gop-2012-presidential-debate/" target="_hplink">Fox News, 2011</a>

On Gays In The Military

"The problem is that sexual activity with people who you are in close quarters with who happen to be of the same sex is different than being open about your sexuality ... They're in close quarters, they live with people, they obviously shower with people." <a href="http://www.huffingtonpost.com/2011/10/09/rick-santorum-gay-soldiers-shower-dadt_n_1002244.html" target="_hplink">HuffPost, 2011</a>

On Polygamy, Bigamy, Adultery ...

"If the Supreme Court says that you have the right to consensual sex within your home, then you have the right to bigamy, you have the right to polygamy, you have the right to incest, you have the right to adultery. You have the right to anything." <a href="http://articles.cnn.com/2003-04-22/politics/santorum.gays_1_statement-on-individual-lifestyles-senator-santorum-bigamy-and-adultery?_s=PM:ALLPOLITICS" target="_hplink">Associated Press, 2003</a>

On The Difference Between Being Black And Being Gay

"You are black by the color of your skin. You are not homosexual, necessarily -- obviously, by the color of your skin. [...] The idea that being black and being gay is the same is simply not true." <a href="http://politics.foxnews.mobi/quickPage.html?page=23681&content=58208053&pageNum=-1" target="_hplink">Fox News, 2011</a>

On Candidates' Sex Lives

"When you look at someone to determine whether they'd be the right person for public office, look at who they lay down with at night and what they believe in." <a href="http://2012.talkingpointsmemo.com/2011/10/rick-santorum-when-selecting-candidate-look-at-who-they-lay-down-with-at-night.php" target="_hplink">Talking Points Memo, 2011</a>

On 'Man On Dog'

"In every society, the definition of marriage has not ever to my knowledge included homosexuality. That's not to pick on homosexuality. It's not, you know, man on child, man on dog, or whatever the case may be. It is one thing." <a href="http://www.usatoday.com/news/washington/2003-04-23-santorum-excerpt_x.htm" target="_hplink">Associated Press, 2003</a>

On Sodomy, etc..

"Whether it's polygamy, whether it's adultery, whether it's sodomy, all of those things, are antithetical to a healthy, stable, traditional family." <a href="http://www.usatoday.com/news/washington/2003-04-23-santorum-excerpt_x.htm" target="_hplink">Associated Press, 2003</a>

On The Government Getting Up In Your Sex Life

"The idea is that the state doesn't have rights to limit individuals' wants and passions -- I disagree with that. I think we absolutely have rights because there are consequences to letting people live out whatever wants or passions they desire. And we're seeing it in our society." <a href="http://www.usatoday.com/news/washington/2003-04-23-santorum-excerpt_x.htm" target="_hplink">Associated Press, 2003</a>

On Gay Marriage

"This is an issue just like 9/11 ... We didn't decide we wanted to fight the war on terrorism because we wanted to. It was brought to us. And if not now, when?" "The battle we're engaged in right now on same-sex marriage, ultimately that is the very foundation of our country, the family, what the family structure is going to look like. I'll die on that hill fighting." <a href="http://articles.mcall.com/2004-02-25/news/3521981_1_gay-marriage-defense-of-marriage-act-amendment-process" target="_hplink">The Morning Call, 2004</a> <a href="http://thinkprogress.org/lgbt/2011/10/19/348059/rick-santorum-pledges-to-die-on-the-hill-fighting-against-same-sex-marriage/" target="_hplink">Think Progress, 2011 </a>

On Being A Hater

"You can say I'm a hater. But I would argue I'm a lover. I'm a lover of traditional families and of the right of children to have a mother and father. ... Isn't that the ultimate homeland security, standing up and defending marriage?" <a href="http://www.post-gazette.com/pg/04197/346633-84.stm" target="_hplink">Pittsburg Post Gazette, 2011</a>

On The Gay Jihad

"So the gay community said, 'He's comparing gay sex to incest and polygamy, how dare he do this,' and they have gone out on a, I would argue, jihad against Rick Santorum since then." <a href="http://thehill.com/blogs/blog-briefing-room/news/178543-santorum-gay-community-on-jihad-against-me-for-stance-on-marriage?utm_campaign=briefingroom&utm_source=twitterfeed&utm_medium=twitterfeed" target="_hplink">The Hill, 2011</a>
Subscribe to the HuffPost Hill newsletter!