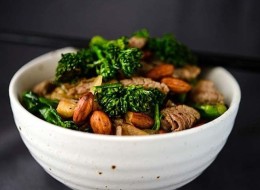 If you're in need of a quick dinner, consider stir fry. We're sure everyone has had their fair share of disappointing stir fry dishes, with bland chicken and soggy vegetables. But this is not what stir fry is about. We promise.
The whole idea of stir fry is cooking ingredients quickly in a hot pan -- or more traditionally in a wok -- keeping the vegetables still crisp, adding in bold flavors from garlic and ginger, and serving it right away, while its still hot. When done this way, stir fry recipes are surprisingly satisfying. They're quick to make and healthy without being boring.
We've found 23 stir fry recipes that will deliver you just that, for those nights when you don't have a lot of time to spend in the kitchen but still want to eat a delicious home-cooked meal.
Stir-Fried Bean Curd With Ground Turkey

James Ransom/Food52

Sesame Ginger Sweet Teriyaki Salmon with Garlic Quinoa Stir Fry

Ambitious Kitchen

Beef, Broccolini & Almond Stir-Fry

Amazing Almonds

Honey Sesame Shrimp & Brussels Sprouts Stir Fry

Gimme Some Oven

Honey Pork Stir Fry

Pass the Sushi

Chicken And Tofu Stir Fry With Celery And Cashews

thrischfield/Food52

Stir-Fried Vegetables With Lemongrass

Kana Okada/Food & Wine

Green Beans With Chicken And Chinese Preserved Radish Stir Fry

Steamy Kitchen

Pork-and-Tofu Stir Fry

Kana Okada/Food & Wine

Beef Stir-Fry Cabbage Cups

Sweet & Sour Vegetarian Stir-Fry

foxeslovelemons/Food52

Asparagus And Tempeh Stir Fry With Ginger Pearl Couscous

Veggie Belly

Mushroom and Kale Stir Fry

A Better Bite

Black Bean Mango Stir Fry With Cilantro Lime Coconut Sauce

/Food52

Garlic Beef, Broccoli & Cauliflower Stir Fry

The Little Kitchen

Sesame Stir Fry

Taste

Beef With Curry Stir-Fry

Mylittlejarofspices/Food52

Wok-Fried Black Pepper Shrimp

Frances Janisch

Mushroom Stir-Fry

Mango & Tomato

Beef Stir Fry

The Hungry Australian

Green Bean And Shiitake Mushroom Stir Fry

Steamy Kitchen

Asian Cabbage and Shiitake Stir Fry

New Media Publishing

Spicy Thai Eggplant Stir Fry

Feasting Freds
Want to read more from HuffPost Taste? Follow us on Twitter, Facebook, Pinterest and Tumblr.