The Funniest Someecards Of The Week (PICTURES)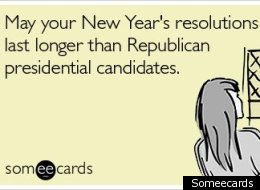 With the first week of 2012 behind us, many of you are re-evaluating your new year's resolutions, trying to figure out what the heck is going on with the 2012 presidential race or simply getting used to writing 2012 on all your checks.
No matter what you've been up to this first week of the year, chances are there's a Someecard to fit it. Check out our 7 favorite cards of the week, and make sure to check out the rest on Someecards.com to send your favorites.