WASHINGTON -- If ever there were a time when polls should be certain about something, it is that Mitt Romney will win New Hampshire's Republican presidential primary on Tuesday. At least 53 times over the past two years, and at least 24 times in the last two months, media pollsters have measured the preferences of likely voters in New Hampshire, and found Romney leading the Republican race every time, usually by large, double-digit margins.
The Suffolk Research Center has released results of their final tracking poll, based on interviews conducted on Sunday and Monday nights, and it brings their numbers more into line with the other surveys. The new Suffolk poll shows Mitt Romney at 37 percent, followed by Ron Paul at 18 percent, Jon Huntsman at 16 percent, Rick Santorum at 11 percent and Newt Gingrich at 9 percent with 7 percent still undecided.
The results reverse a weeklong decline in Romney's numbers on the Suffolk University tracking, jumping from 33 percent on interviews conducted on Saturday and Sunday to 37 percent among those conducted on Sunday and Monday. The final track also shows a jump for Jon Huntsman, from 13 to 16 percent, so the Suffolk poll now measures Huntsman's support at roughly the same level as the polls by Public Policy Polling (16 percent) and American Research Group (18 percent).
The final round of tracking polls taken over the past weekend shows Romney leading Ron Paul and the rest of the candidates by margins of 15 to 24 percentage points. By the metrics of polling, Romney's victory in New Hampshire appears virtually assured.
Yet the same surveys are also full of uncertainty, particularly as reported by the voters themselves, and that margin of doubt leaves open questions about the size of Romney's likely victory and the identity of the candidates who finish second, third and fourth.
Consider these results, all measured over the campaign's final weekend:
The WMUR/University of New Hampshire (UNH) poll finds that less than half the likely voters (44 percent) say they have "definitely decided" who they will vote for, 27 percent are "leaning to someone" and 29 percent are "still trying to decide."
Nearly a third of the voters on the News7/Suffolk University tracking poll conducted Saturday and Sunday nights are either completely undecided (12 percent) or say it is very likely (2 percent) or somewhat likely (20 percent) that they might change their minds.
The Public Policy Polling (PPP) automated survey finds more than a quarter of the likely voters are either totally undecided (4 percent) or say they might end up supporting someone other than their first choice (23 percent).
In addition to voter reports of uncertainty, the polls are also producing somewhat contradictory stories about late trends. The 7News/Suffolk University tracking poll from the weekend showed Romney's support dropping 10 percentage points in a week to just 33 percent of the vote. Meanwhile, the University of New Hampshire poll showed a five percentage point drop over the same period with Romney's support at 41 percent. The final polls by other organizations that have not tracked as often peg Romney's support somewhere in between.
Polls are also projecting different levels of support for Jon Huntsman. The Suffolk and UNH surveys from the weekend, for example, showed Huntsman running a clear third, with 11 and 13 percent of the vote respectively. Meanwhile, the final surveys from PPP and the American Research Group gave Huntsman 16 and 18 percentage points respectively, enough to be in a virtual tie for second with Ron Paul.
Do polling methods explain these discrepancies? The polls cited here are certainly not created equal. PPP samples from voter lists and uses an automated, recorded-voice methodology. The other surveys use live interviewers and sample telephone numbers generated by a random digit method in order to ensure representation of listed and unlisted landline numbers. Based on the information provided in the survey reports, the Suffolk University poll appears to be the only one of the final weekend polls that dialed a separate sample of mobile telephones (drawn from a commercial list of working cell phone numbers).
But the connection between the varying methodologies and the differences in the survey results is far from obvious. The more important point may be simply that the apparent "house effects" are a symptom of the underlying voter uncertainty. Some voters are having a hard time making up their minds, so subtle variations in how pollsters ask their questions, how hard they push undecided voters for a choice and how they define the likely electorate may be producing different results.
David Paleologos, the director of the Suffolk University Political Research Center, told The Huffington Post that he considers most of the polls "pretty much within the same ballpark," showing the same rough order of finish and projecting results for each candidate, given the margin of error.
If that proves to be the case, then an average across all polls should produce the clearest picture of the outcome.
An update of the HuffPost Pollster trend lines that includes the final Suffolk University poll shows Mitt Romney at 36.9 percent, Ron Paul at 17.5 percent, Jon Huntsman at 16.5 percent, Rick Santorum at 11.1 percent, Newt Gingrich at 9.5 percent and Rick Perry at 0.9 percent. Huntsman's momentum is on a track to catch Paul, though who will finish on top is one of those things about which polling simply cannot be certain.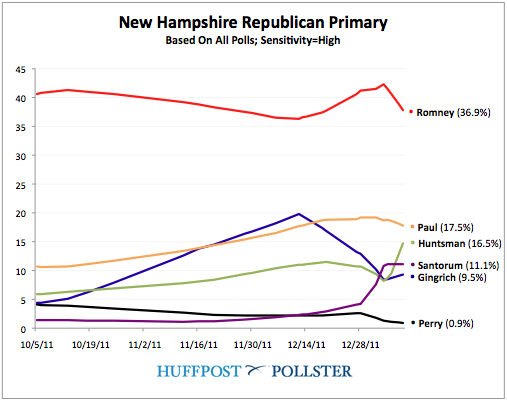 This story was updated Tuesday morning to reflect the final results of the News7/Suffolk University poll.

SUBSCRIBE AND FOLLOW
Get top stories and blog posts emailed to me each day. Newsletters may offer personalized content or advertisements.
Learn more