Pat Buchanan Denies MSNBC Suspension: 'I Don't Know Anything About That' (AUDIO)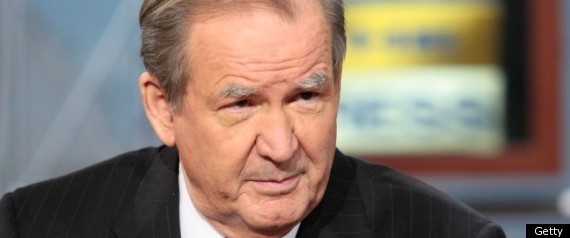 Pat Buchanan spoke out for the first time about his absence from MSNBC on a Monday radio show.
Speaking to conservative host Hugh Hewitt, Buchanan denied reports that he has been officially suspended from the network following the release of a controversial book, "Suicide of a Superpower," which claims that America's European values are being drowned by waves of immigration. Buchanan has not been seen on MSNBC since Oct. 22.
On Saturday, MSNBC president Phil Griffin acknowledged that Buchanan had been barred from the network indefinitely and said it was unclear whether or not he would return. In Griffin's telling, Buchanan had been made aware that he was being formally taken off MSNBC for the time being.
But Buchanan told Hewitt that this was news to him:
"I've had some medical issues at the end of the year which were pretty problematic, and so I've sort of been out of speaking and things like that. I've started back writing the column in December, and I've got the column going, and I'm doing 'McLaughlin Group.' But we haven't gotten back up on MSNBC. On Drudge Report, somebody said I've been suspended. I don't know anything about that."
Listen (via The Daily Caller):


Some of Buchanan's controversial statements.
Loading Slideshow
Buchanan calls Obama Al Sharpton's 'boy' on debt deal

Pat Buchanan: Black people bought 'propaganda' on the 'liberal plantation'

Pat Buchanan: Sonia Sotomayor an 'affirmative-action appointment,' U.S. 'built basically by white folks'

Pat Buchanan: Santorum's 'facts are correct' on black people and abortion

Pat Buchanan defends Geraldine Ferraro's comments that Obama received preferential treatment because he was black

Pat Buchanan attacks gay marriage, judge who struck down Prop 8

Buchanan supports limiting Muslim immigration, mosques

Pat Buchanan tells black MSNBC guest: "You can keep your 14th Amendment rights -- with some modifications."

Pat Buchanan: There are too many Jews on Supreme Court

Buchanan complained that <a href="http://www.wnd.com/2010/05/153417/" target="_hplink">there are too many Jewish appointees</a> to the Supreme Court during Elena Kagan's confirmation hearings.

Pat Buchanan defends Hitler

Pat Buchanan wrote that <a href="http://buchanan.org/blog/did-hitler-want-war-2068" target="_hplink">he did not believe Hitler was to blame for WWII</a>.