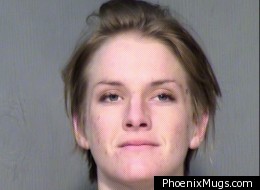 PHOENIX -- A convicted felon has been arrested by police in a Phoenix suburb after telling officers that she was hiding a handgun in her bra.
Angela Lynn Milhoan is not allowed to possess a firearm. But police in Mesa, Ariz., say the 20-year-old admitted to concealing a .22-caliber semi-automatic handgun in her undergarments when a car she was riding in was stopped by officers early Tuesday.
They seized the gun and arrested Milhoan on charges of being a prohibited possessor of a firearm and concealing a deadly weapon while under 21 years of age.
___