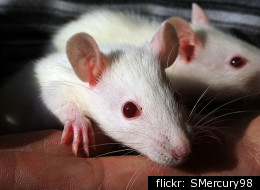 If rats could clap, they just might. That's because German scientists have developed a new technology they say could reduce the number of experiments that expose rats, mice, rabbits, and other animals to potentially harmful chemicals.
Some call such experiments "animal cruelty." Others say animal experimentation is essential because it helps catch dangerous chemicals before humans are exposed to them.

The technology makes use of so-called nanosensors, minute particles that test the health effects of chemicals not on living, breathing animals but on human and animal cells.
"We're basically using a test tube to study the effects of chemicals and their potential risks," Dr. Jennifer Schmidt, a researcher at Munich's Fraunhofer Research Institution for Modular Solid State Technologists, said in a written statement. "What we do is take living cells, which were isolated from human and animal tissue and grown in cell cultures, and expose them to the substance under investigation."
The nanoparticles are said to be harmless and able to pass through cell membranes. How do they reveal information about a cell's well-being? They contain fluorescent dyes that show changes in levels of adenosine triphosphate (ATP), a compound that cells use to store energy. High levels suggest robust health, low levels indicate the cells are being harmed.
Researchers simply add the nanoparticles to living cells and watch for tell-tale color changes using a special fluorescence microscope.

"We could in future use cancer cells to test the effectiveness of newly developed chemotherapy agents," Dr. Schmidt said. "If the nanosensors detect a low concentration of ATP in the cells, we'll know that the new treatment is either inhibiting tumor cell growth or even killing them."

Dr. Schmidt said the nanoparticles needed lots of additional testing, along with regulatory approval, before they'll be commercially available. And even if the sensors and similar approaches prove successful, experts say it's far-fetched to think that animal testing will go away entirely.
"I don't think it'll happen during my lifetime," Frankie Trull, president of the Foundation for Biomedical Research (which promotes responsible animal testing), told Time magazine in 2008. "People in the research community will be the first to tell you they still don't know enough about how the complex living organism works in order to duplicate it. Animals are not perfect. They're definitely not a perfect mimic of a human, but they're [still] as close as we're going to get without using a human."
RELATED: ANIMAL EXPERIMENTS YOU WON'T BELIEVE
Animal Experiment You Won't Believe
'Spiders on Drugs' might sound like the name of a punk band. But the phrase describes a 1995 experiment in which NASA scientist David Noever and his colleagues gave spiders various drugs and and observed how each affected the spiders' ability to spin a web. Spiders on speed worked fast but produced incomplete webs. Spiders given the sedative chloral hydrate began with a basic structure, only to "drop off". Spiders on marujana were too mellow even to finish their webs. But the worst webs were spun by spiders on...caffeine. *This video isn't a serious measurement of spiders on drugs

They say elephants never forget, but do they have flashbacks? In 1962, researchers at Oklahoma's Lincoln Park Zoo gave LSD to test its effect on elephants. They gave an Asiatic elephant called Tusko 297 mg of the hallucinogenic drug (in humans, 0.1 mg is enough to trigger a trip lasting hours). Long story short, Tusko collapsed within minutes and choked to death. In their paper - the scientists noted that "It appears the elephant is highly sensitive to LSD - a finding which may prove valuable in elephant control work in Africa".

No, there was no voodoo involved. In 1934 Robert Cornish from the University of California asphyxiated four fox terriers and attempted to bring them back to life. He did so by rocking the dogs' bodies up and down to simulate circulation and injecting them with adrenaline and anticoagulants. Of the four, two terriers actually did return to life. "Lazarus IV" was blind and physically disabled but "Lazarus V" seemed almost normal. Dr. Cornish hoped one day to try his experiments on a human but never got the chance. This video suggests that the Russians conducted similar experiments.

In the 1950s, American psychologist Harry Harlow separated two monkeys at birth and distributed their food through inanimate "mothers." One mother was made of wire, the other cloth. Even though the wire mother provided nourishment, the monkeys spent most of their time on the cloth one. Metal just isn't for mommies!

In 1997, University of Massachusetts scientist Charles Vacanti and his colleagues managed to grow a human ear on a mouse. Dr. Vacanti implanted a nutrient-rich mesh on the back of a genetically engineered mouse, injected young human cells and watched it grow into a full-sized ear. The ear didn't hear.

Last year, researchers from South Korea genetically engineered a female beagle to glow green under ultraviolet light when given a particular antibiotic. The scientists were interested new approaches to inducing genetic diseases in animals such as Alzheimer's.

Here's an experiment that seems like a cross between 'I, Robot' and 'Planet of the Apes"' in 2008, researchers taught a macaque to control a robot via two sensors implanted in its brain. The hope? Find new ways to help people with spinal injuries.

In 2008, scientists from the Macquerie University of Australia and the University of Illinois dripped liquefied cocaine on the backs of bees in an attempt to measure the effect the drug had on humans. The bees still kept busy, but they seemed to be more "excited" about their work--and like humans, they seemed to experience withdrawal, which hurt their ability to work.

Just what sorts of risks do tasers pose to humans? A 2010 study conducted in sheep was conduced to help find out. Researchers dosed sheep with methamphetamine and then tased them. What happened? Some small sheep showed heart symptoms, but none of the animals died. Watch video for a related experiment.