Joran van der Sloot has pleaded guilty in Peru on charges that he killed Stephany Flores in a Lima hotel room in 2010.
Flores, who was a 21-year-old Peruvian business student at the time of her death, was found in his hotel room after the two met at a casino.
Van der Sloot is also the lone suspect in the disappearance several years earlier of Natalee Holloway in Aruba.
Flores' body was found on June 2, 2010, and van der Sloot was soon arrested, having crossed the border into Chile. Prosecutors say he tried to cover up the crime while stealing Flores' bank cards and cash.
Van der Sloot admitted to killing Flores in a videotaped confession. He said he flew into a rage and broke Flores' neck when she allegedly used his laptop to research his role in the Holloway case.
His defense attorney Jose Luis Jimenez, says his client was in a fragile mental state from years of being labeled a killer in the international press. Jimenez hopes to reduce the charges from first-degree homicide to manslaughter.
LIVE BLOG:
01/11/2012 11:11 AM EST
The three judges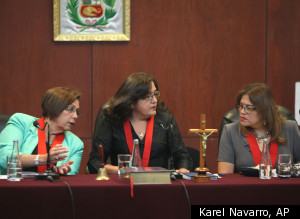 Judges Victoria Montoya, center, Otilia Vargas, left, and Pilar Carbonel speak before the continuation of Joran van der Sloot's trial at San Pedro prison in Lima, Peru, on Jan. 11, 2012.
01/11/2012 11:02 AM EST
Sentencing delayed
Judges say that van der Sloot's sentence will be decided on Friday.
01/11/2012 10:59 AM EST
From NBC News
01/11/2012 10:57 AM EST
Asks for reduced sentence
Van der Sloot's lawyer asks for a reduced sentence for his client, citing his fragile state of mind at the time of the murder and his cooperation with investigators. He then wrapped up his case, which moves the trial into the next phase where a sentence will be decided.
01/11/2012 10:53 AM EST
Objection!
The prosecutor objects to Jimenez's remarks, saying that the Holloway case shouldn't be discussed.
The judges side with the prosecutor.
"I am asking you to adhere to the allegations that are pertinent to the case," one jurist says to Jimenez.
01/11/2012 10:51 AM EST
From The Associated Press
@ AP :

Joran van der Sloot, suspect in disappearance of U.S. teen in Aruba, pleads guilty to Peru murder: http://t.co/Bn20ZpoT
01/11/2012 10:51 AM EST
Traumatic stress disorder
Van der Sloot suffered from traumatic stress disorder the day of the Flores murder, according to his lawyer.
"It was five years after the disappearance of the American citizen and all media pointed out my client without having any evidence that he was in fact a monster," Jimenez said.
01/11/2012 10:49 AM EST
Van der Sloot's attorney speaks
"i would like to say very sincerely ... my client, Joran van der Sloot, [on] May 30 of 2010 was 21 years old. He was in fact persecuted. He was faced against the entire world the last five years ... because of an occurrence he never actually committed and there is no existing evidence. i refer to an American citizen missing in Aruba ... added to the recent death of his father, this is all part of the baggage my client carried with him that morning that affected him in a negative order," Jimenez said.
01/11/2012 10:45 AM EST
Van der Sloot in court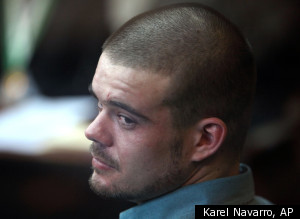 PHOTOS: