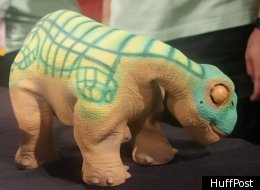 LAS VEGAS -- We hear a lot of outrageous claims from marketing and PR people here at the Consumer Electronics Show, a conference built on bluster and extreme confidence. Hope springs eternal in Vegas every January, as tech companies from near and far arrive at the Las Vegas Conference Center with products that will "take on the world" and "will not fail," "surefire hits" that are "better than ever," "ingeniously designed," and (a personal favorite) "something our whole team is really proud of."
But one boast this year really caught my ear. It came from the Robotics wing of CES, which housed the TOSY Robotics booth where Justin Bieber performed. But that wing was also home to a booth belonging to a small company called Innvo Labs, and the Hong Kong and Nevada-based company had something on display even cuter than Bieber (heresy, I know!).
Innovo makes an oddly lifelike robot dinosaur named Pleo, which debuted at last year's CES and was back again this year to strut its one-year-old stuff.
"The Pleo RB is a companion pet, kind of a substitute for a dog or a cat," Derek Dotson of Innovo told the crowd during a demonstration.
"Without the mess," someone in the audience interjected.
"It's the pet that doesn't poop," Dotson dead-panned.
Perhaps this author's fond memories of puppies, kittens and birdies past and present are clouding his judgment, but calling this dinosaur a replacement for a pet seems a bit overambitious, no?
Nevertheless, the Pleo RB ("RB" stands for reborn) does achieve an impressive level of verisimilitude (and cuteness!), especially in its physical movements. The life cycle that Innovo Labs has programmed into its robotic dinosaur is a nice touch, too. Pleo RB goes from Hatchling, to Infant, to Juvenile, "evolving" in its movements, attitudes and playfulness as it ages.
Here, for example, is how the Pleo RB reacts when you first turn him on -- er, birth him?
A new Life Form opens his eyes for the first time. Awareness glimmers as Pleo adjusts to the light. His limbs try a tentative stretch. The world is a flood of sensations. He'll notice you as soon as he's ready. Watch… Wait… Nurture… Your soft words and soothing touch are just what he needs.
(Funny, I used to say that last thing to my ex-girlfriend all the time).
Anywho, is the Pleo RB really a substitute for Rover or Mittens? We snapped a short video of the robot ($470 plus shipping, via the Pleoworld website) at CES so that you could judge for yourself. Check it out below.
Visit our CES Big News page to see the strange sights and gotta-have-it gadgets from the convention.
Take a look through the slideshow to see 7 Ultrabooks from CES that could give Apple's MacBook Air a run for its money.
Hewlett-Packard jumps into the Ultrabook game with an extension of its Envy line of premium laptops. It packs a 14-inch screen into a body that is coated with "midnight black glass" on the outside and "silver glass" on the inside -- read all about it on HuffPost here. The Envy 14 Spectre goes on sale in February 2012 and will start at $1,400.

Acer's already got its toes in the ultrabook pond, having released the Acer Aspire S3 in 2011; now they are back with what they're calling the "World's Thinnest Ultrabook," the Aspire S5. The S5 weighs less than 3 pounds and is only 15 millimeters "at its maximal point," per Acer. It's got a 13.3-inch screen LCD and Acer Instant On, which brings your Ultrabook back to life in less than 1.5 seconds. No price for the Acer Aspire A5 just yet, but the company says it should be coming in the second quarter of 2012

Lenovo's ultrabook for business people retains the classic look of the Lenovo Thinkpad but sheds a little weight and size. The 14-inch laptop isn't the prettiest ultrabook, but it's still slim: It weighs less than four pounds and is about 0.8 inches thick. Internally, the T430u comes with a choice of Intel processors and solid-state drive (SSD) storage, and Lenovo says it gets up to 6 hours of battery life. The Thinkpad Ultrabook T430u will be available in the third quarter of 2012 starting at $849.

Lenovo introduced two new IdeaPad Ultrabooks at CES: The U310 and the U410. The two Lenovo Ultrabooks are twins, save for their sizes -- the U310 has a 13.3-inch display, while the U410 has a 14-inch display. Both are fairly thin, at 0.7 inches and 0.83 inches, and fairly light, at 3.75 pounds and 4.2 pounds, respectively; both get 8 hours of battery life and come with Intel core processors. The IdeaPad U310 and the IdeaPad U410 will both start at $699 and will be available starting in May 2012.

The Dell also joined the Ultrabook pack with the XPS 13, which weighs in at a hair under three pounds and measures less than a quarter-inch at its widest point. Its 13-inch screen features a resolution of 1,366x768-pixels (720p). Dell has outfitted the device with a 4GB RAM and a choice of two solid state drives (128GB or 256GB). The device boasts an impressive battery life of nearly 9 hours, according to Dell's tests. The Dell XPS 13 will be available starting at $999 by the end of February 2012.

Toshiba offered a prototype Satellite Ultrabook with a roomy 14-inch display (1,366x768 resolution). Despite its size, the new Satellite weighs less than 4 pounds. Dell reps offered few details about internal components and were mum on the pricing or release date. Image via Engadget

Vizio's "ultrathin" laptop has no official name yet. Since it won't be called an Ultrabook, it might not be built around Intel's ultra-low voltage hardware. However, very few specs have been released at this point. Vizio has said that the device will feature solid state storage, USB 3.0 ports, and HDMI-out. Other than that, we'll have to wait until Spring 2012 to see what else Vizio has in store.