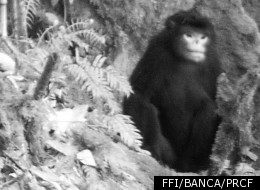 Cryptids are mythical, legendary creatures that include the likes of unicorns, Bigfoot, Yeti, sea monsters and other beasts not yet proven real.
But now, something that was once classified as a cryptid has come to life, recognized by science.
The first photos of a new primate, the Myanmar snub-nosed monkey -- dubbed Rhinopithecus strykeri -- have been released by researchers.
The unusual animal was first discovered in 2010 by conservationists in the Kachin State of northern Myanmar, also known as Burma, in southeast Asia.
Covered almost entirely in black fur, the monkey has an upturned nose, which causes it to sneeze when rainwater seeps in, making them easy to find in the jungle.
"There are snub-nosed monkeys all over Asia, but they don't quite look like this variety," said Loren Coleman, director of the International Cryptozoology Museum in Portland, Maine. "This face has an old-wisdom look to it, like an old, ancient man -- they certainly have a striking face."
CHECK OUT THESE IMAGES OF THE RARE MONKEYS: (Story continues after slideshow)
First Images Of New Primates
A dead snub-nosed monkey is held up by Myanmar villagers in early 2010, prior to its being harvested for food.

In the early morning light of Myanmar, pictured is a rare snub-nosed monkey in one of the first images ever captured of this newly discovered primate.

This is one of the world's first images captured of a Myanmar snub-nosed monkey. The image, shot in early 2011 has just been released.

Two Myanmar snub-nosed monkeys with infants in this just-released very rare 2011 photo of a new primate species.
While there are other examples of snub-nosed monkeys in Asia, China and Tibet, the new ones are a little different.
"It is the only entirely black snub-nosed monkey -- except for a white chin beard," said Frank Momberg, Myanmar program coordinator for Fauna & Flora International, who led the snub-nosed monkey expeditions.
"The DNA also differs very significantly, and there is only an estimated 250 to 500 individuals in the wild, with their population trend declining," Momberg told The Huffington Post in an email from Myanmar.
Researchers confirmed the existence of the unusual monkeys after one was captured and killed by a hunter in 2010. That led to the creation of a team led by field biologist Jeremy Holden determined to photograph the animals in the remote area where very few were left.
The combined efforts of Fauna & Flora International, Biodiversity and Nature Conservation Association and the People Resources and Conservation Foundation led to special camera traps in the mountainous region near China to capture the elusive simians in mid-2011 -- with some images appearing as black and white.
"At night, the cameras take infrared black-and-white images. The first photos were taken in the very early morning, when there was not enough daylight for the color sensors," Momberg said.
Those images have finally been released to the world.
Part of the problem faced by the dwindling snub-nose monkey numbers in this region is that outside researchers and scientists didn't know about them until stories emerged from the area in 2010 of villagers capturing and eating the animals.
WATCH THIS VIDEO SHOWING SIMILAR SNUB-NOSED MONKEYS IN CHINA:
"We interviewed all hunters in villages surrounding the monkeys' range," Momberg wrote. "As the snub-nosed monkeys come to the ground, especially in early summer to eat young bamboo shoots, they get easily trapped.
"Hunting is done for local meat consumption and wildlife trade. The close proximity to China means there is a huge demand for wildlife products, especially monkey bones, which are processed into medicinal balm," he explained.
The animals also are threatened by Chinese logging companies opening road access for hunters and degrading the snub-nosed monkey habitat, Momberg said.
The animals may soon be classified as critically endangered by the International Union for Conservation of Nature.
The Myanmar monkeys are part of cryptozoology, the study of hidden animals or alleged creatures that have remained undiscovered, despite many anecdotal accounts, like the Loch Ness Monster and the blood-sucking Chupacabra.
"This is definitely a cryptid that was discovered. It's cryptozoological because here you have the indigenous people who were talking about these monkeys, reporting them and killing them to eat," said Coleman.
"And then scientists came in and were shown various body parts and finally one of the dead ones, and that's why the news back in 2010 announced the discovery of the monkeys, because they had an actual dead specimen," he added.
CHECK OUT THESE EXAMPLES OF CRYPTOZOOLOGY, YET TO BE PROVEN:
Phylis Canion holds the head of what she called a Chupacabras at her home in Cuero, Texas, on Aug. 31, 2007. She found the strange-looking animal dead outside her ranch and thinks it is responsible for killing many of her chickens.

A view of the Loch Ness Monster, near Inverness, Scotland, on April 19, 1934. The photograph, one of two pictures known as the "surgeon's photographs," was allegedly taken by Col. Robert Kenneth Wilson, though it was later exposed as a hoax by one of the participants, Chris Spurling. On his deathbed, Spurling revealed that the pictures were staged by himself, Marmaduke and Ian Wetherell, and Wilson. References to a monster in Loch Ness date back to St. Columba's biography in 565 A.D. More than 1,000 people claim to have seen "Nessie," and the area is, consequently, a popular tourist attraction.

In England, a kayaker took this photo on Lake Windemere, near Bowness in Cumbria. "At a distance, I thought it was some sort of large dog," said Tom Pickles. "Then I realized just how long it was." Ever since the first reports of Bow-Nessie emerged in 2006 from Lake Windermere, a legend has taken root with people wondering if this could be a not-too-distant relative of the legendary Loch Ness Monster of Scotland.

This is a photo of boats at Urquhart Bay, Loch Ness, Scotland, on Aug. 6, 1983, made by American wildlife photographer Erik Beckjord. It shows splashes on the surface of Loch Ness made by an unidentified object (white mark at center right), which Beckjord claimed could have been made by the Loch Ness Monster.

Robert H. Hines, president of the Academy of Applied Science, released this photo during a 1972 investigation of Loch Ness. Hines said his expedition took photo, which he said showed the fin of the Loch Ness Monster, and that it was substantiated by sonar and other scientific data that strongly suggests there is a large marine creature inhabiting Scotland's Loch Ness.

This mysterious shape was captured by photographer Mark Harrison while riding on a ferry off the Seacombe district of Wirral in the United Kingdom on the morning of May 25. Experts claim that it could be a harbor porpoise or a basking shark, but Harrison says, "Me? Clearly, I believe it's Nessie on her hols!"

This 2000 image shows biologist Bruce Wright in salt waters in southeast Alaska with a small Pacific sleeper shark that was caught on a research cruise. He believes much bigger versions of this shark group could be the true identity of Scotland's Loch Ness Monster and Alaska's Lake Iliamna creature known as Illie.

The giant jaws of a huge marine reptile are on permanent display at Dorset County Museum in the UK. Dating back around 155 million years, the pliosaur skull was discovered on the nearby Jurassic Coast World Heritage Site, and is one of the largest and best preserved fossils of its kind ever found.

Was it a dog or a pig or something else? Nobody knows for sure, but this animal was discovered in 2009 on a beach in Southold, on the North Fork area of New York's Long Island. Subsequent photos were published on Montauk Monster.

This Atlantic sturgeon corpse measuring more than 6 feet long was pulled from the East River in New York City near Pier 17 on May 21, 2011. Watch video here.

Thomas Byers snapped this photo of "Bigfoot" along Golden Valley Church Road on March 22, 2011.

This is a 1977 still photo from a 16 millimeter film made by Ivan Marx reportedly showing the legendary Bigfoot cavorting in the hills of Northern California.

This is a black and white print from a color movie Frank White said he took in the forest near Bellingham, Wash., on Oct. 8, 1977. "I'd call it a North American ape," said White. "You can call it a Sasquatch or anything you like."

This still-frame image from video provided by Bigfoot Global LLC shows what is claimed by them to be a Bigfoot or Sasquatch creature in an undisclosed area of a northern Georgia forest in June 2008.

The legend of Bigfoot has baffled many people for decades, especially when images like this one are released. A footprint measuring 17-and-3/4 inches long and 7-and-1/2 inches wide was discovered Aug. 26, 1980, at a residence in the Conemaugh Township area of Johnstown, Pa. A very well-defined print was left behind, if indeed it was Bigfoot, plus a left print was found eight feet away in a more wooded area. Along with the footprints, reports of strange noises and a very unusual but strong odor coincided with the account.

Ken Gerhard of Houston holds a duplicate plaster cast footprint at the Texas Bigfoot Conference in Jefferson, Texas, on Oct. 15, 2005. The event was hosted by the Texas Bigfoot Research Center.

Al Hodgson, a volunteer guide at the Willow Creek-China Flat Museum, holds up a plaster cast of a Bigfoot imprint displayed at the museum's Bigfoot Wing in Willow Creek, Calif., on June 5, 2000. The wing was built to bring tourists interested in the legendary creature to the economically depressed ex-lumber town.

This photograph obtained Aug. 15, 2008, from Searching For Bigfoot shows what is purported to be the body of the legendary ape-like creature that has been the subject of decades of hoaxes and dubious sightings. Matthew Whitton and Rick Dyer claimed before a crowd of skeptical reporters in Palto Alto, Calif., that they were hiking in a northern part of Georgia when they stumbled upon the body near water. The corpse was said to be 7 feet, 7 inches tall, weighing more than 500 pounds. Many scientists believe Bigfoot is folklore instead of fact.

This alleged Abominable Snowman footprint photo was taken near Mount Everest on Dec. 13, 1951.

An artist's rendition of the Jersey Devil, based on eyewitness reports of a creature said to roam the Pine Barrens area of New Jersey.

A large Mothman sculpture stands along Main Street on Dec. 11, 2007, in Point Pleasant, W.Va. More than 40 years after the first reported sighting of the mysterious creature later dubbed "Mothman," residents here have embraced his legend, helping to turn the town into a destination for people in search of an offbeat tourism experience.
That, according to Coleman, is what cryptozoology is all about.
"You talk to local peoples about cryptids -- unidentified animals -- and then you get the actual living or dead animal and discover them. So, yes, this was one of the most remarkable cryptozoological discoveries of 2010, and then reconfirmed, as we're seeing now, with living specimens being photographed and videotaped."
Momberg, who is still overseas researching these new animals, added a final note for HuffPost readers: "I believe there is another primate species out there, to be discovered in Myanmar's far north."