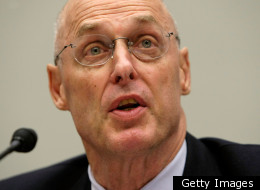 Want to get to Washington? Try going through Wall Street. As a look at any recent presidential administration will show, people move between the two worlds all the time.
Earlier this week, President Obama announced that budget director Jack Lew would be taking over as his chief of staff, assuming the title from the outgoing Bill Daley. Both men have previously worked at major financial firms -- Lew at Citigroup, Daley at JPMorgan Chase -- meaning that Lew's promotion continues a long-running trend of business executives moving into positions of power in the nation's capital.
Obama's decision to replace one with the other has left critics wondering if the administration can be trusted to regulate the business community when so many White House staffers have spent time on Wall Street. The question is especially pressing today, as Americans everywhere continue to grapple with the effects of a financial crisis that might not have unfolded in such disastrous fashion if the government had kept a closer eye on big banks.
In spite of the potential for conflicts of interest, crossover between the world of finance and the world of politics is nothing new. Even before Obama teamed up with onetime investment banker Rahm Emanuel, George W. Bush entrusted Henry Paulson, a 22-year veteran of Goldman Sachs, with the keys to the Treasury. And as seen with Peter Orszag and Robert Rubin, the migrations happen in both directions, with almost as many D.C. insiders leaving for a position in finance as vice versa.
Here are some of the most notable examples of Wall Street players who went to Washington, or the other way around:
8 Bankers Who've Worked In Government
Jack Lew, whom President Obama named as his new chief of staff this week, worked at Citigroup between 2006 and 2009. While there, he served as the chief operating officer of Citi's Alternative Investments unit, a division that oversaw the same kind of proprietary trading activity that the so-called Volcker Rule would later attempt to curtail. At one point, Lew's unit invested millions in a fund run by hedge fund manager John Paulson, who made his fortune speculating on the collapse of the housing market. Later, during his confirmation hearing to lead the Cabinet-level Office of Management and Budget, Lew told a Senate panel that he didn't "believe that deregulation was the proximate cause" of the financial crisis.

Bill Daley, Obama's outgoing chief of staff, came to JPMorgan Chase in 2004 to serve as Chairman of the Midwest Region. Daley held that position until January 2011, when he departed for the White House. During Daley's time at JPMorgan Chase, the bank accepted a $25 billion government bailout and laid off more than 9,000 workers in a three-year period. The company has since regained its strength, reporting $2.29 trillion in assets as of late 2011, when it overtook Bank of America to become the nation's largest bank. In 2010, Daley's total earnings at JPMorgan came to $8.7 million.

Mark Patterson, chief of staff to Treasury Secretary Timothy Geithner since 2009, has been moving between politics and finance for the past decade. In 2004 he left a staff position as policy director for Senator Tom Daschle to become a vice president at Goldman Sachs. (Patterson's move to Goldman came a year after he got married to Jennifer Leete, an attorney in the enforcement division of the Securities and Exchange Commission.) While Patterson was at Goldman, his responsibilities included lobbying the federal government, and in 2007 he was part of a group of lobbyists believed to have opposed legislation sponsored by Representative Barney Frank and then-Senator Barack Obama to curb executive compensation on Wall Street.

Peter Orszag, who served as director of the Congressional Budget Office from 2007 to 2008 and director of the Office of Management and Budget for nearly two years after that, left the Obama administration in July 2010. In December of that year, Orszag took an executive position at Citigroup, where he's now the vice chairman for global banking and a member of the company's Senior Strategic Advisory Group. In 2008, the U.S. government bailed out Citigroup with a $45 billion rescue package. At the time that Orszag's move to Citigroup was announced, loan interest and stock sale proceeds had converted that bailout into a $12 billion profit for the government.

Before Rahm Emanuel was mayor of Chicago or chief of staff in the Obama White House, he spent time as a managing director with the investment bank Wasserstein Perella, where he made a reported $18 million in less than three years. Once he resumed his career in politics, Emanuel's ties with the business community remained strong. In 2006, when Emanuel, then a member of the House of Representatives, was chairing the Democratic Congressional Campaign Committee, sources in the financial industry contributed more than $5.8 million to the group's midterm election efforts. And in 2008, Emanuel was the number-one House recipient of donations from the hedge funds, private equity firms and the securities and investment industry.

Before serving as secretary of the Treasury under George W. Bush, Henry Paulson spent 22 years at Goldman Sachs, eventually assuming the position of CEO. Paulson's ties to Goldman followed him to his new job: On multiple occasions in 2008, Paulson met with Goldman executives in informal contexts and shared his opinions about the future direction of the economy. On one occasion, Paulson reportedly explained to at least a dozen Wall Street higher-ups that the government was considering a takeover of Fannie Mae and Freddie Mac, some two months before it actually came to pass -- thus giving everyone in attendance a chance to trade profitably on that knowledge before it became public.

Robert Steel had a long life with Goldman Sachs before serving as the under secretary of the Treasury for domestic finance under George W. Bush. Steel came to Goldman in 1976 and rose to the position of vice chairman before leaving in 2004. As under secretary of domestic finance, Steel worked closely with then-Treasury secretary and fellow Goldman alum Henry Paulson, and acted as a frequent liaison between the Treasury and the House Financial Services Committee. After leaving his Treasury post, Steel returned to finance -- serving as CEO of Wachovia, and brokering its sale to Wells Fargo in 2008 -- before circling back once more to public service, with a post as New York City's deputy mayor for economic development under Mayor Michael Bloomberg.

Robert Rubin, secretary of the Treasury under President Clinton from 1995 to 1999, spent time in the financial industry both before and after his political career. Rubin was at Goldman Sachs for some 26 years, rising to the position of co-chairman before joining the Clinton administration as an assistant to the president for economic policy. Following his tenure as Treasury Secretary, Rubin was on the board of directors at Citigroup from 1999 to 2009, during which time the bank greatly increased its risk profile and ultimately had to accept a $45 billion government bailout. Rubin has been criticized for not doing more to regulate the derivatives market, especially the trading of credit-default swaps -- the instruments that would ultimately play a large fole in triggering the financial crisis.