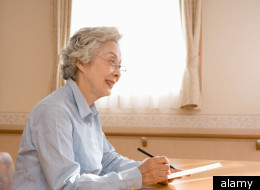 Think you're too old to start a writing career? In many industries, there's an emphasis on youth, on what's new, cutting-edge, and hip. But many beloved creative writers didn't find success until their later years.
Here are seven inspiring stories about authors who jumped head first into the hustle of the publishing biz when they could have been whiling away their retirement years in happy languor.
Read more at WritersRelief.com
First published in her mid-sixties, Wilder is probably best known for her "Little House" series. There are museums dedicated to her, schools named after her, and even a TV show based on her books. So why did Wilder start so late? It took years of hardship and struggle before she came to a place in her life that allowed her to focus meaningfully on her stories, with help and encouragement from her daughter. When experience and creativity combine, the results can be deeply affecting.

Born in Brooklyn but raised in Ireland, McCourt returned to America at nineteen. He used grit, gumption, and the GI Bill to get an education. After teaching at numerous New York schools and earning his master's degree, he found fame and notoriety when he published his first memoir in his mid-sixties. In "Angela's Ashes," McCourt tells about the poverty of his youth from the wisdom of his age; the effect captured the attention of readers and critics alike.

This author started his writing life as a poet and a journalist--without much success. He fumbled his way through various jobs and didn't get his fictional feet under him until he was forty-five, when he began publishing pulp crime short stories. Six years later, he published his first novel, "The Big Sleep," which launched a successful and popular career. He is best known for his mystery novels about hardboiled detective Philip Marlowe. During his career, he won the Edgar Award from the Mystery Writers of America.

This author had published a few children's books in her fifties, but people didn't notice her until she published her first novel, "Jumping the Queue," in her early seventies. The book was turned down by several publishers, but James Hale of Macmillan took a chance on her, and by the time of her death at ninety years old, she was widely popular. Wesley's heroines were shocking and often "unladylike"--proof that gutsiness is not the exclusive territory of the young.

This author's college education was put on pause in 1930 when she married and started her family. After her children were grown and her husband had passed away, she went back to school in 1975. Her writing teachers were impressed by her reminiscences about life in a Mexican mining town. She published her first novel, "Stones for Ibarra," at the ripe young age of seventy-three. Doerr was a resilient woman who refused to slow down in her senior years. And what did she have to show for her high energy? Multiple novels, short stories, essays--oh, and a National Book Award.

This English author made a career in the British Civil Service, and he did not publish his first book, "Watership Down," until his early fifties. Like the famed "Harry Potter" series, "Watership Down" began as a story he told his children. He spent two years writing the manuscript and was turned down by multiple publishers before finding Rex Collings. The book has sold over 50 million copies worldwide.

In his youth, this author traveled around the country by boxcar, worked in carnival shows, and visited all but three of the states before he was twenty. He then went on to a career in academia and textbook editing. He could have stopped there, but he didn't. Michener's first book wasn't published until he was forty, which makes him a young whippersnapper compared to the other authors on this list! "Tales of the South Pacific" won the Pulitzer Prize for fiction and was later re-imagined as a Broadway musical by Rodgers and Hammerstein. Michener worked on over forty books during his career, writing vigorously until he died at age ninety. His book "Matecumbe" was published posthumously.