'Shit Brides Say': New 'Shit Girls Say' Spinoff (VIDEO)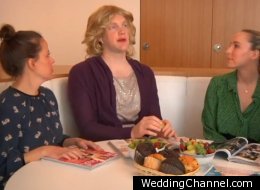 After "Shit Girls Say," "Shit White Girls Say To Black Girls," "Shit Girls Say To Gay Guys," even "Shit Yogis Say" and "Shit Nobody Says"-- we thought we'd seen it all.
But no.
On Friday, WeddingChannel.com released a new addition to the "Shit ____ Say" family: "Shit Brides Say."
WeddingChannel.com says they made the video because: "Brides say some funny sh*t." We're inclined to agree -- and so is the Twitterverse. For the most part, our followers are loving "Shit Brides Say." Below, some reactions to the latest "Shit" video.