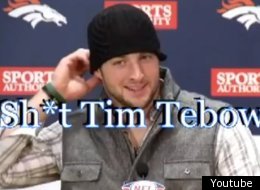 Among the hottest viral video sensations of the past month has been the new web series "Shit Girls Say." Among the imitators is "Shit Boys Say," Shit Vegans Say," Shit Baby Mamas Say" and even "Shit Southern Gay Guys Say."
At long last, someone has paired this viral video formula with the hottest sports sensation of the past month: Broncos quarterback Tim Tebow. Paul Sacca, editor of Mentality Magazine, put these two notions together to give the world "Sh*t Tim Tebow Says."
WATCH VIDEO AT TOP
The video is a mash-up collection of out of context quotes that Tebow has delivered during both his college and pro football career. In the past week the world has been blessed with multiple parody songs honoring the Broncos' star, so why not a parody of a parody?
WATCH BELOW FOR OTHER TEBOW VIDEOS THAT HAVE GONE VIRAL: