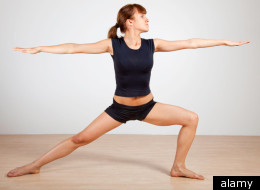 Today's practice deepens the strength and stability found in a series of standing poses, first introduced on Day Four.
When our partner Yoga Journal put out the call for their 21-Day Yoga Challenge, we knew we wanted to be a part of it. Over the course of three weeks, we're going to learn to incorporate a daily practice of breathing, meditation and vegetarian eating to our busy lives. We're hoping to emerge stronger, more flexible and mindful of the choices we make for our bodies. You can check out our progress at Team HuffPost's Social Workout page and you can follow along on our blog. Want to join the challenge? Click on the leader board below to become a part of Team HuffPost!
See the past eight yoga series here:
"Gently waken and energize the body by linking breath to movement." That's the directive from Kate Holcombe, a well-known San Francisco-based yoga instructor, chosen by Yoga Journal to lead their very first day of the 21-Day Yoga Challenge.

This sequence is all about "connecting with your inner joy" as part of a 30-minute series that emphasizes strength in standing poses, with steady, rooted legs and lifted arms and chest.

Jason Crandell takes us through a series of sun salutations and other poses that help elongate through the arms, sides and core.

This series is all about lifting and lengthening. These standing poses express the full reach of our bodies, from toes to finger tips. That brings a nice stretch, but it also helps strengthen the lower body, which must serve as a steady base for the lifted torso and limbs.

This video champions the core -- the muscles around your abdomen, back and rib cage that help support and improve posture and alignment. It might be spot training, but it's highly integrative: your whole body will benefit from strength at its center.

Release your stress with this Saturday morning seated series that focuses on the neck and shoulders.

Hip opening asanas help make you feel limber and strong. This series works to get muscles pliant and blood flow moving at the center of the body.

The second week of the yoga challenge begins with a sequence meant to further loosen the neck and shoulders, releasing tension. It introduces utkatasana (chair pose), a strengthening, deep squat with raised arms and a side body stretch.