Occupy Wall Street: On Global Scale Roughly Third Of People Aware Of Movement, Poll Finds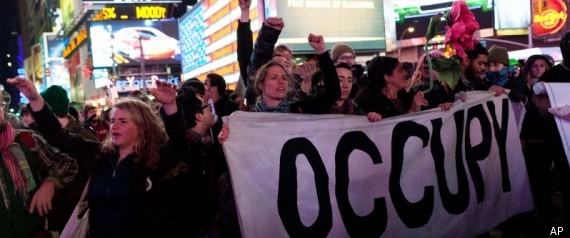 (Corrects spelling of Keren in paragraph 9)
By Michelle Nichols
NEW YORK, Jan 20 (Reuters) - Only about a third of people across 23 countries are aware of the nascent U.S.-led Occupy movement against economic inequality, a global poll found on Friday as protesters prepared to take to the streets around the United States.

Under the banner "Occupy the Courts," organizers expect thousands of people to rally on Friday at 150 courthouses to mark the second anniversary of a Supreme Court ruling that protesters say allows unlimited corporate campaign donations.
While in San Francisco, activists from 50 organizations are set to "Occupy Wall Street West" with plans to target 22 bank branches and other financial industry offices and disrupt the city's financial district throughout the day.
The four-month-old movement has clearly influenced the national political conversation, with even President Barack Obama echoing some of its themes in calling for a "fair shot" and "fair share" for all.
Still, protest crowds often number in the hundreds rather than thousands of people, despite the movement's headline-grabbing antics and social media savvy.
Critics accuse the Occupy protest of not having a clear message or demands and the new poll of more than 17,000 people by global research company Ipsos for Reuters found that the movement's ambiguity could be hindering its growth.
More than half of those surveyed by Ipsos were unsure how they felt about the movement -- which prides itself on being leaderless -- while a third sympathized with the protesters and 13 percent had an unfavourable view of the group.
Yet when told more about the general objectives of Occupy -- to protest social and economic inequality, corporate greed, the power of the financial sector and the global financial system -- sympathy for the group rose to 53 percent from 33 percent.
"This shift in favorability suggests the movement could have greater support if they communicated their goals more clearly. Until then, the primary response will continue to be a lack of awareness," said Ipsos spokeswoman Keren Gottfried.
Ipsos polled Argentina, Australia, Belgium, Brazil, Canada, France, Germany, Britain, Hungary, India, Indonesia, Italy, Japan, Mexico, Poland, Russia, Saudi Arabia, South Africa, South Korea, Spain, Sweden, Turkey and the United States.
"The data shows that, in these uncertain economic times, global citizens can relate to frustration towards social and economic inequality, corporate greed, the power of the financial sector and the global financial system," Gottfried said.
Inspired by the Arab Spring, Occupy Wall Street began when protesters set up camp in New York's Zuccotti Park on Sept. 17, sparking demonstrations across the United States and elsewhere in the world and, in some cases, violent clashes with police.
But the eviction of protesters in New York and public spaces in other U.S. cities in November and December has made the protests less visible and organizers now face the challenge of how to maintain momentum without the physical camps.
Protesters say they are upset that billions of dollars in bailouts given to banks during the recession allowed a return to huge profits while average Americans have had no relief from high unemployment and a struggling economy.
They also believe the richest 1 percent of Americans do not pay their fair share of taxes.
The Ipsos poll found that awareness of the Occupy movement is highest in the United States (61 percent), followed by Canada (60 percent), India (59 percent), and Turkey (51 percent). It is lowest in France (18 percent), Russia (21 percent), Brazil (21 percent), Belgium (24 percent) and Mexico (24 percent).
The poll was conducted between Nov. 1 and Nov. 15 and has an estimate margin of error of +/- 3.1 percentage points. (Reporting by Michelle Nichols; editing by Paul Thomasch)
Via HuffPost Miami:
When an Occupy Miami member offered evicted protestors vacant apartments in a building he owns in Downtown Miami's Overtown neighborhood, it seemed like the perfect solution: the 'Peace City' space would provide headquarters for the movement and shelter a small faction of the group's most vulnerable members. But it hasn't gone well. Other tenants say the building has become a cesspool of drug use and violence while non-resident Occupy Miami members are trying to distance themselves from the 'radicals' -- all while the two factions are wrestling for control over Occupy Miami's social media sites and future plans.
The feud between the Overtown occupiers and more mainstream members has only gotten worse. The two factions are now battling for control of Occupy Miami's social media sites. The movement's main Twitter account recently announced it had been "hijacked by a small, non-consensus group of radical members." The Occupy Miami Facebook page was also temporarily hacked by someone inside Peace City. Meanwhile, the Overtown occupation is slowly driving away more moderate members.

"This is a black eye on the Occupy movement," says Shannon Reaze, an Overtown community organizer and Occupy Miami supporter who is now helping tenants move out of Paz's building. "The violence and drugs going on here are way outside of what I thought Occupy stood for. This place is destabilized."

...The supposedly hard-core activists here spend their days drinking and getting high. And as Peace City devolves into lawlessness, the most committed occupiers are leaving. Local landowners and politicians want the place shut down, while cops are suspicious. Yet as long as Paz wants the protesters around, nothing short of a demolition order can keep them out.
Subscribe to the HuffPost Money newsletter!