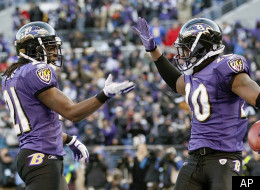 AFC Championship Game
New England Patriots (13-3)
vs.
Baltimore Ravens (12-4)
Gillette Stadium
Foxboro, Massachusetts
3:00 P.M. EST
Tom Brady. Ed Reed. Ray Lewis. The 2012 AFC Championship game features plenty of potential Hall of Famers. It also features one of the most prolific offenses in the league and a tough-as-nails defense.
The last time these two teams met in the playoffs, Baltimore crushed New England 33-14 in the 2010 Wild Card round. Brady threw three interceptions and only 154 yards (at home) as the Ravens raced to a 24-0 lead in the first quarter.
Baltimore and its No. 3 ranked defense will have to go through Foxboro again, where the Pats only lost one game in 2011. New England has reeled off nine straight victories, including last week's dismantling of Tim Tebow's Broncos in the Divisional Round (eight of which they scored over 30 points). On the other hand, the Ravens have been winning despite not being able to put teams away and a lack of consistency on offense.
Will the Ravens take down the Patriots in New England again? Or will the Bill Belichick and the Pats punch their tickets to their fifth Super Bowl appearance in 11 seasons?
FOLLOW HERE FOR LIVE UPDATES THROUGHOUT THE GAME. TWEET TO @HUFFPOSTSPORTS TO JOIN IN THE CONVERSATION:

Flacco hits Boldin who makes the diving grab in the middle of the field, but he's a yard short of the first down and the Ravens call one of their timeouts. 58 seconds left.