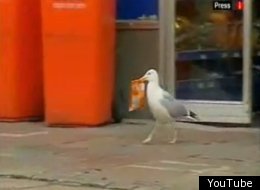 Seagulls aren't the biggest animals, or the fastest, or the strongest. But they might just be the most cunning.
As we found out on YouTube, seagulls are by far the biggest thieves of the animal kingdom. They will wait for just the right moment, and, when the opportunity presents itself, they'll rob you blind.
Don't believe us? Just check out these videos of the most vindictive, conniving animals on the planet (aside from humans) in the slideshow below. And be sure to vote for your favorite avian crooks.
You have to admire his confidence in just walking in there and taking what he wants.

Don't leave your backpack unzipped. A seagull will steal your stuff.

It's tough to watch this poor bag of Doritos get mercilessly torn apart.

In the seagull's defense, Lowery was asking for it.

This is what it looks like from the criminal's perspective.

These guys can be surprisingly sneaky.

Pelicans, you have been owned.

Even trolling on its underwater cousins.

He sees them coming, yet does nothing. This is what blind arrogance gets you.

Seagulls don't care about angering the rich. (We have no idea how the uploader knows this guy is rich, but who cares)

If the coast is clear, move in for the kill.