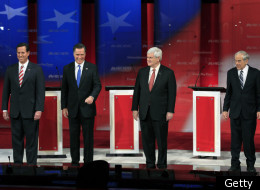 By STEVE PEOPLES, ASSOCIATED PRESS
TAMPA, Fla. — Republican presidential contenders Mitt Romney and Newt Gingrich clashed repeatedly in heated, personal terms Monday night in a crackling campaign debate, the former Massachusetts governor tagging his rival as an "influence peddler" in Washington, only to be accused in turn of spreading falsehoods over many years in politics.
"You've been walking around the state saying things that are untrue," Gingrich said to his rival in a two-hour debate marked by interruptions and finger pointing.
The debate marked the first encounter among the four remaining GOP contenders – former Pennsylvania Sen. Rick Santorum and Texas Rep. Ron Paul shared the stage – since Gingrich won the South Carolina primary in an upset last weekend, a double-digit victory that reset the race to pick a rival to challenge President Barack Obama this fall.
Romney was the aggressor from the opening moments Monday night, saying Gingrich had "resigned in disgrace" from Congress after four years as speaker and then had spent the next 15 years "working as an influence peddler" in Washington.
In particular, he referred to the contract Gingrich's consulting firm had with Freddie Mac, a government-backed mortgage giant that he said "did a lot of bad for a lot of people and you were working there."
Romney also said Gingrich had lobbied lawmakers to approve legislation creating a new prescription drug benefit under Medicare.
"I have never, ever gone and done any lobbying," Gingrich said emphatically, adding that his firm had hired an expert to explain to employees "the bright line between what you can do as a citizen and what you do as a lobbyist."
Romney counterpunched quickly, referring to what he said was more than $1 million that Gingrich's consulting firm received from Freddie Mac, the government-backed mortgage giant.
And when Gingrich sought to turn the tables by inquiring about the private equity firm that Romney founded, the former Massachusetts governor replied: "We didn't do any work with the government. ...I wasn't a lobbyist"
As for the Medicare prescription drug benefit, Gingrich said that while he never lobbied lawmakers, as Romney charged, he was proud of having supported it. "It has saved lives. It's run on a free enterprise model," he said.
At times, the other two contenders on stage were reduced to supporting roles.
Asked if he could envision a path to the nomination for himself, Santorum said the race has so far been defined by its unpredictability. He conceded he had been defeated for re-election in 2006 in Pennsylvania but said the party lost the governorship by an even bigger margin than his own defeat.
"There's one thing worse than losing an election and that's not standing for the principles that you hold," he said, a comment he frequently makes while campaigning in an attempt to question Romney's commitment to conservatism.
Paul sidestepped when moderator Brian Williams of NBC asked if he would run as a third-party candidate in the fall if he doesn't win the nomination. "I have no intention," he said, but he didn't rule it out.
The polls post-South Carolina show Gingrich and Romney leading in the Florida primary. That and the former speaker's weekend victory explained why the two were squabbling even before the debate began, and why they tangled almost instantly once it had begun.
Below, HuffPost's live blog coverage of Monday night's debate.
Space travel is an issue that will likely come in few states besides Florida this primary season, but both Mitt Romney and Newt Gingrich were quick to recognize the importance of the Space Coast is to this state and agreed that the issue is important for the country.
"It should certainly be a priority," said Romney when asked whether, during a time of reduced federal spending, space exploration should be a focus.
"What we have now is a president who does not have a vision or a mission for NASA. As a result of that, there are people on the space coast that are suffering. Florida itself is suffering as a result," he said.
Gingrich added that he would like to go back to the moon "permanently" and get to Mars "as rapidly as possible, building a series of space stations and developing commercial space."
Romney and Gingrich both said that space exploration should be a collaborative effort between the federal government and the private sector.
"From NASA, from the Air Force space program, from our leading universities and from commercial enterprises -- bring them together, discuss a wide range of options for NASA and then have NASA not just funded by the federal government but by commercial enterprises," Romney added. "Have research done in our universities. Let's have a collaborative effort with business, with government, with military and with our educational institutions. Have a mission."
Gingrich was then asked whether he would "put more tax dollars into the space race and commit to putting an American on mars instead of relying on the private sector."
"Well, the two are not incompatible," he replied. "For example, most of the great breakthroughs in aviation were as a result of prizes. [Charles] Lindbergh flew to Paris for a ,000 prize. I would like to see vastly more of the money spent encouraging the private sector into a very aggressive experimentation. I would like a leaner NASA. I don't think building a bigger bureaucracy and having a greater number of people sit in rooms and talk gets you there. But if we had a series of goals that we were prepared to offer prizes for, there is every reason to believe you have folks in this country and around the world who would put up an amazing amount of money and would make the space coast literally hum with activity because they'd be drawn to achieve prizes."
-- Amanda Terkel