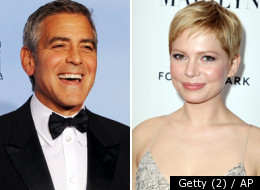 Before Michelle Williams was breaking hearts as Marilyn Monroe in "My Week With Marilyn," she was the bad girl next door on The WB's teen soap, "Dawson's Creek."
But Williams wasn't the only Oscar nominated starlet to get her start on TV. Even though "Albert Nobbs" star Glenn Close earned her first Academy Award nomination in 1982 for her supporting work in "The World According to Garp", one of her first roles was in the 1979 TV movie, "Orphan Train."
And who could forget George Clooney's starring role in the medical drama "E.R.?" Dr. Doug Ross made Clooney a household name -- and one of the most sought after bachelors in Hollywood -- but that wasn't his first TV stint.
In the slideshow below, check Clooney out on "The Facts Of Life," see Brad Pitt do "Dallas," watch Octavia Spencer get her tresses tamed on "Ugly Betty" and more clips of the just-announced 2012 Oscar nominees in their breakout small screen roles.
Before They Were Oscar Nominees
Before he played struggling father Matt King in the Oscar nominated film, "The Descendants," Clooney was handsome Dr. Doug Ross on the critically-acclaimed medical drama, "E.R."

But before he was romancing nurses as Dr. Doug Ross, Clooney got his big break playing George Burnett on "The Facts of Life."

Of course, Michelle Williams is now equated with Marilyn Monroe, thanks to "My Week with Marilyn." But Williams first became a household name for breaking Dawson's heart on the teenage soap "Dawson's Creek" as Jen Lindley. After six seasons on the series, Williams -- and Jen -- said goodbye on the series finale in 2003. Williams may have started her career on the creek, but this is her third Oscar nomination. Perhaps, third time's a charm!

Before he shook things up on the baseball field as Billy Beane in "Moneyball," a very green Brad Pitt shook things up as Randy in "Dallas."

Oldman may be nominated for his portrayal of George Smiley in "Tinker Tailor Soldier Spy," but his two-episode stint on "Friends" as Oscar nominated actor Richard Crosby really should have won Oldman an Emmy.

Long before "True Blood's" Sookie Stackhouse came along, it was all about Sookie St. James, Lorelai's bubbly friend on "Gilmore Girls," played by the Emmy-winning and now Oscar-nominated Melissa McCarthy for "Bridesmaids."

Before being nominated for his work in "Warrior," Nolte starred in the 1976 TV miniseries "Rich Man, Poor Man" as protagonist Tom Jordache.

Now, everyone knows Spencer as Minny in "The Help." But the actress, who is up for her first Oscar nomination, initially brought some serious laughs to primetime as Constance Grady on "Ugly Betty."

Before being nominated for his work in "Moneyball" -- and dropping some serious weight -- Jonah Hill made an appearance on "Campus Ladies."

Glenn Close may have been nominated for her first Oscar in 1982, but in 1979, she starred in the TV movie, "Orphan Train." Close is nominated for a Best Actress Oscar for her portrayal of the title character in "Albert Nobbs."