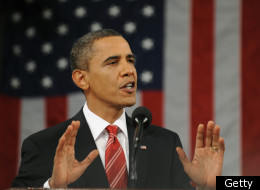 President Barack Obama's State of the Union speech on Tuesday night prompted an outpouring of reaction from both sides of the aisle in the political community.
From lawmakers on Capitol Hill to candidates competing for the Republican presidential nomination, it didn't take long for leading political figures to weigh in.
HuffPost's Jen Bendery reports:
Obama laid out some notable new policy proposals, including the creation of a new international minimum tax on U.S. companies making profits overseas; the launching of a new trade enforcement unit that would target unfair trade practices in countries around the world, including China; and a plan to shift federal aid away from colleges that don't keep down tuition costs. He also announced that the Defense Department will make history's largest renewable energy purchase -- totaling 1 gigawatt. The president can use his executive power to make the last item happen.
Below, a slideshow of reactions from politicians to Obama's speech.
State Of The Union 2012 Reaction
"Job creation is the driving issue for working families, but President Obama largely ignored the fact that his own failed policies are making our economy worse. Unable to run on his record, the president has regrettably turned to blame and division when what's needed is a united effort to promote small business job creation. "As someone who's run a small business, I heard little tonight in the way of new ideas or a plan to remove government barriers that are hurting private-sector job creation, only more of the same. Republicans have a Plan for America's Job Creators - an alternative to the president's failed policies - and it's time for Senate Democrats to allow a vote on our bipartisan jobs bills. Republicans will also continue pushing for the Keystone project, which the president did not mention tonight despite his recent decision to destroy 20,000 American jobs. "It's always an honor to welcome the President of the United States for the State of the Union. I only wish, with so many still asking 'where are the jobs?,' that the president had honored the people's desire for results and accountability. In stark contrast, Governor Mitch Daniels told it like it is, and made clear the challenges we face require honesty, leadership, and solutions that get government out of the way so our economy can get back to creating jobs."

"Tonight, the President delivered a strong vision to the American people of an economy that's built to last, that ensures a thriving middle class, that promotes fairness for working families, and that reignites the American dream. "The pillars of President Obama's agenda are consistent with the American values of fairness, opportunity, and responsibility, and reflect the commitment of House Democrats to our 'Make It In America' initiative, to rebuilding America, to strengthening our communities, to securing our energy future, and to providing students and workers the skills to succeed. "The President and Democrats agree: America's prosperity only goes as far as the success of our workers, the education of our children, the growth of our small businesses, and the economic security of our middle class. We also share the firm belief in freeing politics from special interests; indeed, only with fairness in our political system can we have fairness for the middle class. Together, we can fulfill the promise of an America built to last."

"President Obama offered common-sense solutions that will create jobs and put our country on a path to economic fairness. The policies proposed by the President will narrow the inequality gap in our country while making America a leader in clean energy technology, and continue the revival of our manufacturing sector. With millions of middle-class families in Nevada and across America making sacrifices every day, Democrats are united behind the principle that millionaires and billionaires should pay their fair share as well. "To turn these job-creating proposals into reality, we need Republicans to work with us, and refrain from turning straightforward issues into all-or-nothing battles. I am optimistic that this year, Republicans will turn away from the Tea Party, and listen to the American people instead."

Mitt Romney gave his reaction to Obama's State of the Union address on NBC Tuesday night. Romney told Brian Williams Obama had "basically adopted a lot of thoughts that we've had on the campaign trail." He also touched on his time campaigning in Florida, noting that "the idea that we are on the right track is something very foreign to people here." Romney used the opportunity to explain that he feels capital gains taxes should be low to "encourage people to build new enterprises." "If you raise the capital gains tax rate, there will be less money going into creating jobs," Romney said. Romney also appeared on Fox News Tuesday night to discuss how he believes Obama views Americans. "I just dont think he understands what's happening in American homes," Romney said. "I just sat down with a group of Floridians... they're not feeling like the policies of this president have made things better." Romney said there was "no question" that Obama hasn't improved the country during his presidency. "This is a president with a gap between what he says and what he does so enormous, sometimes you just... shake your head in amazement." Romney questioned what Obama did during the first two years of his presidency, when he had "all that power" of a Democratic majority in the House and Senate.

"Tonight Barack Obama transformed the President's annual State of the Union address into the kick-off of his re-election campaign. From beginning to end, the American people heard more of the same - empty promises and grand platitudes that will do nothing to help the millions of Americans who are unemployed or under employed find a good paying job. Rather than call for decisive action in allowing projects like the Keystone Pipeline or reducing the regulatory burden his Administration has imposed, the President declared war on those who are most successful in our society. Barack Obama should realize he's the President of all Americans, but sadly, he has instead chosen to govern and campaign as the Divider-in-Chief. We need to unite America and create an environment that rewards hard work and success, allowing people the opportunity to rise in society. We need a President who will rebuild the sector that built American economic greatness - manufacturing. My plan is diametrically opposed to that of the President's. Barack Obama speaks of raising taxes and imposing barriers to growth, my plan would eliminate the corporate taxes on manufacturers, eliminate the burdensome regulations of this Administration, and free our market to explore for the energy necessary to grow our economy. Our Party needs to provide a clear contrast with Barack Obama in the general election. Our campaign does just that by focusing a positive message of a resurgent American manufacturing sector, an Administration that will believe in American exceptionalism again, and valuing the dignity of each and every human life. America deserves better than what they heard from Barack Obama tonight. "

"We have a crisis of work in this country and tonight President Obama proposed nothing in the way of policy changes that will get us to robust job creation and dramatic economic growth. "Instead, the president described his conviction that his big government is built to last and should be paid for with higher taxes. "But bigger government and higher taxes will not lead to jobs and growth. Bigger government and higher taxes will instead lead to more people on food stamps, a situation which the President and his party defend as a fair outcome. "Here we have to confront the truth about President Obama. Economic growth and prosperity is not really at the top of his agenda. He will always prefer a food stamp economy to a paycheck economy and call it fair. "For the president and a large part of the political class, it's about their power, their right to rule. They just want to take money from Joe the Plumber - the small business people who makes over 90 per cent of the new jobs -- and redistribute it to the government bureaucracy and their political friends and allies. That's why so much of that nearly trillion-dollar stimulus didn't create jobs but just went into the pockets of special interests who support President Obama and the leadership of the Democratic Party. "No better example of this exists than in the crisis of American energy. President Obama and his political allies - not of few of whom love living in energy inefficient houses or driving gas-guzzling luxury vehicles - openly admit they want gas prices to remain high so that the rest of America will learn to live more modestly. They think it's good for rest of us. Only recently, the president canceled the Keystone XL Pipeline that would have created countless new jobs and helped America on the way to energy independence because he wanted to appease the far left of his party. And yet not a single word on the Keystone XL pipeline tonight. "To create jobs and growth in this country, we must start with dramatic tax reform that lowers taxes and maximizes capital investment and job creation. We must return to a dollar as good as gold whose purchasing power is the same in thirty years as it is today. We must dramatically expand American energy production. We must have smarter regulation at the same time we abolish destructive and costly regulatory systems beginning with Obamacare,Dodd-Franks, and Sarbanes-Oxley. And finally, unlike the current administration, we must have faith in job creators. "With these policies the state of the union will be much better. They will create an explosion in job creation and lead to robust economic growth and a return to prosperity. Furthermore, a paycheck economy will put us on a path to balanced budgets and paying down our national debt."

"In his 2012 State of the Union Address, President Obama put forward a bold vision to strengthen the national economy, grow America's middle class, and protect consumers. The President is right to put private sector growth at the center of his agenda to create jobs, and his address laid out specific steps to build our country's economy not just for today but for future generations as well. "Here in New York State we have seen the effectiveness of public-private partnerships at jumpstarting economic growth. I applaud the President's proposal to work with private industries to rebuild America's manufacturing sector and his call for tapping into alternative energy sources to power our economic recovery. As we in New York work to transform our state's education system, I welcome President Obama's call for a renewed focus on making sure all students receive the education and training they need to be successful in today and tomorrow's economy. "Our top priority must be jobs, jobs, jobs. When the national economy improves New York benefits, and I look forward to continuing to work together with the President and our federal representatives to grow our economy."

"President Obama's lectures on fiscal responsibility and economic growth ring hollow, as it's been 1,000 days since his own party even bothered to pass a budget. From the Solyndra debacle to the trillion dollar failed stimulus bill - he has driven our economy off a cliff. If the President truly wants to create an economy that is built to last, House Republicans have passed 28 bipartisan job creating bills that are collecting dust waiting for his leadership so they can move forward." "Let's not forget that just last week, President Obama turned his back on 20,000 new private sector jobs and our energy security by rejecting the Keystone XL pipeline. What logical reason could there be to say no to 20,000 new private sector jobs - potentially 100,000 indirect jobs - while our national unemployment rate remains close to 9 percent? It is in both our economic and national security interests to use the oil and gas reserves right here in our own backyard instead of continuing to send billions to OPEC nations every year. Iran, a country that is wreaking havoc with the global oil markets, must be smiling at the President's unfortunate decision." "I am glad the President called for increased use of natural gas - using the American made energy resources under our feet is a good idea. But actions speak louder than words - at the same time he calls to use more natural gas, his administration has eight different federal agencies considering ways to regulate hydraulic fracturing, the process we use to get the gas out of the ground. Time and time again we hear about President Obama's commitment to American-made energy that creates jobs and reduces our dependence on foreign oil, yet right now we haven't made any significant strides to make it happen - that has to change."

"To create jobs, a modern economy requires modern investments. Tonight, the President laid out the clear choice America is facing: We can either settle for a country where a shrinking number of people do really well, while more Americans barely get by. Or we can build a nation where everyone gets a fair shot, everyone does their fair share, and everyone plays by the same rules. "Because of the President's commitment to creating jobs and expanding opportunity now, over the past 22 months our businesses have created 3.2 million private sector jobs. American manufacturing is creating jobs for the first time since the late 1990s. And in Maryland we have been able to put our families back to work, creating 30,300 new jobs in our best year of job creation since 2005 and recovering 45 percent of the jobs we lost during the recession. "But the President believes that better isn't good enough. That's why he's fighting to move America forward with a blueprint that will grow the economy and put more Americans back to work by boosting U.S. manufacturing, making college more affordable, helping responsible homeowners refinance and making the tax code simpler and fairer for the middle class while reducing the deficit. "The President's optimistic vision presents a stark contrast to the bleak view offered by Republican leaders in Congress, Republican candidates for President, and even Republican governors like Mitch Daniels, who gave the Republican response to the President's speech. Governor Daniels' decision to push anti-worker legislation at the expense of job creation is symptomatic of the partisan overreach we're seeing from Republican governors in state houses from Indiana to Ohio to Wisconsin. It's the reason why we're seeing such a strong backlash from people who want their governors to focus on creating jobs and expanding opportunity, not on attacking political opponents."

"While the President claims that we need to revive the American middle class - he denies the creation of 20,000 Americans jobs by rejecting the Keystone XL Pipeline. "The President's tactics have failed to get our country back on track. Since he took office, 2 million more Americans are out of work, the deficit has doubled, and more Americans than ever are on food stamps. "Tonight's rhetoric won't translate into policies or legislation that will benefit Americans who are hurting at this time. We need less talk, and different action."

"The American economy is sustained by business owners large and small who invested their money because they saw the potential of our great nation. Companies from around the world should continue flocking here, but instead they are being deterred by a nation facing a trillion dollar deficit and a federal government with an insatiable appetite for more debt and intrusion into the lives of its' citizens. "What we need in the White House is a leader who understands that the government's role is to create the conditions that help create private-sector jobs. We need a President who understands that the government can only give Americans the opportunity to work hard and live their version of the American dream, but government cannot do the work for them. In my first year in office as Governor, we streamlined government, cut red-tape and created a business and taxpayer-friendly climate in Florida. As a result, our state's unemployment rate dropped by more than 2.1 percentage points last year, the second biggest drop of any state in the nation, and we created 141,500 private-sector jobs. "The steps we are taking in Florida are working. The time is now to elect a leader who will make the right choices in order to grow jobs and get Americans back to work."

"For the past three years, President Obama has sought to pile more taxes, more regulations and higher debt on small businesses - preventing long-term growth and economic recovery. Right now, small businesses are frozen and don't have the certainty they need to expand and create jobs, leaving far too many Americans out of work. But what the American people heard tonight is that the President's latest vision relies on the same failed policies that haven't worked to recover the economy or get people back to work. When something doesn't work, you change it. Instead of continuing the failed policies of President Obama that we know don't work, let's try something new. We can do better. "We need bold, pro-growth policies that focus squarely on the job engines in this country - our nation's small businesses. We need to encourage the economy to grow faster than by just a percent or two like the status quo, and instead focus bigger like 4 or 5%. We need to reduce the constant threat of taxes, overreach and red tape that are plaguing small businesses and hardworking taxpayers. Small businesses need to know that America is open for business and that Washington won't make it harder for them to succeed. By helping small businesses grow, we will spur job creation, boost American competitiveness, and foster start-ups - all the things that make this country great. "To me, what makes our country so special is that no matter who you are, where you come from or what your background is, in America, if you work hard and play by the rules everyone has a fair shot at earning success. That very American notion is being threatened by President Obama's desire for government controlled equality and sweeping changes that aim to put Washington in charge of determining your opportunity. Rather than pushing for equality of outcomes, we need to make sure that everyone has the opportunity to succeed. There is a ladder of success in America, not built by Washington, but by hard work, responsibility and the initiative of the people of our country. So, instead of talking about a fair share or spending time trying to push those at the top down, elected leaders in Washington should be trying to ensure that everyone has a fair shot and the opportunity to earn success up the ladder rather than meeting in the middle. "I am extremely concerned about the President's handling of the threats posed by the Iranian regime and muted response to the so-called 'Arab Spring.' Iran's determined pursuit of a nuclear weapons capability is an urgent threat to U.S. security and that of our allies. The regime in Tehran's effort threatens to destabilize the Middle East, spur a regional nuclear arms race, further embolden the world's most active state sponsor of terrorism, and undermine America's influence in this pivotal region. I believe that increasing the chokehold of sanctions on the regime, combating Iran's influence in the region, and hastening the downfall of the dictatorship in Syria will give confidence to our partners and allies while increasing our leverage in dealing with Iran's nuclear ambitions. These steps represent the best hope of confronting the challenge posed by Iranian proliferation and terror without military action."

"Tonight, President Obama stood before Congress and the American people and asked us to envision the stronger union we can achieve together. The plan he laid out is rooted in the same values of fairness and responsibility that have enabled generations of Americans to climb ladders of opportunity and pass their faith in the American Dream on to their children. "The President's blueprint draws on many of the ideas House Democrats have put forward in our Make It In America plan for job creation and economic competitiveness. Our Make It In America plan will help manufacturers expand and hire more workers, develop American energy and support new, home-grown alternative energy technologies, and invest in education to build the competitive workforce of the future. "President Obama also spoke of his commitment to deficit reduction so we can afford these investments in America's future, and I share that goal. Putting our fiscal house in order will provide certainty to businesses and to families, and is important for our nation's long-term economic strength. Reform of our tax code should be part of that discussion, and reflect our values and promote the growth of our economy and jobs. "Under this President's leadership, we have made tremendous progress in our fight against al-Qaeda -- including the daring raid that killed Osama bin Laden and the demise of Anwar al-Awlaki, among other key terrorist leaders. After eight years of determination and heroism from our troops in Iraq, President Obama kept his promise and withdrew our forces in a way that was safe, dignified, and is consistent with our security interests in the region. "The vision the President talked about tonight is forward-looking and based on the principle that all deserve a fair shot at making it in America. I hope Republicans and Democrats will join together over the coming year to address the common challenges we face."

"The President tonight outlined a laundry list of popular programs without regard to what they cost and his own record in office. "He has failed to deliver on economic growth promises, has squandered $800 billion in stimulus funds, and vetoed jobs and affordable domestic energy bills passed by Congress. What is clear is that he is pursuing a partisan class-warfare agenda aimed at dividing the American people. "The American people deserve an efficient, effective government that works for them. I am ready to work with the President to cut the regulations and red tape that make it harder for workers and businesses to succeed, to confront the irresponsible overspending by this President and preceding Administrations, and to keep America competitive in a global economy."

"If Members of Congress are going to be honest about it, there was a lot of common sense and even more common ground in tonight's address. We shouldn't have to wait for another year or another election to act like it. Tax reform, energy security, infrastructure, and jobs matter to all of us and we're so much closer on these issues than the shrillness of our politics pretends we are. We ought to prove peoples' suspicions wrong and prove that Congress can actually get something done even in an election year. Dysfunction isn't defensible."

"The top priority for me - and, I believe, for any elected official who really hears what their constituents are saying - is to get this economy back where it should be, and I was pleased to hear the president reinforce that reinvigorating our manufacturing industry is one of the key ways to get people back to work and rebuild the middle class. I just returned from my statewide manufacturing tour and it's clear that manufacturing remains instrumental to Minnesota's economy, accounting for one in seven private sector jobs in our state. Unfortunately, employers told me that they have jobs going unfilled because they need workers that are better trained. It's clear the president understands that challenge, and I was glad to hear that he's committed to investing in job training and education to make certain our workers can compete in a 21st century economy. The president's speech tonight outlined a path forward for our country and I hope my colleagues will join me in tackling our nation's problems."

"In his State of the Union Address tonight, President Obama provided the American people with hope that our nation is headed in the right direction. He presented a plan that will rebuild our country's foundation to sustain every American rather than just a wealthy few. By focusing on American manufacturing, energy dependence, skills for American workers and our country's core values he framed our Democratic vision that will guide current and future generations on the road to rebuilding the American Dream. President Obama's address comes at a pivotal time for the American Middle-Class. His call for tax reform in which everyone pays their fair share must be answered. We cannot build a solid economy unless the responsibility is shared by everyone. Giving tax incentives to small businesses and manufactures that keep jobs in America and hire American workers rather than a handful of corporations and billionaires will pump life back into our hard working middle-class who is the backbone of our nation. President Obama also turned a new page for American energy by outlining an economy fueled by homegrown and alternative energy sources free from foreign dependence. These efforts will create jobs powered by American workers and ingenuity. To accomplish this, the President reaffirmed my belief that we must make sure our students and workers get the education and training they need so that we have a workforce ready for the challenges of the 21st century. I commend President Obama's leadership. His call for fairness for all and responsibility from all is crucial for our nation's future. I look forward to working with my Colleagues in Congress to support President Obama's blueprint. This is a time when we need to join together - it's not about being a Democrat or a Republican -- it's about every American working as one nation to rebuild a lasting economy and a better future for all."

"President Obama laid out a blueprint for building an economy that works for every American. "The President's eloquent optimism stands in marked contrast to the angry tone Americans have been hearing on the campaign trail from his opponents. "I welcome his call to action for us to work together to strengthen the middle class, create clean energy jobs, help responsible homeowners stay in their homes, protect the environment from toxins such as mercury and rebuild America's infrastructure. "I will do everything I can to bridge the partisan divide and we can start right away by passing a bipartisan surface transportation bill that saves or creates millions of jobs."

"President Obama's State of the Union rhetoric called for 'fairness' but the reality is that this President is anything but fair. The President presented ideas tonight that demonstrate his willingness to pick winners and losers. First, the President introduced a new tax loophole for a certain sector of manufacturers. He believes that high-tech manufacturers should get double the tax break that other manufacturers receive. This is wrong. Instead, there should be a level playing field for our manufacturers. In addition, I believe their tax rates must allow them to turn a profit in order to create more jobs. "The President believes spending taxpayer dollars will be the solution to education costs. In reality, as student aid increases, education costs go up. Furthermore, it is not the federal government's role to force schools to offer work-study jobs or to control a school's tuition rates. "The President's favoritism continues into his view on energy. Last week we saw the President side with his friends in the environmental lobby by denying the construction of the Keystone Pipeline. Then, while the President highlights massive cuts to the Department of Defense, he also announced that they will be forced to purchase his preferred type of energy - clean energy. "Furthermore, the President's speech was riddled with new regulations and new taxes. These regulations and taxes will harm our nation's small businesses and job creators. The best way to promote job growth is through economic certainty which means cutting regulations and simplifying the tax code. "These are just a few examples of the President governing with favoritism, not fairness. The President needs to follow the Constitution, given to us by the founders, and its one true fairness guide - equal protection under the law. America was not founded on redistribution of wealth, but on free markets and the idea that everyone is entitled to the fruits of their labors. Furthermore, our true American values are the ones enshrined into the Declaration of Independence: life, liberty and the pursuit of happiness. "Our country in is dire need of a solution that will help us recover our jobs, our economy and our hope for the future. The true state of the union is such that we simply cannot afford more of the hollow promises that President Obama presented tonight. He called for 'no bailouts, no handouts, and no copouts,' but his policies are rooted in these three things. Our country needs better and our country deserves better."

"The president delivered a passionate vision and a practical agenda to meet the needs of American families. His focus on American manufacturing is already paying off in Michigan, where manufacturing is on the rebound and can help lead the way to a new era of prosperity for the middle class. "The president's emphasis on economic fairness was very welcome. We need to make sure that all of us who benefit from our country's manifold opportunities contribute equitably to preserving and expanding those opportunities. And we need to end an era in which middle class families shoulder the cost of tax loopholes that favor the most powerful and privileged among us. The president is right to hope that we can work together over the coming months to restore growth through investments in education and infrastructure, and to reduce the deficit with additional targeted spending cuts, tax loophole closing, and restoration of equitable tax rates for upper-income individuals who have prospered so disproportionately in recent years."

"I'm really looking forward to working with a lot of my colleagues in a bipartisan way and in a civil way on some of the more specific proposals that the President outlined tonight, like creating manufacturing jobs right here and bringing them back from overseas. It's about time we start seeing more things designed and produced by American workers - and stamped 'Made in the USA. "And there was also a very special moment tonight in honor of Gabby Giffords. She has showed all of us what it means through suffering to have courage, and ultimately victory."

"Tonight, President Obama reminded the American people what it means to be an American - a chance at a good paying job, a roof over your head, security when you retire and a level economic playing field if you work hard and play by the rules. The President outlined an economy built to last with critical infrastructure investments and a renewed commitment to the middle class. "All we heard from Republicans tonight was more of the same that led to this Republicans Congress of Chronic Chaos. Republicans top priority is to protect special interests from fundamental reform and protect millionaires and billionaires from paying their fair share. "Voters are disillusioned, disenchanted, and even disgusted with House Republicans and will continue to hold them accountable for protecting the ultra wealthy at the expense of the middle class, seniors and the American dream."

"I'm not very optimistic about going through more of the same without solutions in sight," said King. "And the President, of course is to make the case why he should be elected President. We know that three years ago he said that if he hadn't solved this problem by now, he would be a one term President. It doesn't look like he's going to stick by that willingly, but the American people will remember in November."

"The President's proposals tonight, and other ideas from Congress, are all headed to the dustbin of history unless Washington ends its job-killing gridlock. I believe that Nebraskans have had enough of the job-killing gridlock we've seen over the last few years. The job-killing gridlock is holding America back. It's holding our economy down. It's hurting middle class Nebraska families," said Senator Nelson. "I'm ready to work together with Republicans, Democrats and Independents to get the job done. "We can start with the President's ideas to expand American energy, whether from our natural resources or renewable sources such as biofuels including ethanol. Today, the ethanol we produce displaces 445 million barrels of oil that we don't have to import from unstable areas of the world. It's creating more than 400,000 American jobs, including more than 1,300 jobs in Nebraska. "But we can and should do better--for the economy, the environment and America's push for greater energy independence. By ending the job-killing gridlock, we can expand our domestic energy production from natural and renewable resources. We'll create more jobs and have more "Made in America" energy. "Tonight, I sat with my Nebraska delegation colleagues, as we did last year. And others crossed party lines, as well, to sit together in the House chamber. Let's hope this example can pave the way to more partnerships, and less partisanship, and more real results that lower the debt, put people to work and help secure America's future."