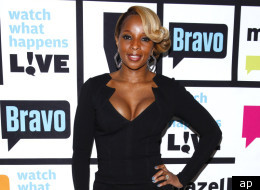 The Academy Award nominations were announced yesterday, and while many celebrities celebrated their nod from the Academy, one person was not too happy about getting left off the ever-so-exclusive list of recognitions.
Mary J. Blige took to Twitter to air out her frustration about being snubbed for an Oscar nomination in the Best Original Song category for her song "Living Proof," the theme song for "The Help." The movie landed a nomination for Best Picture and stars Viola Davis and Octavia Spencer were both nominated for Best Actress and Best Supporting Actress, respectively.
But it was the song category that had many people talking. Although 39 tunes were up for the highly coveted nominations, only two scored a spot, despite the traditional five.
Well MJB wasn't too happy about that, and she let her Twitter followers know, tweeting the following after the nominations were announced:
@maryjblige

Mary J. Blige
I'm so thankful for true fans like you all. It saddens me & feels like the Academy is being mean. 2 only nominate 2 of the 5 slots is.......
Followers agreed, tweeting their support and outrage over the snub. Blige later tweeted a link to a HitFix.com article that described how difficult it is for tunes to qualify for the Best Original Song category, calling it "ridiculous" and "unfair."
The "No More Drama," singer let it all go a few hours later, though. In the evening, she tweeted about how much fun she had on Bravo's "Watch What Happens Live" with Andy Cohen.