Getting Married In Ohio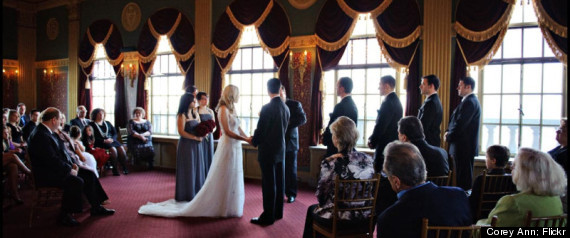 Planning a wedding is a big undertaking, to be sure. But sorting out the legal paperwork before you say "I Do" can be even more challenging. To help get you organized before your Big Day, The Huffington Post has put together a comprehensive, state-by-state guide to getting married. Read on for everything you need to know about getting hitched in Ohio. --Sara Faith Alterman
Residency Requirement And Waiting Period
Marriage applicants do not have to be Ohio residents
to get married in Ohio. Although, if neither applicant is a resident, the application for a marriage license must be made in the county in which the marriage ceremony will be performed. There is no waiting period.
Age Requirement
The legal age
for a male to get married in Ohio is 18 (the age of majority). A female can get married at age 16 with the consent of her parents, legally appointed guardians or the juvenile court. If she is unable to obtain such consent, she must be 18 to get married. If the male applicant is younger than 18 and/or the female is younger than 16, consent for the marriage must be granted by the juvenile court. If any parent of a minor applying for a marriage license resides outside of the Ohio county in which the minors wish to be married, said parent or parents must appear before a judge of a court of record and grant their consent in writing. All license applicants younger than 18 must receive marriage counseling before a license is granted.
Marriage License
Although the cost of a marriage license varies from county to county, it usually costs between $50 and $60, and it is
valid for 60 days
from the day of issuance. The license has to be obtained at the probate court in the county in which the applicants are seeking a marriage license; both parties need to be present. The license application may be initiated
online
.
Legal Documentation
A state-issued photo ID and a Social Security number
is required to obtain a marriage license in Ohio. Acceptable forms of ID include a driver's license, current picture ID, passport or military card. Applicants may also present a certified birth certificate and Social Security card as identification. Blood tests and physical examinations are not required. If either of the parties was previously married and the marriage ended in divorce, the party must provide a certified divorce decree along with the case numbers, dates and locations of all previous marriages. If a previous marriage ended in death, some counties in Ohio require the presentation of a certified death certificate for the deceased spouse.
Witnesses And Officiants
The person performing the marriage ceremony
must be an ordained or licensed officiant who is registered with the Secretary of State of Ohio, a judge, a mayor or the superintendent of the state school for the deaf. No witnesses are required. The person performing the ceremony must, within 30 days, return a certificate of the marriage to the probate judge of the county in which the marriage license was issued. If this certificate is not issued within 30 days, the person who officiated the marriage may be charged with a misdemeanor and issued a fine of $50.
Same-Sex Marriage
Same-sex marriage is not permitted in Ohio.
In 2004, an amendment was made to the Ohio constitution defining marriage.
The Ohio constitution states the following: "Only a union between one man and one woman may be a marriage valid in or recognized by this state and its political subdivisions. This state and its political subdivisions shall not create or recognize a legal status for relationships of unmarried individuals that intends to approximate the design, qualities, significance or effect of marriage."
Did You Know?
A marriage license will not be granted to anyone who appears to be under the
influence of alcohol or illegal substances, or to anyone who is infected with a communicable form of syphilis
.

View the full set of laws and regulations regarding marriage in Ohio.
A name change following marriage in Ohio can be a hassle. It's a good idea to start by getting certified copies of your marriage certificate, filing a name change petition, then changing your name on your driver's license and vehicle registration. Name changes must also be submitted to your employer, as well as the Social Security Administration and the U.S. passport agency. Also consider changing your name on voter registration forms, bank accounts, credit cards, frequent-flier accounts and utilities providers.
Learn more about getting married in each of the 50 U.S. states here.