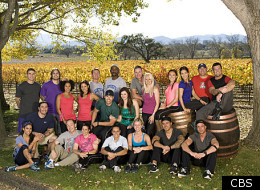 "The Amazing Race" is putting clowns against federal agents for its 20th season. Former "Big Brother" cast members Rachel Reilly, and her fiance Brendon Villegas, will also compete in the race.
This season, the teams will travel across five continents, 22 cities and close to 40,000 miles, visiting Paraguay and Azerbaijan for the first time in the history of CBS's "The Amazing Race."
Challenges on Season 20 include skydiving in Argentina, training with Masai warriors in Tanzani and a race through Africa's "Garden of Eden." The competitors will also face a food challenge in Italy and search King Ludwig's quarters in the German castle that was the inspiration for the castle in "Sleeping Beauty."
The new season of the CBS reality series kicks off Sun., Feb. 19 at 8 p.m. EST. Meet the cast below.
Dating divorcees Vanessa Macias & Ralph Kelley.

Friends Joey "Fitness" Lasalla & Danny Horal.

Sisters Misa & Maiya Tanaka.

Married clowns David & Cherie Gregg.

Twins Elliot & Andrew Weber.

Border Patrol agents Art Velez & JJ Carrell.

Cousins Kerri Paul & Stacy Bowers.

Army couple Rachel & Dave Brown

Engaged couple Brendon Villegas & Rachel Reilly.

Federal agents Nary Ebeid & Jamie Graetz.

Best friends Bopper Minton & Mark Jackson.