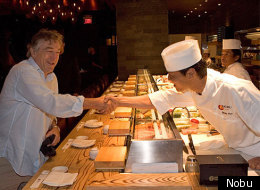 Like the rest of us, celebrities love to indulge in great food and drink whenever they can, but for some, being able to get a table wherever and whenever they want isn't enough. Take actor and producer Robert De Niro, who after patronizing sushi chef Nobuyuki Matsuhisa's Los Angeles restaurant, urged the chef to take his concept to the East Coast. A partnership was born, and now the duo's Nobu empire has locations around the world, while the original Tribeca location alone boasts more than $8 million in annual revenue and remains one of New York's most coveted reservations.
De Niro is far from the only celebrity to venture into the food and beverage industry. Rapper/actor Ludacris announced via Twitter in early January that he's opening a restaurant in the Atlanta airport, aptly named Chicken & Beer after one of his most successful albums. Still, many A-listers have tried, albeit unsuccessfully, to tap their foodie side. Pop star Britney Spears' NYLA concept lasted less than a year, along with concepts by Terry "Hulk" Hogan and Jennifer Lopez, whose Madre restaurant closed its doors after six years. But others have managed to turn their passion for food into profitable enterprises.
Here's our look at some of the top celebrity-owned restaurants.
Restaurants Owned By Celebs
The Oscar-winning actress opened Bess in Austin, Texas, in 2006. Soon after, she overhauled a space just across the street and opened Walton's, which is a combination upscale restaurant, florist and event planning spot.

The legendary NBA star owns several restaurants, including Chicago's One Sixtyblue, which will be closing in February to undergo an update. The sports celebrity also has Michael Jordan's Steak House locations in New York, Chicago and Connecticut.

Longoria's "baby" launched in Los Angeles in 2008 with the help of head chef and friend, Todd English. Longoria even contributed two of the house's favorite recipes: the guacamole and tortilla soup.

The down home inspiration for this restaurant came straight from Knight's kitchen. The Atlanta-based eatery opened in 1997 and has expanded to four locations, all which serve its signature dish of chicken wings and waffles, called Midnight Train.

One of Hollywood's biggest stars, De Niro, partnered with Chef Nobuyuki Matsuhisa in 1994 to open Nobu in Tribeca. The modern Japanese restaurant now has over 25 locations around the world.

Opened in 1990, De Niro's other restaurant is known for putting the downtown neighborhood on the map. The eatery is located on the bottom two floors of the Tribeca Film Center, which is home to De Niro's production company.

Actor Richard Gere, wife Carey and their partner, Russel Hernandez, renovated a historic farm property in Bedford, N.Y., opening a luxury inn and two restaurants -- The Barn and The Farmhouse -- in 2007.

Located in a historic district in San Francisco, the director's Italian eatery is adorned with his personal collection of movie memorabilia.

The historic Park City, Utah, locale was opened in 1995 by the actor. The upscale eatery is a part of the Sundance Resort family of restaurants and has won several "best" awards.

The rocker opened his first Cabo Wabo Cantina in Cabo San Lucas, Mexico, aptly named after his signature tequilla brand. The restaurant, which also serves as a music venue, recently opened a second location on the Las Vegas strip.