Foreclosure Crisis: The Twisted World Of Mortgage Lender Error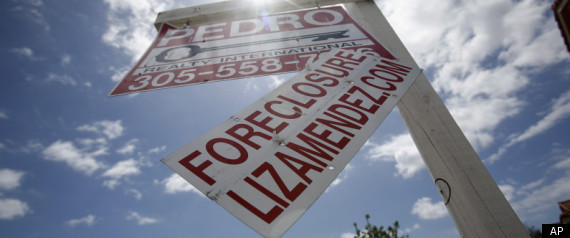 Ben Hallman reported and wrote this story as a staff writer at the Center for Public Integrity. He recently joined The Huffington Post.
Like millions of stories from the great recession, this one begins with homeowners struggling to keep up with a mortgage payment they simply couldn't afford.
By 2009, the adjustable interest rate for Cassandra and Bernard Gray's Durham, N.C., home loan had spiked to more than 12 percent. "I didn't know if we were going to be on the street or in a shelter," Cassandra recalls. "We couldn't afford groceries. It got pretty bad."
They were thrilled to sign up for a modification plan with their loan servicer, GMAC Home Mortgage, Cassandra Gray said.
The modification lowered their payment from $1,128 to $768 per month. But after three months, GMAC began returning their payments, the Grays claim in a complaint filed with the North Carolina Commissioner of Banks.
GMAC customer service representatives told them there was a "computer glitch" and that the problem would be resolved. Instead, GMAC twice started a foreclosure action.
GMAC claimed it had no record of any payment being received. The Grays have submitted bank statements that appear to show GMAC returning the $768 payment -- several times. GMAC has since assessed more than $20,000 in interest and fees.
"I thought I was doing the correct thing" by obtaining a loan modification, Cassandra Gray said in a recent interview. "But I came home one day and there was a foreclosure notice on my door and a sign in my yard. I called constantly, but it was as if the dots were not connecting."
A North Carolina clerk of court recently dismissed the foreclosure on grounds that GMAC had not properly demonstrated that it had standing to bring a foreclosure. But once GMAC gets its documentation in order, the loan servicer can foreclose again.
GMAC said it could not comment without borrower consent. The Grays did not sign a form authorizing the lender to talk about their case. But the lender did say that it is "working directly with the borrower to address their claims."
Since 2007, nearly 9 million homes have been lost to foreclosure, according to data from RealtyTrac. About 4 million are currently in default on or in some stage of foreclosure. Some of these homeowners saw their payments skyrocket, some lost their jobs, and some bought a more expensive home than they could afford.
But many, like the Grays, say that their foreclosures or defaults were triggered by an error made by the mortgage servicing company. Common errors include late fees generated through questionable accounting and imposed without notice, excessive charges for property inspections and maintenance, and inflated or unnecessary attorneys' fees.
Many homeowners who have tried to correct what seem to be simple accounting mistakes say that the servicers -- often, an arm of a major bank -- are unable or unwilling to help them resolve even the most basic problems.
"Every time I would call I'd get a different person," said William Allen, a retiree near Baltimore who is fighting a Bank of America foreclosure. "I worked on it nearly a year and it didn't do me any good."
Most banks and independent loan servicers now say that they have cleared the decks on systemic problems that led to the errors and that they now make it much easier for homeowners to easily resolve their problems with bank representatives.
Federal regulators also say they have done their part: last year, Bank of America, Wells Fargo, JPMorgan Chase and other big servicers agreed to give more than 4 million borrowers who were in some stage of foreclosure between Jan. 1, 2009, and Dec. 31, 2010, the option of an independent audit of their loan account.
But veterans of the foreclosure wars tell a different story. More than four years after reports of these kinds of errors began bubbling to the surface, homeowners are still fighting to fix servicer mistakes that threaten their homes, they say.
"Almost all loans in default have something wrong with them," said Tara Twomey, a lawyer at the National Consumer Law Center who recently completed a study of the servicing industry.
Negotiations over a proposed $25 billion settlement with the states over the use of robo-signers to speed foreclosures and other servicing mistakes are ongoing. California rejected the proposal Wednesday.
So why are things such a mess?
Much of the blame can be directed at a foreclosure machine created during the housing boom to deal with the mad rush of mortgage applications. The automated system prizes efficiency over customer service, makes frequent errors in the administration of troubled home loans, and, according to one study, pays servicers more for foreclosures than loan modifications.
"They don't want to spend enough money to not make mistakes," said Kurt Eggert, a law professor at Chapman University, who testified about servicing errors at a Senate hearing in 2010 and has written extensively about the industry.
Machine created to feed Wall Street
Many of the problems in the modern loan servicing business can be traced back 30 years to the invention of the mortgage-backed security.
In the early 1980s, the wizards on Wall Street learned they could convert humdrum home loans into financial instruments -- a process known as securitization -- enriching themselves as investors gobbled them up. By the early 2000s, securitization was standard practice among all of the largest lenders.
Most home loans are bought by Wall Street banks or by Fannie Mae and Freddie Mac, bundled together and placed into pools of 5,000 or more. They are then sliced up and sold as securities. Mortgage servicers bid on the rights to manage these loan pools before they are sold to investors.
Often, the servicer is a branch of the same Wall Street bank that created the investment. Bank of America, which acquired Countrywide's notoriously troubled loan portfolio (along with its legal headaches), is the biggest servicer, managing 12.5 million loans.
The basic job is straightforward: servicers collect payments and pass them along to the trust that represents the investors. They are also responsible for handling foreclosures. In exchange, servicers typically collect one-half of 1 percent of the value of the outstanding loans each year in fees.
For a $200,000 loan to a borrower with good credit, a servicer might collect about $50 per month, with income dipping slowly as the balance of the loan drops. Servicers also make money from the "float" -- interest earned during the short time the servicer holds the loan payment.
During the boom years, from 2002-2007, when few loans defaulted, profits soared, with margins averaging about 20 percent. Lenders with big servicing arms made piles of money from originating loans, packaging them for sale to investors, and then at the back end, from collecting fees from investors to service the loans.
Eventually, the wheels came off. Securitization encouraged lenders to stop caring whether the loans they were making were sound. Mortgage giants like Countrywide approved as many loans as possible knowing that Wall Street would purchase them, no matter how toxic.
The bankers, in turn, packaged the securities and sold them with gold-plated ratings to investors such as large pension funds and foreign banks. When the lending market dried up, so did new servicing contracts. Defaults and foreclosures soared.
But rather than hire and train enough employees to personally manage troubled loans in a way that minimizes foreclosures and encourages loan modifications, servicers entrusted management of troubled loans to old computer software that legal experts say isn't up to the task.
The end result is a system with little accountability and a whole lot of angry homeowners.
It is impossible to know how many loans have been subject to wrongful fees and accounting errors, but foreclosure war veterans say the number is high.
Jay Patterson, a forensic accountant who has examined hundreds of mortgage loans in bankruptcy or foreclosure, said that "95 percent of these loans contain some kind of mistake," from an unnecessary $15 late fee to thousands of dollars in fees and charges stemming from a single mistake that snowballs into a wrongful foreclosure.
Subscribe to the HuffPost Money newsletter!